The event hosted at the Chamber of Commerce brought together mayor

Lydie Polfer (DP) and first alderman
Serge Wilmes (CSV) as well as city councillors

François Benoy (déi Gréng),

Gabriel Boisante (LSAP) and Ana Correia da Veiga (déi Lénk), and candidates

Alex Penning (ADR) and Marie-Marthe Muller (Pirate Party).
More investment in housing  
All parties said that at least €100m per year of the city's budget should be invested into housing, a campaign proposal by the LSAP. "Our priority is housing, housing, housing, housing," said Boisante. Déi Lénk's Correia, however, said it should be at least triple that amount.
While a study by the Liser research institute last year said that the City of Luxembourg is one of the biggest owners of buildable land, Polfer disputed this: "The City of Luxembourg is not a top landowner on its own territory, which represents 2% of the country's surface. And of that 2%, half is green. The commune is a primary owner of woods, not buildable land."
The Glacis must stay… sort of
Fokus--a new party founded last year by ex-CSV president Frank Engel--had proposed to develop the Glacis car park into housing, and move the annual Schueberfouer elsewhere. "If you move the Schueberfouer from the Glacis parking, it is dead," said Wilmes. For Benoy, a part of the car park could perhaps be re-vamped but he also emphasised that decisions on the future of that space should be made with the citizens.
No more districts like Cloche d'Or
One of the city's newest districts, the Cloche d'Or (also referred to as the Ban de Gasperich) is an urban planning failure, candidates across the political spectrum agreed. Polfer defended her record on the project, saying she wasn't in the decision-making seat at the time. The plans began under mayor Paul Helminger (DP) and were adopted by the council under the leadership of Xavier Bettel (DP).
Together with Wilmes, she said that the council had pushed for more housing and that there would be no future districts of this kind. Déi Lénk's Correia da Veiga, however, said that the same mistakes were being repeated time and again, with not enough space for citizens and soft mobility.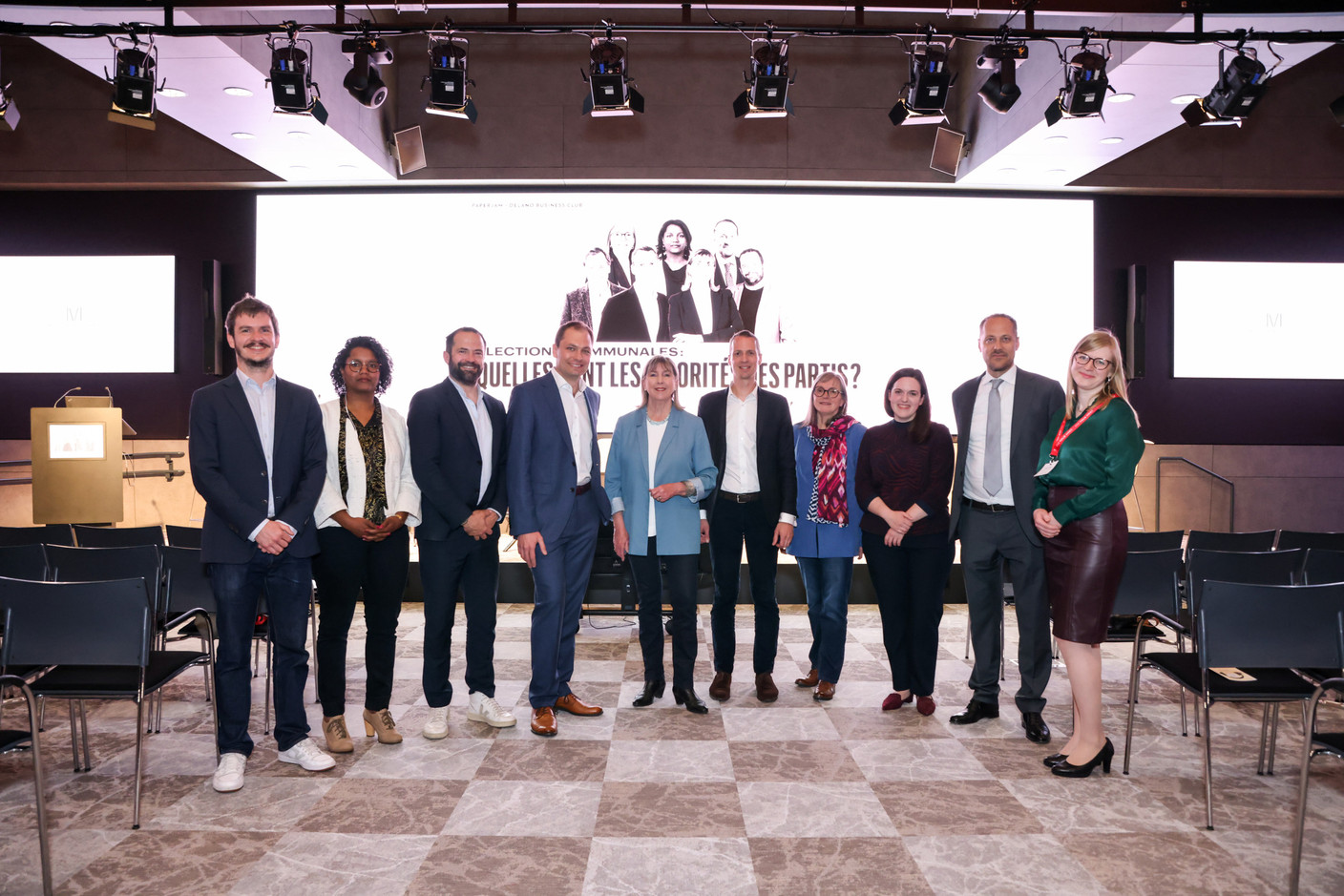 1 / 20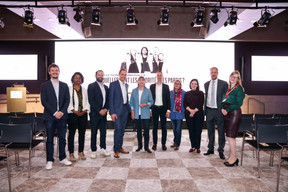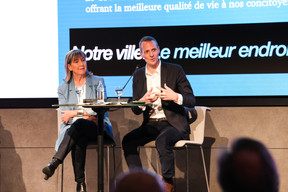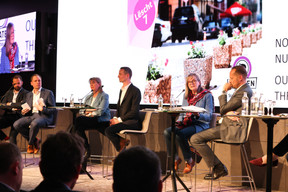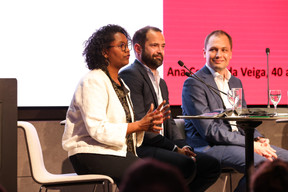 More meeting places
For déi Lénk but also the Pirate Party, the LSAP and déi Gréng, Luxembourg City must become more lively. Muller (Pirates), for example, suggested to create the office of district coordinator, who would help integrate new residents, as well as shared spaces for communities to come together.
Transport not a zero-sum game
While the ADR's Penning said that drivers were being pushed out of the city and penalised, for example with parking spaces disappearing, the LSAP's Boisante countered that it is wrong to argue that transport policy was against the citizens.
A fully rounded transport model works to benefit the general population and leaves space for all road users, parties agreed, although Benoy pushed for more secure infrastructure for cyclists and traffic-calmed areas. He earned some criticism from Wilmes, however, who argued that déi Gréng had been in a coalition with the DP prior to the 2017 elections and themselves had failed to achieve those goals.
Don't stigmatise, don't ghettoise
Districts like the Gare, Hollerich and Bonnevoie are being given a bad name, said Correia da Veiga, explaining that Bonnevoie is one of the areas with the highest population of school children in the capital--a social inclusion success. A majority of social support structures for vulnerable people, however, are located in that district, and should be distributed elsewhere to create a more even spread.
Déi Gréng's Benoy agreed, adding that the Abrigado drugs centre--where users have access to clean needles--should be split up into more numerous smaller facilities. Déi Gréng have called for more investment in social services, which the DP and CSV countered by saying they created the "À vos côtés" social street work service.  
Improving security, but how?
"I don't want to hear about a feeling of insecurity in Luxembourg anymore. It's not a feeling, it's a reality," said Polfer, citing statistics showing that crime had increased 25% between 2021 and 2022. Correia da Veiga, however, said the statistics were skewed since 2021 included numerous pandemic half-lockdowns, when bars and restaurants, for example, were closed.
"We don't need more controls, especially not by amateurs," she said of the city using private security agents. Penning said the ADR does not oppose using private companies but added that this only shows that the majority in power has failed.
The city can't walk the talk alone
Giving municipal agents or police officers more powers to take action against disturbances is a national issue, Polfer and Wilmes argued, with the DP and CSV proposing the creation of a municipal police force under the aegis of the national corps. But also on other topics, the government has to support the city.
While déi Gréng had pushed for the city to adopt higher property taxes--possible under current legislation--Polfer postponed such a move as a draft law on property taxation is pending in parliament. The government will also have to act on facilitating building permits and procedures, and the city doesn't manage the entire network roads and infrastructure, with major arteries classified as national roads.
The Pirate's Muller, however, warned not to hide behind laws or use a lack of legislation as an excuse to be inactive.
Broad support for a citizens' council
Politicians want to give citizens a greater say, with support across the spectrum for the creation of a citizens' council, which would include residents from different districts and backgrounds to provide their input. A similar model is already in place in Dudelange and déi Gréng's Benoy in March had kicked off a debate in parliament to also implicate citizens more on a national level.
Result will be legitimate but not representative
The result of this year's local election will be legitimate, said Boisante, in the sense that the ballot is held freely and fairly and the result isn't manipulated. However, with only 15.6% of the city's foreign eligible voters signed up, he said it would not be representative of the capital's population.
Citizens must be more involved in the capital, he said, with more to be done between election cycles to motivate people to cast their ballot when the time comes. And while the other panellists largely agreed, Polfer also said that the city cannot force people to vote.
The Pirate's Muller said the campaign to sign up non-nationals to the voter lists started way too late but earned criticism from Correia da Veiga. The Pirate Party had filed a complaint with the public prosecutor's office, saying a door-to-door campaign by déi Lénk violated electoral laws. The prosecutor dismissed the case.
The roundtable is available in replay, in the original French and with English simultaneous translation:
Communes across the country will head to the polls on 11 June. In the capital, 32,090 Luxembourg nationals are registered to vote, for whom this is mandatory. They will be joined by 12,626 non-nationals who signed up to the electoral list. More than 68,500 eligible foreigners did not register to vote.
The Luxembourg City council counts 27 seats. Nine parties are fielding candidates for the race. In addition to the seven parties represented at the roundtable, this includes Mir d'Vollek and Fokus.