The university on 25 April celebrated the official launch of the Uni.lu Diplomacy Lab, which was created with the support of Italy's ambassador to Luxembourg, Diego Brasioli, and has the support of former prime minister and European Commission president Jean-Claude Juncker, who serves as honorary president.
"It's important that students get in contact with people outside of the university," said Prof. Anna-Lena Högenauer, the course director of the Master in European Governance out of which the Diplomacy Lab was born.
"With the pandemic, student life on campus more or less came to a standstill, here and at other universities. And the students all of a sudden wanted to really do something themselves, organise events."
A plan to found an association for European politics faltered as the handful of students didn't know enough people from other programmes to make such an undertaking a lasting success. A first step was to organise a European neighbourhood policy forum, which hosted four events dedicated to the Western Balkans, the Caucasus, Israel and the Middle East.
Out of this forum, the lab was born. "We had a new course on diplomacy, taught by Diego Brasioli, the Italian ambassador. He worked closely with the students and they had the idea to set up the Uni.lu Diplomacy Lab."
Broader in focus, it addresses different topics, from climate change and feminist foreign policy to questions of indigenous, cultural or sports diplomacy, such as the Qatar World Cup or participation in the Olympic Games. "It's very diverse," said Högenauer, adding that it shows students how much politics is at the heart of these questions.
"This project is an excellent initiative to help you better understand the major issues in international relations," said foreign minister
Jean Asselborn (LSAP). "You will define the topics that you want to study, select the speakers and plan the events. This is an excellent way to familiarise yourselves with the reality of diplomacy and the professional world."
Luxembourg's top diplomat told students that "it is essential that you learn not only from books or lectures, but that you interact with experienced practitioners, to deepen intergenerational understanding and compare historic perspectives."
Networking and transferable skills
Students do not receive credit points for the participation in the lab and it won't count towards their degree. "It's fully voluntary," said the professor. But the reward is learning practical skills on the one hand--organising and advertising events, public speaking, inviting guests--and getting a taste for their future outside the university.
"They have the opportunity to be at the centre of attention, to be visible," said Högenauer. "Through this initiative they get in contact with ambassadors, people working for a ministry. It's important to see this dimension and build contacts into the world of work."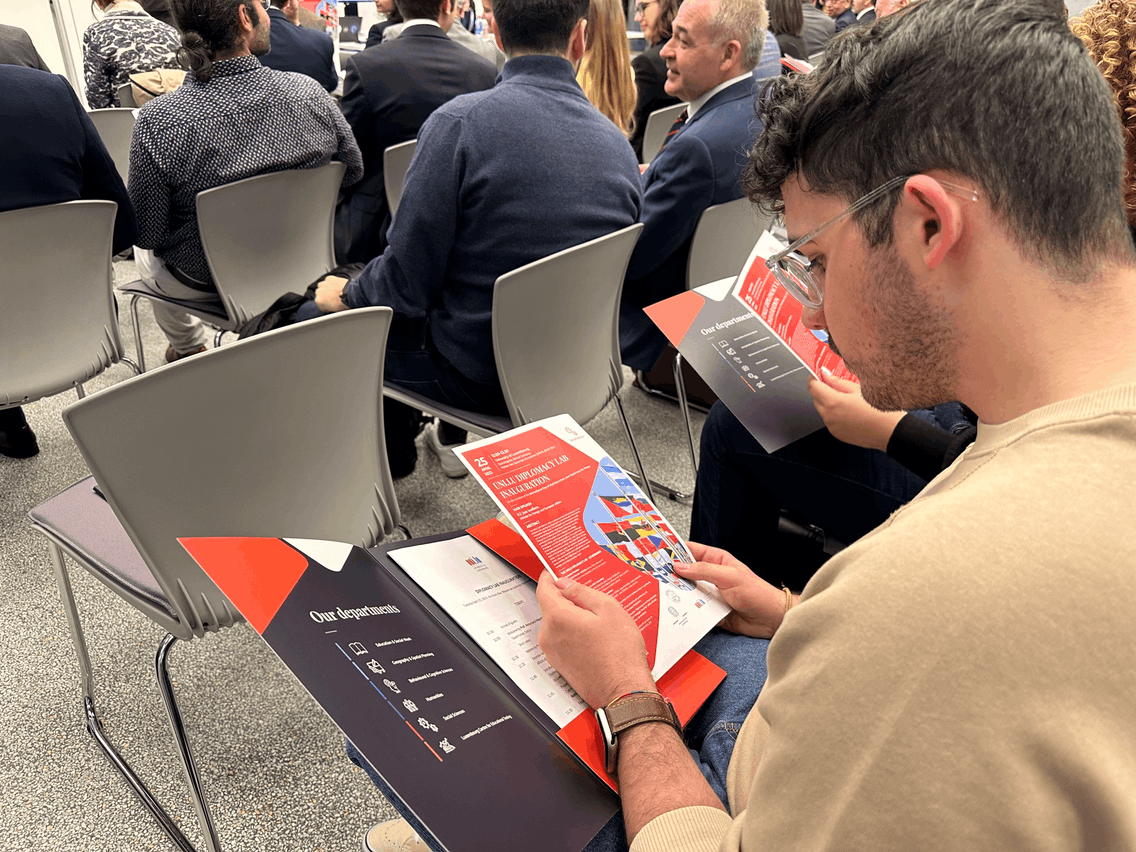 In the second year of their Master programme, students can choose to write an academic thesis or to do an internship accompanied by a scientific report. "One of the barriers to the internship often is that students are anxious to contact people and ask for a placement, not knowing how to do it."
Work on the lab will help, not only because of the contacts forged but also because if teaches students to "organise things, take responsibility."
Following the lab's launch and its inaugural publication, events are planned to kick off in September, following the students' exams and summer break.
New cohort lines up
The cohort currently applying for the Master in European Governance have already taken note of the lab, which is mentioned on the programme's website. "It gives me hope that also the next generation of students will be actively involved," said the course director.
A group of eight students sit on the Diplomacy Lab's young researchers committee, which discusses which topics it will pursue, resources and time management. "The students can do many different things with it," said Högenauer. All of the roughly 30 participants in the Master's degree are invited to participate.
The lab's activities in the future should also become open to students from other programmes and Högenauer hopes that more embassies will get involved depending on their area of expertise. More than a dozen diplomats attended the launch, including the American, British, Czech, French, Greek, Italian, Japanese, Romanian, Swiss and Turkish representatives.
"Diplomacy is critical for promoting human rights and democratic values. Through diplomatic channels, we can raise awareness about human rights abuses, promote democratic values, and support civil society and the rule of law," said Luxembourg member of the European Parliament

Tilly Metz (déi Gréng) during remarks delivered at the launch.
The Diplomacy Lab is an important platform "that fosters exchange, helps distribute knowledge and practical experience, encourages critical thinking," she said. "Education is, just like diplomacy, a tool that enables us to build bridges across borders, to find common ground amidst our differences."
While Juncker on 25 April had a scheduling conflict, he is expected to attend some events in future, another boost for the students behind the project.
"I'm already now convinced that it's a project that can have longevity and that doesn't sink or swim with one generation of students," said Högenauer.