The construction and real estate development company CDCL has started building its new headquarters in the Am Bann business park on Rue Léon Laval in Leudelange.
Announced in March 2020, this project has now become a reality and the Allegra building (5,930m2 gross floor area), designed by the architecture+aménagement office, has been under construction since October 2020. It is being built according to the CREE system, a prefabricated concrete–wood hybrid construction (as a reminder, CDCL acquired shares in this company in 2018). After placing the concrete elements between January and May 2021, the assembly of the prefabricated elements began in mid-May 2021. At the time of writing (end of June 2021), the last level was under construction.
The project consists of two staggered but connected units. Covered outdoor terraces are created by a set of cantilevers. The building has three basement levels and four above ground levels. In broad terms, the building's programme includes office space on the upper floors, a multi-purpose area on the ground floor, a fitness room and an underground car park.
What makes this project unusual is that it is built according to an innovative concept, the CREE system, which makes it possible to assemble prefabricated wood–concrete modules around a concrete core that ensures stability and houses the staircases and lift shafts. These elements are produced in a factory under optimum conditions, protected from the weather and temperature changes. Once prefabricated, they are numbered and transported by truck to the construction site. They are then put in place with the help of a crane and a few workers. For the exterior walls, for example, this means that the modules delivered include the exterior cladding, insulation, interior wall and window in one block.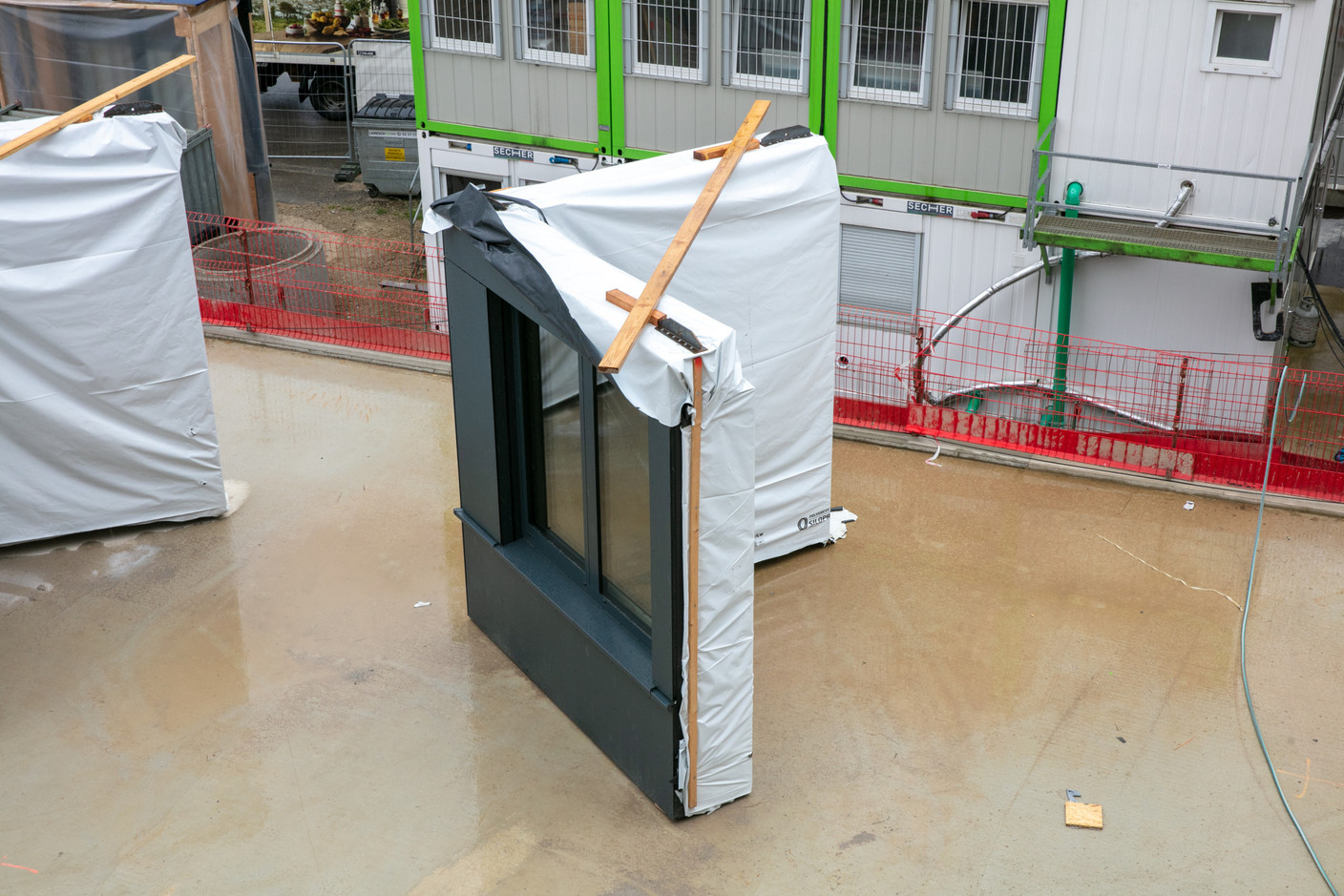 1 / 3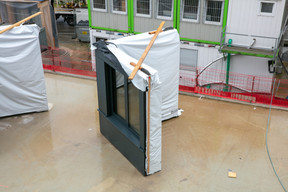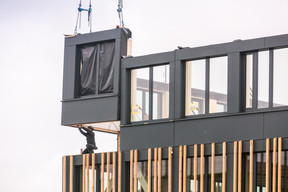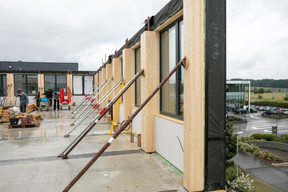 "This approach saves a lot of time on the building site," explains Jean-Marc Kieffer

, director of CDCL. "With this system we save three to four months in execution. This speed during the construction phase is an advantage for both the client and the lessee. The site goes faster, there is less equipment rental to pay, less risk on the site, and we save on rent in our current offices."
And the construction is indeed going very fast: on average, one floor was built per week on this site. But this approach to execution also has a counterpart: the design phase must be more thorough. "This system requires a great deal of cooperation between the client, the architect and the engineer," explains Nadine Gutenstein of a+a. "Everything has to be perfectly planned before construction; nothing can be changed during the construction phase, since everything is prefabricated."
In addition to the speed of execution, this system is also more respectful of resources and the environment thanks to the use of wood. "From an environmental point of view, it's very interesting, because this system makes it possible to divide the carbon footprint of the construction by two," says Jean-Marc Kieffer.
The building will also benefit from an intelligent system, equivalent to KNX, set up by AIO, a company with which CDCL is also involved. This intelligent management of the building will make it possible to reduce loads as much as possible, while remotely managing certain functions and detecting any anomalies.
The building is heated by heat pumps fed by 90m-deep geothermal boreholes.
A photovoltaic installation is planned on the roof. A production of 27,000 kWh per year is expected.
A BREEAM "Very Good" certification is targeted.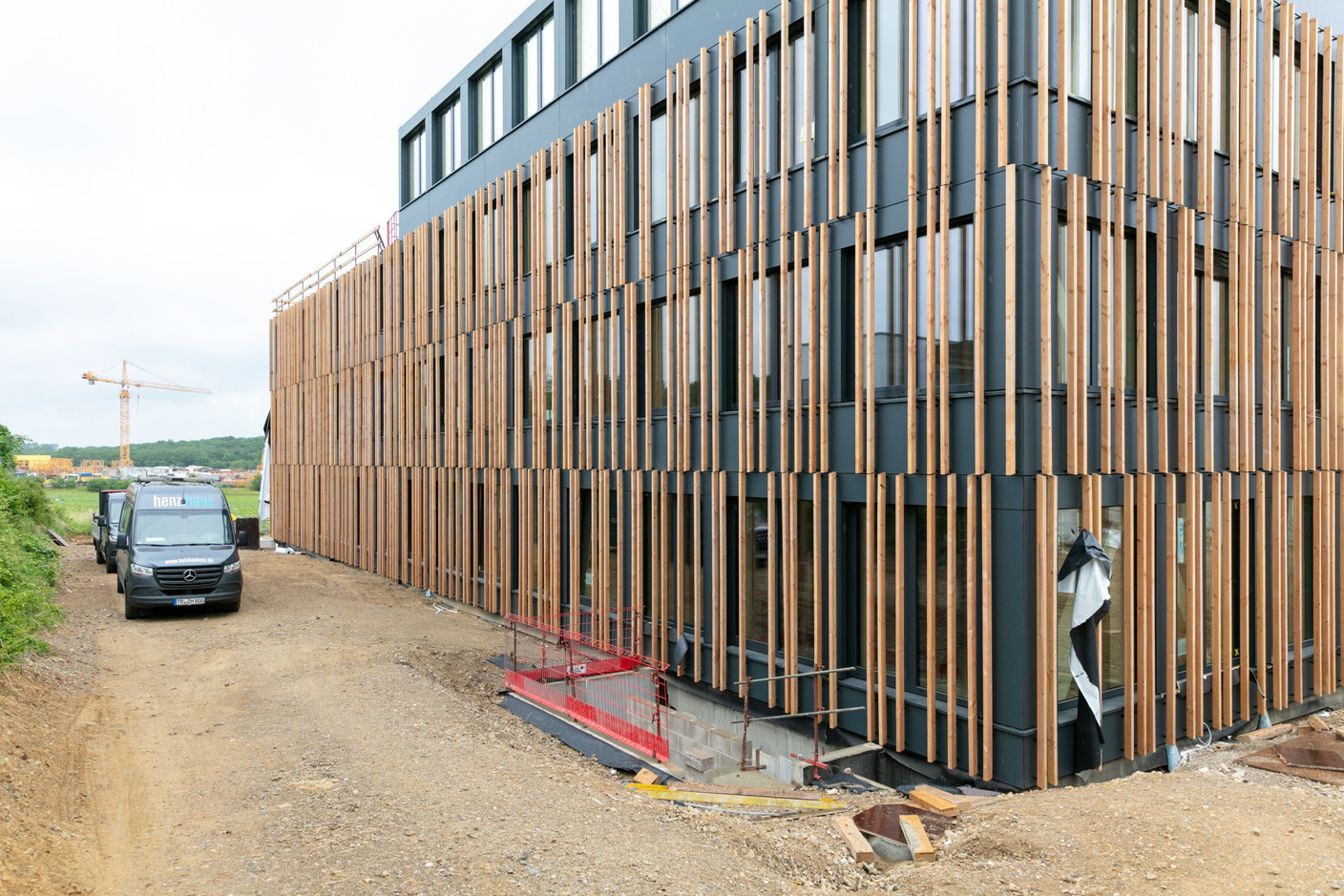 1 / 4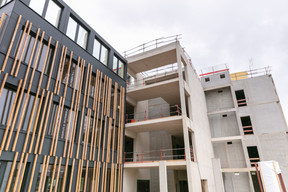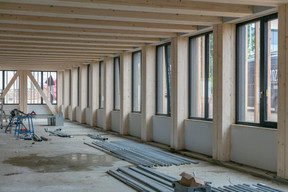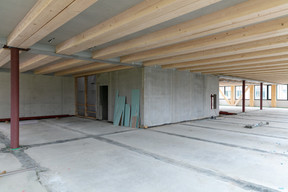 Inside, the floors will accommodate flexible layouts that meet the wishes of future occupants, who will be able to take advantage of a three-metre ceiling height. The offices are on the first floor and the windows are openable.
On the south side, there is a large multi-purpose room that can be used for catering, receptions or exhibitions, or even as a lounge. All of this is possible thanks to a very flexible and modular interior layout designed by UN Studio. This approach makes it possible to have a compact space that can be used more intensively.
Outside, several terraces will be fitted with sunshades.
"For us, this project is also a demonstration. It shows in real life what can be done, under what conditions and within what timeframe. We see this project as a turning point and we are convinced that we must move more and more towards sustainable construction, which the CREE system makes possible. For CDCL, this is an opportunity to stand out from our colleagues who have not yet embarked on this path," says Jean-Marc Kieffer.
The building is expected to be operational by the end of January 2022.