Bonds Urban Food Bistro was opened in Place de Nancy in May 2022 by Samuel Giovanardi, a well-known local figure, and his associate Alain Kapfer. With the support of his son Nils and his associate, his aim was to make this a place where people could gather and share good food and wine.
Workers from nearby companies flock over at lunchtime to dine with colleagues. The lunchtime menu, which changes every week, is designed to please. You can choose from a selection of starters, two main courses and three desserts for between €27 and €32. All served within the hour!
Families also come through the doors to relax and unwind. The restaurant's multi-cultural team caters for both local and international customers and offers generous portions. While the menu varies according to the season and discussions with customers, the cuisine continues to give pride of place to local and international flavours prepared in surprising and refined ways.
When it's time to sit down at the table we opt for a quick salmon tartare with Bonds sauce and Furikake soy mayo. It's a tasty and refreshing starter, as is the beef heart tomato tartare made with capers, anchovies, habanero chilli and Dijon mustard. Feeling only a bit hungry? Finding it hard to choose? The starters can also be shared like tapas.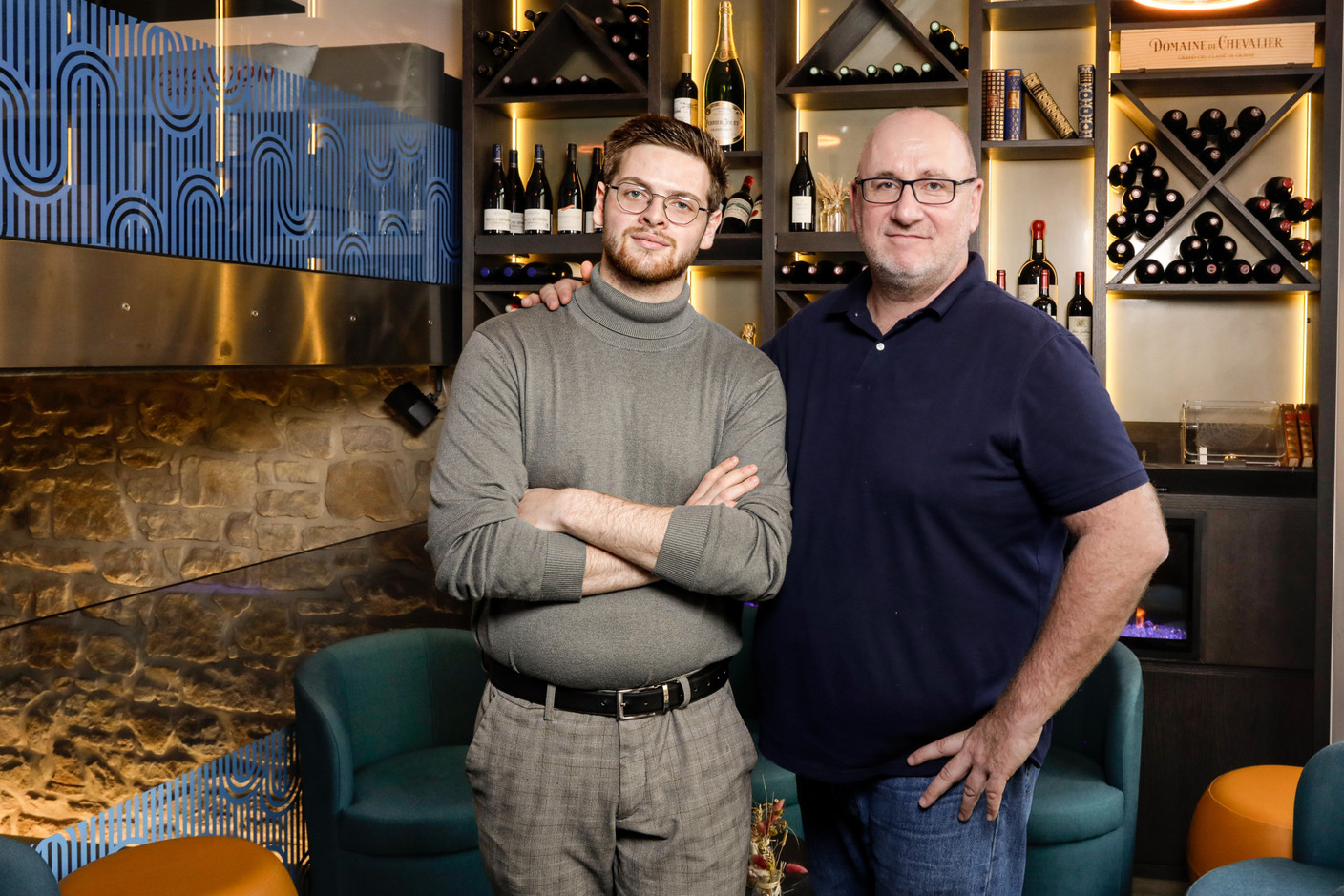 1 / 7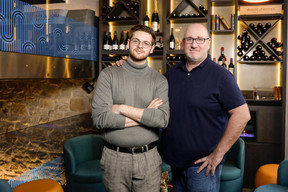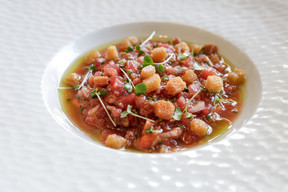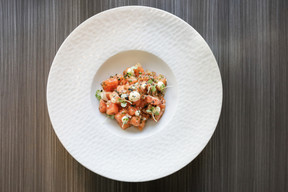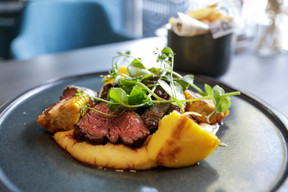 As a main why not try a beautiful piece of pan-fried certified Black-Angus flank steak that melts in your mouth. Accompanied by creamy sweetcorn, a 1924 blue cheese sauce (made from a blend of ewes' and cows' milk) and hand-cut fries, this dish will positively delight meat fans. Vegetarians have not been forgotten however! The creamy mushroom risotto with black and white truffle butter and cacio e pepe sauce is sure to warm their hearts.
To end on a high note, there's nothing like the lightness of oven-roasted pineapple served with a light coconut cream, white chocolate ice cream and Lima limón. For those with a sweet tooth, the dulche de leche French toast served with vanilla ice cream hits the spot. It's a real treat!
There's no shortage of choice when it comes to beverages to accompany these dishes. Keen to try a Portuguese white wine, an Italian red or a Luxembourg Riesling? The wine cellar has some 240 labels of all kinds sourced by the owner. Most of the wines are organic and natural and there are some exceptional vintages in there that will thrill the palate.
A cozy and elegant atmosphere
It's not just the food that is attentive, so is the decor. At Bonds, the welcome is warm and the atmosphere is friendly.
The cosy furniture and colourful canvases reinforce the intimate, modern feel of the restaurant. Make sure you don't miss the back terrace and wine cellar when you visit. They are also well worth a visit!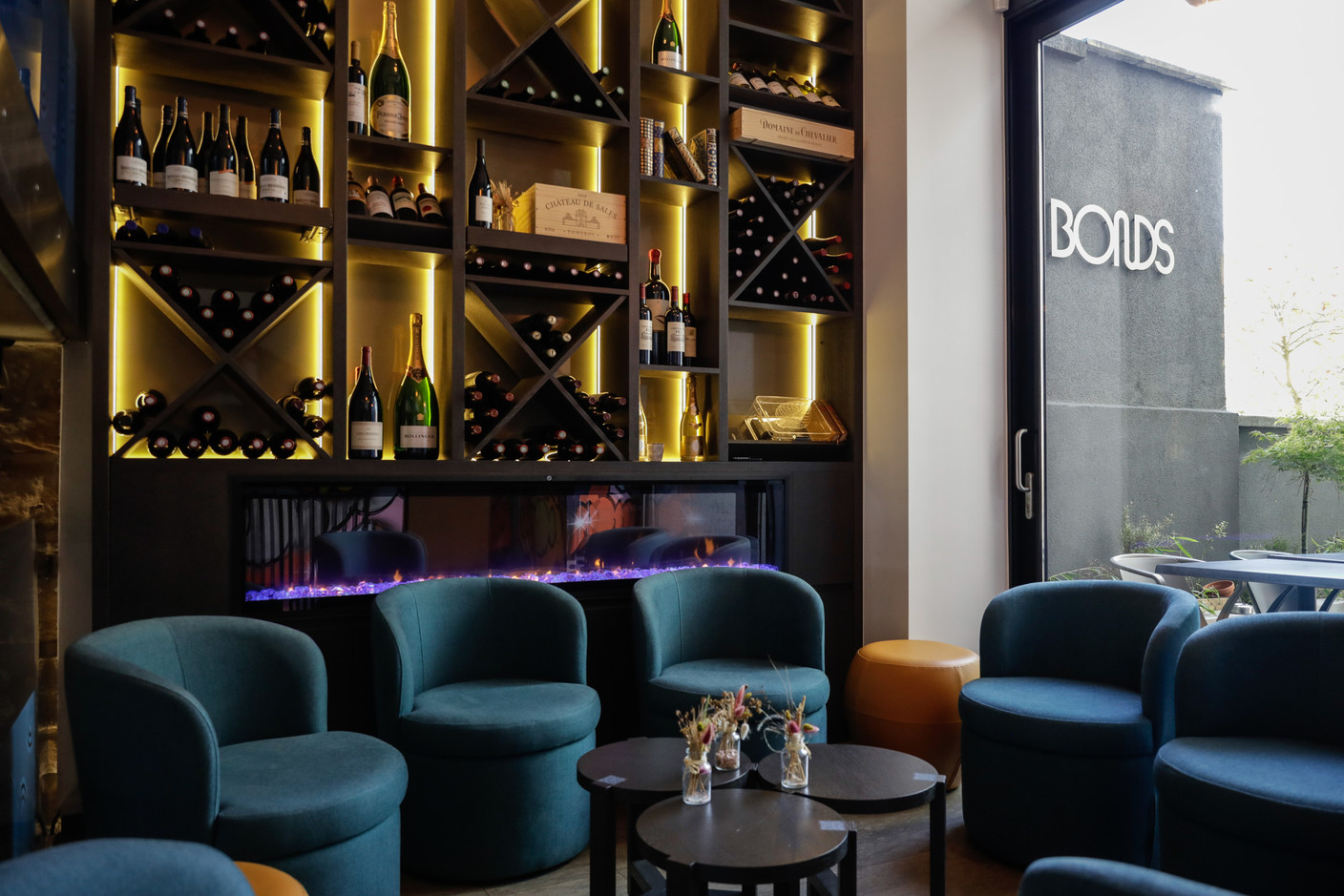 1 / 4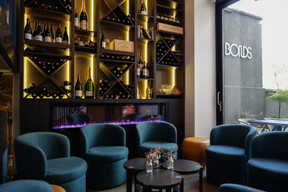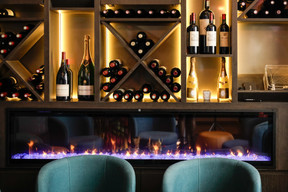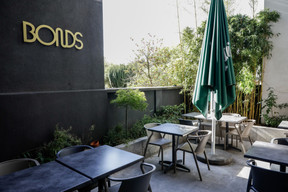 If you are keen to experience the restaurant in a more private and unusual way, why not book the establishment for a birthday or family event. Or come along to its regularly programmed themed evenings.
Pratical Informations
Mon-Sat: 12:00-14:00, 18:30-01:00, closed Sunday
tapas, wines, modern food bistro, cosy atmosphere
40 covers in the dining room, 40 covers on the front terrace and 15 covers on the back terrace