On 14 November, Ceratizit inaugurated the largest solar carport in Luxembourg in Mamer. The project was built and co-financed by Enerdeal, in partnership with Sudstroum, following a government call for tenders for large solar photovoltaic installations. The company had already been in charge of the installation of 772 photovoltaic panels on the roof of the neighbouring car park of the House of Biohealth in Esch-sur-Alzette, which was inaugurated in January 2022.
Can you tell us about the origin of the project with Ceratizit?
François Neu. - Ceratizit wanted to expand its car park. They were hesitating between making a multi-storey or enlarging the floor area. The latter was chosen, for a total of 650 spaces. We had been in contact with them since 2018 and we knew that, as industrialists, they were major consumers of energy. In 2019, it was the opportunity to expand the car park that created the opportunity to install solar panels. A carport is very visible and costs more than a roof-mounted installation, but not everyone has a roof with sufficient structural strength...
Ceratizit's idea was to do this for CSR reasons and because their roofs were cluttered with chimneys. They also wanted charging stations for electric vehicles. In the end, we installed 5,000 panels with a power of 1,320 kW, capable of producing about 1.25 GWh/year of electricity, which corresponds to the annual consumption of about 415 households. We already know that the production will be 15% higher this year because of the exceptional sunshine.
A carport is very visible and costs more than a solar installation on the roof.
What is the budget for such a project and why didn't Ceratizit finance it itself?
"Ceratizit wanted the carport builder to finance it as well, a possibility we offer to all our customers. Enerdeal built it, but the financing was done in a joint venture: Sudsolar Energy Invest II, a 50/50 joint venture between Sudstroum and Enerdeal for third-party financing of industrial solar photovoltaic projects of this scale. Physically, the electrons are consumed by Ceratizit. We are remunerated by the reinjection of the electricity produced into the grid and in return we pay Ceratizit a rent for 15 years for the use of the installation."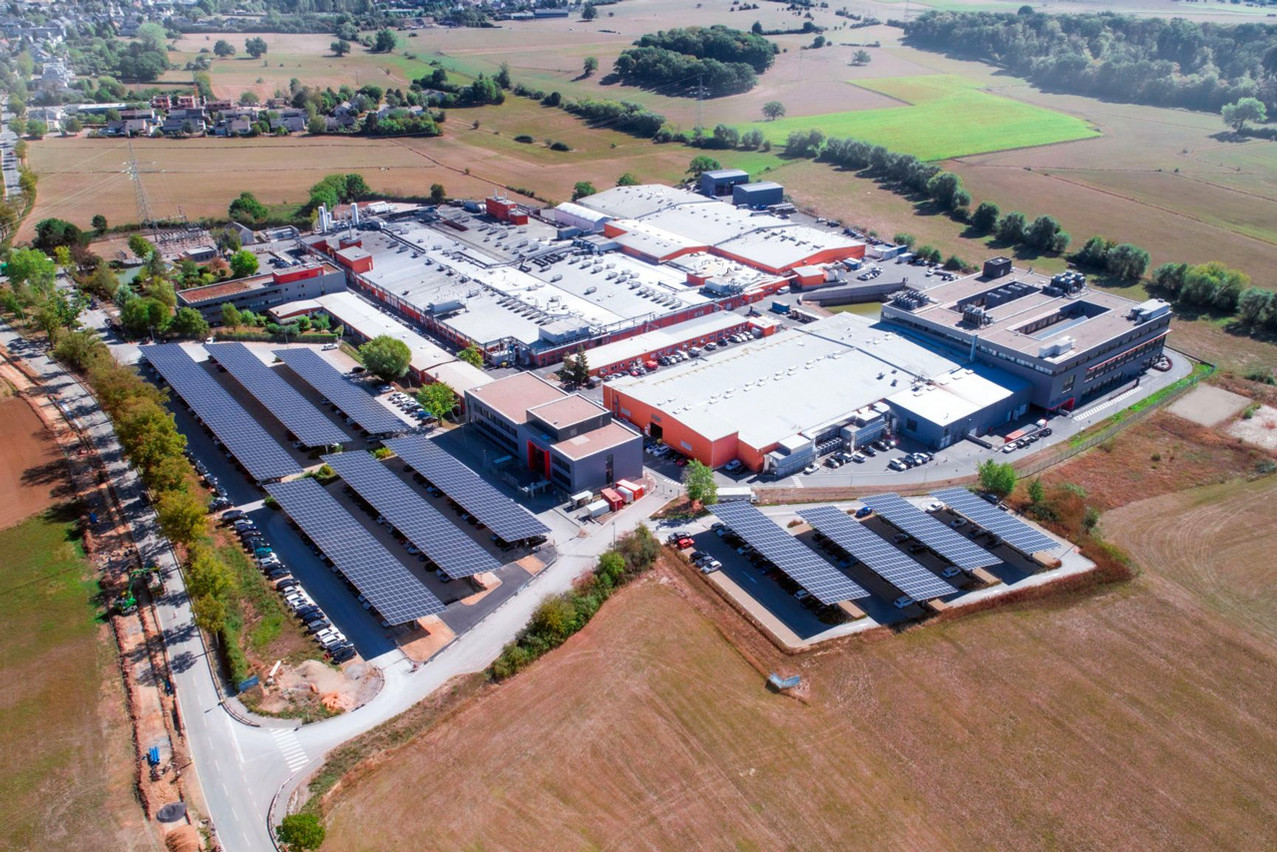 "This is the period during which the state guarantees the minimum purchase price of electricity. Two years ago the guaranteed price was higher than the market price, but now it is lower, so the energy produced is sold back into the grid. Eventually, Ceratizit becomes the owner of the installations. It cost us €1.8m to invest. We don't expect a return on investment for 12 or 13 years... This is longer and more expensive than for a roof-mounted installation (around 6 years), because the cost of the steel, the concrete anchoring and all the civil engineering work has to be amortized. The optimum lifetime of the solar panels will be longer: around 35 years. At that time, they will still have 80% of their initial power."
Why is the installation of solar panels for companies more than a competitive strategy?
"We are seeing more and more customers wanting to invest themselves and consume the electricity produced directly, as the price of electricity has risen three to four times this year. Like many industries in the Benelux, the use of solar energy acts as a strategic lever: everyone wants to be a pioneer in their sector of activity in order to decarbonise their production chain and satisfy the demands of shareholders.
This is primarily a competitive argument, but it is also a pressure relayed by the banks, which themselves have an obligation to finance more sustainable projects. A large European logistics company based in Luxembourg and Belgium confided that it had started up because its bank required it to have a fleet of vehicles running on electricity in order to keep its line of financing. A solar panel in Luxembourg can produce enough to drive 2,000 km per year. If people drive 20,000 km a year, 10 solar panels can cover all their electricity consumption."
This story was first published in French on Paperjam. It has been translated and edited for Delano.