New business registrations in the EU picked up again in the second quarter of the year according to data released by Eurostat on Wednesday 25 August, marked by a noticeable increase of 5.3% compared to an increase of 0.1 %  in the first quarter. In the euro area, the increase in registrations stood at 6.6%.
Also, registered bankruptcies, which have equally been rising since the third quarter of 2020, increased by 1.8% in the EU and by 6.9 % in the euro area compared to the first quarter.
Since 2015, the number of new businesses registrations in the EU had been on an upward trend until the first two quarters of last year when a decline was first recorded. Contrary to the pandemic circumstances, bankruptcies decreased in the first and second quarters of 2020 only to increase towards the third quarter of the year.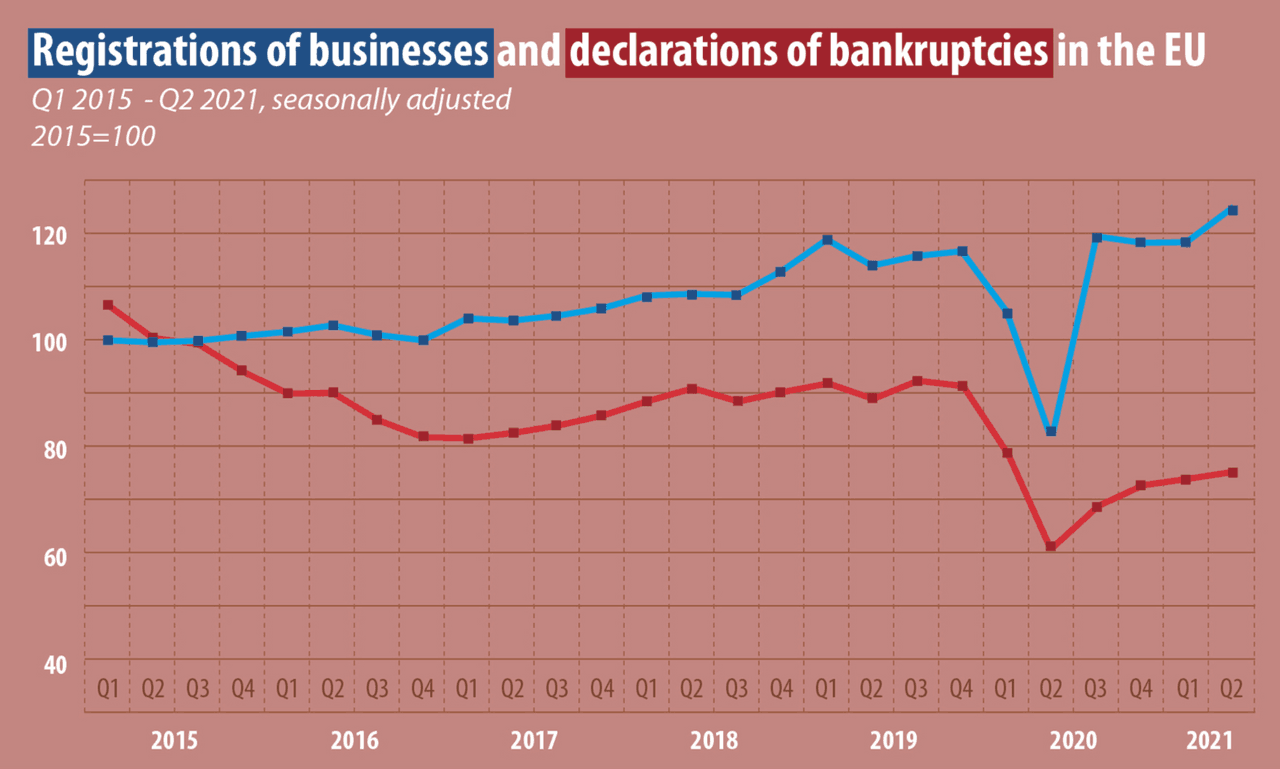 While the data on the number of new business registered in Luxembourg were not stated in the report, a recent publication by Fondation Idea revealed a lesser impact on the grand duchy's economy as it noted a drop in bankruptcies by 20%, and a 28% decrease in judicial liquidations between June and July this year. Prior to this, the national statistics office Statec had warned of a possible increase in bankruptcies following a threefold increase in liquidations in its April report. Despite the favourable turn of events for the grand duchy, Fondation Idea noted "the need for caution" in the coming months.
Eurostat, however, confirms the highest increases in bankruptcies were observed in Lithuania (+21.5 %), Slovakia (+20.3 %) and Estonia (+19.1 %). Romania (-35.5 %), Poland (-30.8 %) and the Netherlands (-6.3 %) saw the largest decreases in bankruptcy declarations, which was attributed to government measures in support of businesses during the covid pandemic, especially in the first quarter of the year.
On the other hand, the largest increases in business registrations were observed in Ireland (+213.6 %), Portugal (+36.1 %) and Slovakia (+19.7 %). Bulgaria, Lithuania (both -4.1 %) and Romania (-3.5 %) recorded the most decline.
Business registrations and bankruptcies by sectors 
For the first two quarters of the year, the transport sector, information and communication sector, and financial and insurance activities saw the most increase in the number of business registrations. Meanwhile, registrations to set up accommodation and food services declined.
In the second quarter of the year, fewer bankruptcy declarations were observed in the transport sector, trade, accommodation and food services. At the same time, bankruptcy declarations rose in construction, and information and communication services.