On 27 January 2021, the Luxembourg government signed a historic restitution agreement with the Luxembourg Foundation for the Remembrance of the Shoah, the Luxembourg Jewish Community and the World Jewish Restitution Organization.
The signing not only served as a financial acknowledgement, through which €1m of a Luxembourg fund was distributed to eligible Holocaust survivors (the completion of which was in March 2022), but it also committed to paying €120,000 per annum for 30 years to the foundation.
The agreement also focused on transforming Cinqfontaines, used as a deportation site during WWII, and aimed to dedicate resources to education, research and remembering the Holocaust.
Laurent Moyse took over as president of the foundation in late 2021 and told Delano the site will be transformed completely. "For the moment, it's in a transitional period because there are two major actors who are working on it, the Service National de la Jeunesse (SNJ) and the Zentrum fir politesch Bildung (ZPB), which are both important actors, trying to attract classes and young people to that location and explain what happened there."
Last year, there was an open doors event, but the first big step for the foundation will be checking with the Administration des bâtiments publics on what's even possible to do on the location--a step Moyse confirmed is already underway, although he anticipates it will take years before the site is fully ready.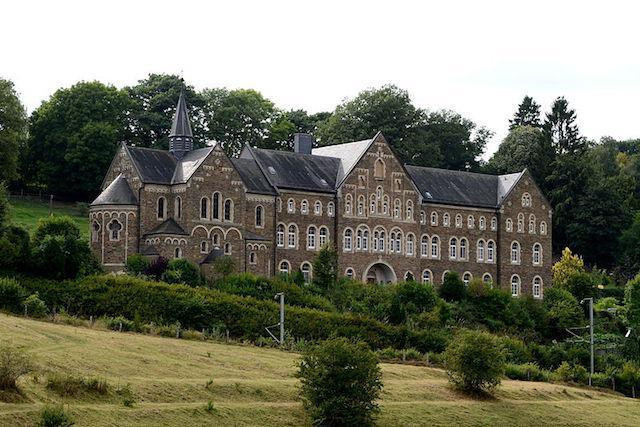 The SNJ and ZPB already have people working on content for the centre. "They'll be the ones doing the activities and animation [there]," Moyse said. "The SNJ specialises in working with young people, so they know how to elaborate pedagogical concepts, and the ZPB is more specialised in sensitising young people--but not only young people--in democratic values, the fight against racism, antisemitisim, on human rights, etc., and this will be a very important part of the concept."
Teaching history is a central part of the planning but tying history to the present day will be important too, especially for younger generations who are more removed from WWII, Moyse added.
A new framework
In late 2021, the European Commission presented its first ever strategy on fostering Jewish life and combatting antisemitism. Education and research on the Holocaust were included in the strategy. Moyse said that a Luxembourg strategy should be coming out "in the coming weeks."
"We noticed that, especially in Luxembourg, we don't have too many physical agressions, but the main concern is on the internet, social networks," he said. "We expect that in this plan, there are elements of fighting against this hate speech, and there are other concerns, like the security of Jewish places, like synagogues… for the moment, there are no specific threats, but we know that Jewish institutions could always be a target."
Prime minister

Xavier Bettel (DP), who today will take part in a commemorative ceremony organised in Esch-sur-Alzette, has previously called upon political parties to work together to combat such radicalisation: in 2021, a group of people protesting against coronavirus measures vandalised his home and gathered outside of family minister

Corinne Cahen's (DP) home. As déi Gréng's

Josée Lorschée put it at the time, the target of these two politicians "can be answered in two words: homophobia and antisemitism." All parties condemned comparisons between the treatment of unvaccinated individuals and the persecution of Jews.
Luxembourg in 2019 signed an agreement with Jerusalem-based Yad Vashem World Holocaust Remembrance Centre to include continuing education programmes for teachers. Moyse hopes that more can be done when it comes to education in schools on such topics. "We think it's important to have this aspect in the school curriculum as a permanent course, and what is especially important is the training of the teachers," he explained. "We noticed there are individual initiatives, but it's not an organised thing, and we'd be happy if there's a framework for this."
The complexity of dormant accounts
 The 2021 restitution agreement had also foreseen dealing with the difficult issue of dormant accounts through researching the 1930-45 timeframe. But it's complex.
"The working group is working with an auditor, which is following the work with the banks, which are in the process of checking on the dormant accounts to see if there are some linked to victims of the Holocaust. They work along with the CSSF and the finance ministry and state ministry," Moyse explained. The first issue is seeing how many dormant accounts are still unclaimed and how much money is in them.
Other working groups are to deal with unpaid insurance issues and the restitution of works of art and other cultural property. The latter working group is currently working, which includes the MNHA, the national library--"institutions which existed at the time and which might have things that could have belonged to the victims, to the families."
In all cases, as Moyse pointed out, one of the main challenges is that banks back then weren't working digitally, so research needs to be done through archives, if they even exist. Another problematic aspect is that current banks may not be the same as former banks. It's also a challenge to see if dormant accounts can indeed be tracked back, what happened if there weren't claimants, etc.
The foundation is co-financing a study with the University of Luxembourg to discover what happened to some families in certain areas to illustrate case studies of how assets were disposed. Another project is the digital memorial of the Shoah in Luxembourg, with biographies of deportation victims, following what happened to them, whether they survived, etc.
But Moyse confirmed the issue of dormant accounts will take some time. Documentation may be hard to find or not even available, and as time passes and Holocaust survivors are dying, their stories are also lost.
"There's a recommendation by some international institutions, e.g. IHRA [the International Holocaust Remembrance Alliance], to push member states to open their archives for all the period linked to the Holocaust," Moyse explained. "There are some problems of accessing in many countries, because of the GDPR, but European legislation says that the period of the Holocaust can be exempted if it's for the purpose of research. But many countries need time to understand that and follow that recommendation."