Paperjam: Doctena has been around for ten years--is that a long time?
Alain Fontaine: Yes, because not many startups make it to ten years! And no, because I can still remember our first meeting: 

Patrick Kersten, Marc Molitor and I were sketching out the plans over a coffee at the Coque.
Ten years ago the project felt avant-garde. Today, not so much.
Even ten years ago, it wasn't that crazy. I come from a tech background. At the beginning, we were naive enough to think that it was simple, that all we had to do was manage appointments! But it wasn't that simple.
The craziest thing was simply that everyone was already accustomed to using the internet to book hotels, order pizzas and buy plane tickets, but nobody had ever really thought about making a doctor's appointment in this way. Combining the world of doctors with that of technology surprised a lot of people.
Normally, you go into a startup thinking: "In three years' time we'll have conquered Europe and we'll be kings!" But we quickly realised that the world of medicine is a world that moves very slowly. In 99% of cases, the exit that an entrepreneur imagines after three years never happens. It's a marathon, not a sprint. Even with our shareholders and the board, there's a consensus that this is a long-term project that requires a lot of breathing space. There's no point in running, even if all three of us--the co-founders--came from the private sector where things move a bit more quickly.
Today, compared to a decade ago, making an appointment with a doctor online is no longer anything out of the ordinary--especially in Luxembourg, where we have been fortunate enough to be the only platform for that, and where we're now very well known and appreciated by doctors and patients. Elsewhere, there are competitors, but that's a good sign: it means this is an attractive sector.
Some doctors are unwilling to adopt certain technologies. What strategies have you used to convince them to do so?
There aren't 1,000 ways. There are three: the first is by getting new laws introduced, which isn't easy; the second is canvassing to raise awareness, educate and convert; and the third is to generate interest. Regarding that last one: each market has some growth inherent in it--there's no point in having an army of salespeople suitable for a 50% annual growth rate if the market is only growing by 10-15% a year. And what I'm getting at is the relative reluctance, within the medical world, to change.
For example, it takes ten years from the time a pharmaceutical company launches a new drug on the market--not including, easily, ten years of research and development--until the majority of GPs prescribe it. In the beginning, Doctena went in with a crowbar and an army of sales representatives in six countries. Today, we've switched to online marketing and sales and a lot of communication, riding the wave of organic growth in the market. Every morning, we hear from young doctors who are starting out and others who want to jump from 1980 to 2023.
But the difference between your technology and a drug is that it has no impact on patient health.
No, but doctors have to pay for this service and they are very price-sensitive.
Surely they can understand the benefits, though? With the tool they can organise themselves better, and the initial cost will be offset by replacing work currently done by an assistant…
It's not an easy discussion! We don't explain to them how they should work. There are gains in terms of efficiency, quality of reception, fewer missed appointments, but I have the impression that many doctors are thinking that they already have a solution: "I have my secretary, so why should I pay X euros more?" Our counterparts at Doctolib, who have €500m in their accounts, can afford a more aggressive approach.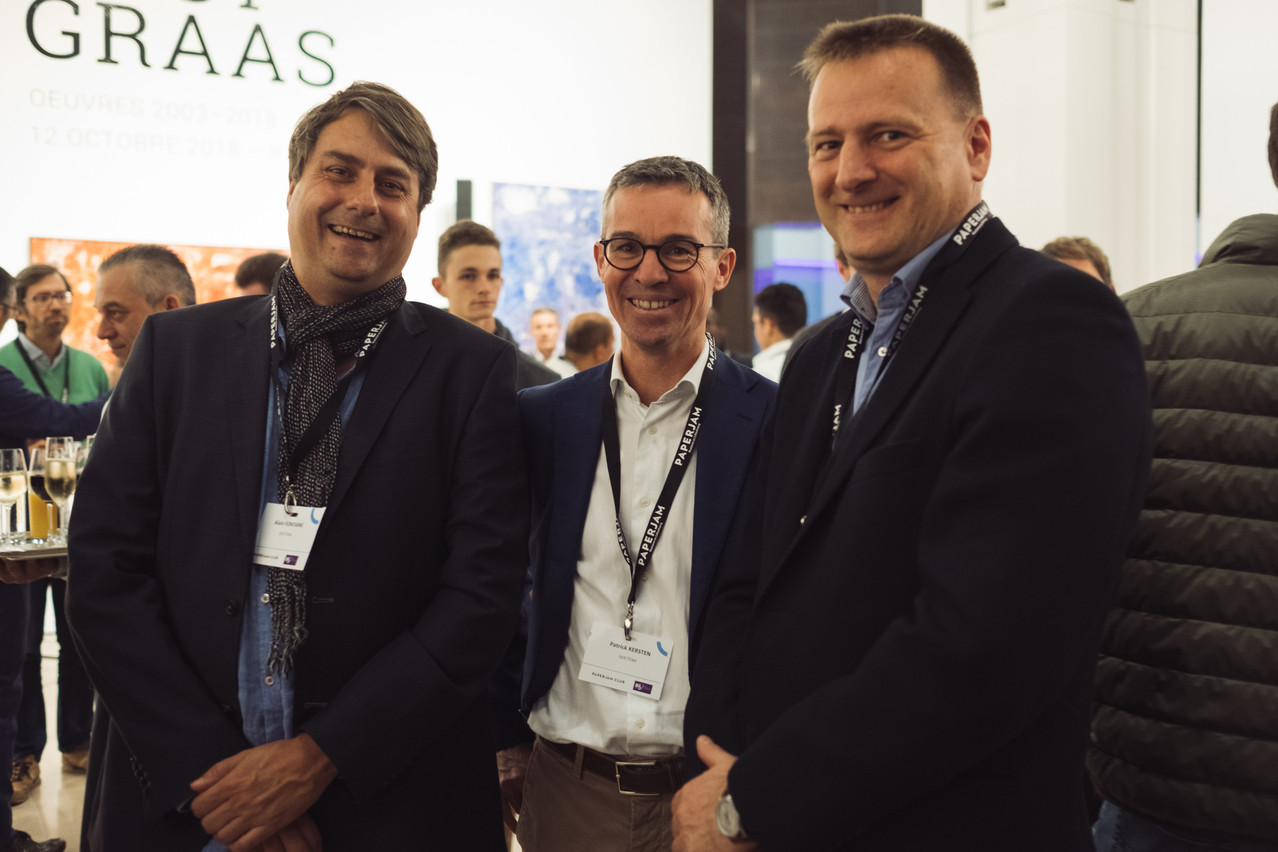 We regularly hear about a shortage of doctors, which means that there are more patients per doctor--is that a driving force for development?
Yes and no. We have two products. The first is really the doctena.lu portal, which--like athome.lu for real estate and luxauto.lu for second-hand cars--helps doctors who need patients to become findable, and patients who need doctors to find one. In many countries, this product is less attractive because doctors already have enough (or too many patients) and they don't want to take on new ones.
That's where our second, and main, product comes in: calendar management, which is simultaneously resource, workflow and appointment management. This relieves the doctor (or their assistant) so that they have more time for their patients. Our product development has come a long way in this direction: in Belgium, we have entered into a partnership with Bingli, a platform based on artificial intelligence that helps pre-diagnose patients and which we have integrated into Doctena.
With Bingli, the big advantage is that the doctor doesn't need to spend 20 minutes asking where their patient is in pain. Plus, if the patient is suffering a lot, they will especially appreciate the easier and faster process: they can answer those questions from the comfort of their own sofa, and if the doctor already has this preliminary information they can start considering a diagnosis sooner.
Has covid given your business a particular boost?
The great benefit of covid is that, in the medium- and long-term, it has brought about a change in people's views and acceptance of digital solutions. The day doctors had to close their practices, we needed a solution that would allow patients to talk to their doctors. This was a real wake-up call, and it made patients more willing to book appointments online or take advantage of teleconsultation. In the short term, it was a stressful time. We had to hurry to get our teleconsultation solution out quickly because dozens of doctors were phoning us every day asking for it.
The use of teleconsultation was phenomenal during the lockdowns and peaks of the crisis, but it receded as quickly as it had advanced because doctors, together with health funds and governments, prefer in-person appointments because they're more lucrative, even if patients are spending 30 minutes waiting for a ten-minute appointment.
Nine times out of ten, though, the appointment could be done by video--and at least half the trips to the GP are unnecessary.
Turning to data protection, covid has also represented a quantum leap for hackers and other ill-intentioned people. How do you protect data?
We take the subject very seriously. In terms of our budget for audits, certifications, penetration tests and multi-layer protection systems against attacks, we spend several hundred thousand euros a year. Since 2022, we have been Iso27001 certified, which is the standard for IT systems security. This is both to show that we're doing what we need to do, but also to force us to stay on top of this issue internally.
This certification is an ongoing process, with a control audit one year and a new certification exam the second year. We took on a reputable external DPO and chose one in Germany, thinking that if a German DPO was keeping an eye on things, that would put us in the clear. In our management, our CISO, Davy Cox, has a dedicated role and he reports directly to me! He's not part of IT.
Let's talk a little about your results. The six countries are…?
Luxembourg, Belgium, the Netherlands, Germany, Austria and Switzerland.
And what's next? A seventh?
That's not part of our strategic plans or appetites. But we are keeping our eyes and ears open for opportunities. The strategy is to reach our next milestone in three years' time, which will be to maintain annual recurring revenues of €10m. This year, we'll hit €6m.
40% more?
With a growth rate of 15-20% a year, it's ambitious but achievable. Our investors prefer realistic business plans. If we explain to them that the situation will ultimately take four or five years, I don't doubt that they will accept changes to the business plan. There is no clear desire to exit. At €10m a year in recurring revenue, we'll have the luxury of choice: either we continue to grow and make a profit, or we can perhaps reach a level that would be attractive to VCs or very large investors with a cheque for €25m or €50m…
Is your model comparable to what exists in the United States, for example?
No. If you look at healthcare in the United States, and at health insurance, it's not at all the same. The Americans are more focused on acquiring patients, especially patients with large portfolios. Here, doctors are not allowed to advertise, nor to canvass, and as doctors they are not allowed to spend money on unfair competition.
How many employees do you have?
About 60. Our retention rate is very good.
Does everyone work from home?
They can, yes.
What about managing productivity? And the regulatory environment?
Some people have to come into the office regularly for tax reasons. But we have also introduced hyper-flexible working hours. Some IT people start at 5:30am, work until midday and then go home. We've noticed that productivity has increased. The nature of the work we do lends itself extremely well to teleworking. I'm far from saying "everyone must telework" or "bosses who don't allow teleworking are idiots"--there are jobs where it's not possible. But where it can work, yes, let's do it. In our company, it works. Out of 60 people, around 20 work in IT, 15 in customer support and seven or eight in marketing and business intelligence. Obviously, these people need to have a minimum level of equipment at home.
The work-life balance is good, though there is a downside for those who can't manage to separate these two lives or who need social contact. Before covid, the first question candidates asked was about salary. Now it's: "Can I work from home?" There's also a generational element.
But when it comes to productivity, we measure things like customer satisfaction. I can see that my teams are doing a good job.
But what about tomorrow? The company is humming along after ten years.
Let's be careful about saying that business is "humming along." We've have our share of difficulties in our history already…
Technology applied to the world of healthcare allows us to be as crazy, as sci-fi, as we want. AI will be for next year: there will be things to do. For Doctena, to remain pragmatic, the most plausible major accelerations will be to reconsider our position with regard to geographical expansion, to imagine going to Poland, Romania, Brazil, Argentina, and to diversify the product around the needs of doctors and hospitals.
What about you, personally?
I set up my first company in 2001, a web agency, when I was just out of school. My family runs Brasserie Simon, and although I've turned down the offer to take it over, I'm pleased that my father and sister are continuing the adventure successfully. For my part, I like to create. I'd die if I had an office job. Entrepreneurship is part of me and I love technology, I've always loved technology. So we'll see.
This article was originally published in Paperjam. It has been translated and edited for Delano.