In the fight against COVID-19, we've just witnessed a modern medical miracle. Several drug developers brought COVID-19 vaccines from initial trials to people's arms in less than a year – a critical milestone in ending the pandemic. This lightning-quick pace defied the expectations of health care professionals and saved countless lives.
Bringing a vaccine to patients is a complex process typically measured in years or decades. Just think: It took nearly 50 years of research and trials before Dr. Jonas Salk's polio vaccine was authorized in 1955. More recently, vaccines for chickenpox and Ebola were each developed in about 42 years. In striking contrast, the COVID-19 vaccine was developed far faster than any similar drug. "It's one of the greatest scientific accomplishments in our lifetimes," says equity investment analyst Laura Nelson Carney, who covers pharmaceutical and biotechnology companies in Europe and Asia. "And with 13 billion doses produced in 2021, global manufacturing capacity is also larger than we would have thought possible."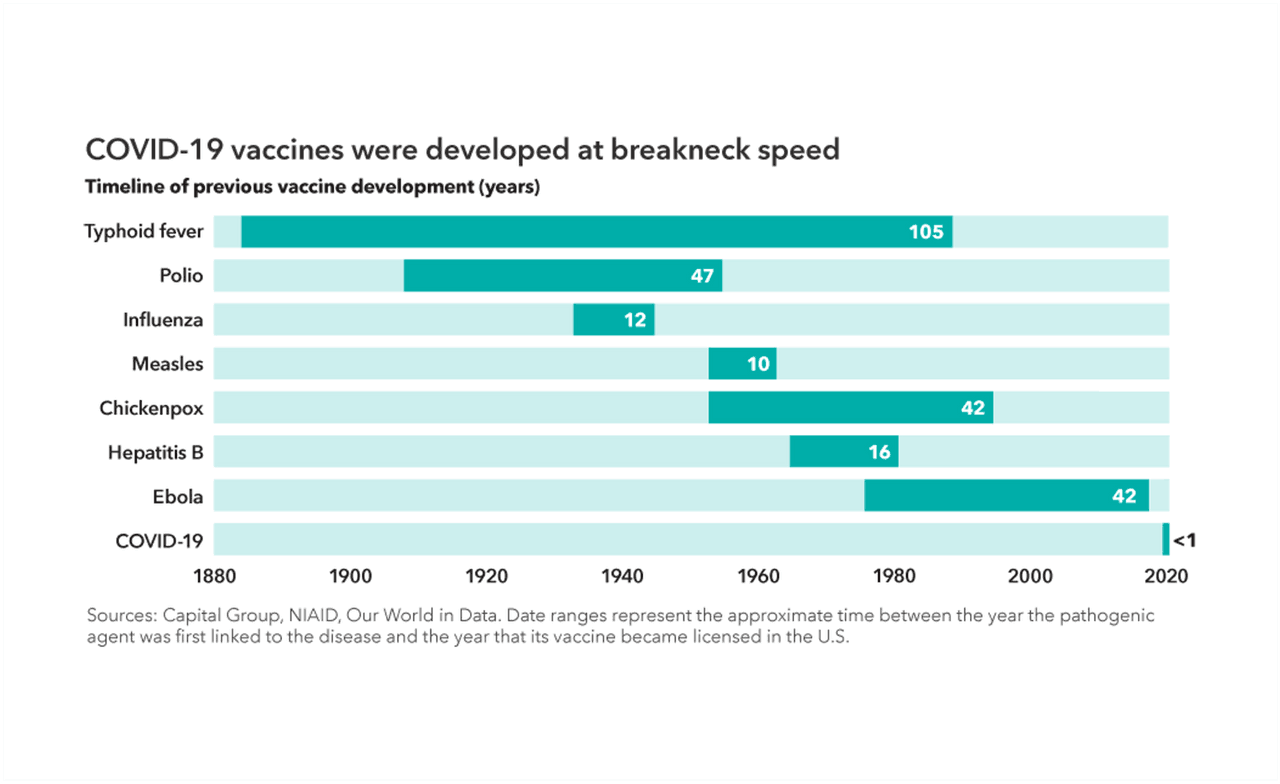 Interested in learning more? Further data and analysis by Laura Nelson Carney, equity investment analyst at Capital Group, is available here.
United against COVID
Instead of competing, countries chose to cooperate. The vaccine developed by Pfizer and BioNTech (the first to receive FDA approval) is a perfect example of this mindset. "It was developed by a Turkish couple leading a German company partnered with a US multinational led by a Greek immigrant with a Scandinavian chief scientific officer," notes equity portfolio manager and investment analyst Richmond Wolf. "That is a great affirmation of the global nature of innovation today."
The broader effort against COVID-19 also featured the cooperation of companies, governments and academia around the world. US biotech firm Moderna partnered with a division of the US National Institutes of Health (NIH) to develop a similar vaccine, and UK pharmaceutical giant AstraZeneca worked with Oxford University to make its version. These initiatives were turbocharged by financial backing from the US and the European Union. "Billions of dollars of upfront government funding allowed companies to do many steps in parallel that they would normally do in sequence," explains Nelson Carney.
Will future drug development be this fast?
For scientists and labs alike, the obvious question is whether this record pace can be repeated. While we may not see the same level of government spending on drug development as on COVID-19 vaccines, the speed of science has taken a great leap forward, and this momentum is likely to continue fueling progress.
"Advances in genetic analysis and the development of the world's first mRNA vaccines are leading the way to a new era in medicine," says Wolf. "Crucial breakthroughs have been made in the field of immuno-oncology (the treatment of various types of cancer). We can now sequence tumors, compare their mutations to the map of the human genome, and identify and match therapies to specific mutations." Therapies derived from genetic testing have the potential to extend lives and generate billions of dollars in revenue for the companies that successfully develop them.
A bright future for the health care sector
This progress has had a direct impact on investment. Drug discovery is going global, with the US and Europe no longer the only significant contributors. China is also playing a major role in the global pharma industry, both as an end-user market and as a source of innovation. "Chinese biotech company BeiGene recently got the first FDA approval for its cancer drug Brukinsa," says Laura Nelson Carney. "Another company, HUTCHMED, will likely get an approval soon for its treatment targeting neuroendocrine tumors."
Chinese biotech company BeiGene recently got the first FDA approval for its cancer drug Brukinsa. Another company, HUTCHMED, will likely get an approval soon for its treatment targeting neuroendocrine tumors.
 For some types of cancer and other ailments, the potential addressable market size can be enormous. "For example, the first Chinese PD-1 inhibitor filed for approval in the US only a few weeks ago," says Laura Nelson Carney. "This is potentially a $50 billion market."
The 2020s are set to be the decade when health care takes center stage. "There's never been a more exciting time," Wolf states. "It started with the sequencing of the human genome. We've developed and improved these tools over the last two decades, and now we're using them to provide more accurate diagnostics and develop better therapies."
Interested in finding out more about recent developments in the health care sector? Get in touch with Capital Group!