The results of the study show €5.5trn in Luxembourg fund assets under management, up by 10% in the first seven months of 2021.  While job creation has seen a steady growth over the last decade, Brexit has consolidated the grand duchy as a financial centre.
The overall GDP of the country has been steadily growing in recent years with the annual GDP growth rate averaging 4% between 2008 and 2019.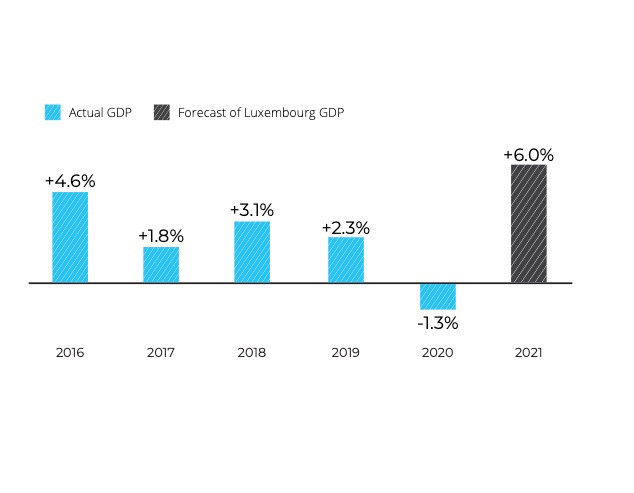 Luxembourg's economy is also being pushed up by its financial services industry (FSI). While 30% of the national GDP can be attributed to its FSI, just 12% of the national workforce is employed in the sector.
Looking ahead to the years to come, Deloitte's report says that sustainable finance and digitalisation are the two main vectors of change and Luxembourg is well positioned to be a leader in the field.
Deloitte's report is the result of a survey across over 170 actors in the industry as well as remote interviews with market players and desk research. It says key drivers of the financial centre are internationalisation, innovation, sustainability and talent. The report states that the grand duchy needs to continue to emerge as a cross border centre to attract more international investors while focusing on technology and sustainable projects.
The report also identified several actions needed to be undertaken in the near future. They include improving international frameworks, the promotion of digital innovation, fintechs, as well as green and sustainable finance.
In a global financial centres index published in September, Luxembourg dropped to 23rd rank globally, from 17th in a March edition of the ranking. Amsterdam and Paris overtook Luxembourg, leaving it only in fourth place in Europe. The country ranked low on fintech, at place 55 out of 109. 
Deloitte identified four potential scenarios for Luxembourg's financial ecosystem and one of them largely emerged as the favourite among those participating in the survey. That is the so-called rewired model which would see the financial industry strongly focus on providing long-term added value for society.
That would see Luxembourg position itself as one of the major global fiscal hubs for sustainability and innovation and thus attracting international investors.