In Luxembourg last week to celebrate the re-opening of the Hermès store after a total redesign, Florian Craen settles down for an interview in a superbly appointed apartment above the shop on rue  Philippe II. The genial executive vice-president sales & distribution at Hermès International since 2013, Craen speaks flawless English, the result of extensive time spent in London, where he was managing director of Hermès Great Britain for three years, and the United States, where he took an accelerated management program at Harvard Business School.
Duncan Roberts: The Hermès store in Luxembourg has been completely redesigned. Is that a sign of confidence in the Luxembourg market?
Florian Craen: By definition, yes, of course, because it projects us for many more years. But it is also the continuation of a close to 60-year-old story  [53 years precisely] of collaboration with the Graas family that who runs the Luxembourg store. We can say it is the start of a new chapter, the proof that we have a strong and very established position here in Luxembourg.
This year also saw the redesign of the Milan flagship store. How much creative leeway is allowed to make sure each store also retains its individual character?
Our stores are different by their very nature, because of their architectural dimensions and the city, the ecosystem, in which they are located. We have this very particular view that every store has to be genuinely different. And they are unique in every way.
Of course, there are some codes, some details which we recognize in every store. The name, the Ex-libris signature on the floor, the mosaic tiles… But apart from these elements, everything is completely different. We start by discussing with the team that is managing the store. What they are looking for in terms of experience? , where they wish to position our métiers - we have 16 different ones at Hermès - and from this conversation, RDAI, the agency which designs all Hermès' stores worldwide, comes up with a totally unique design.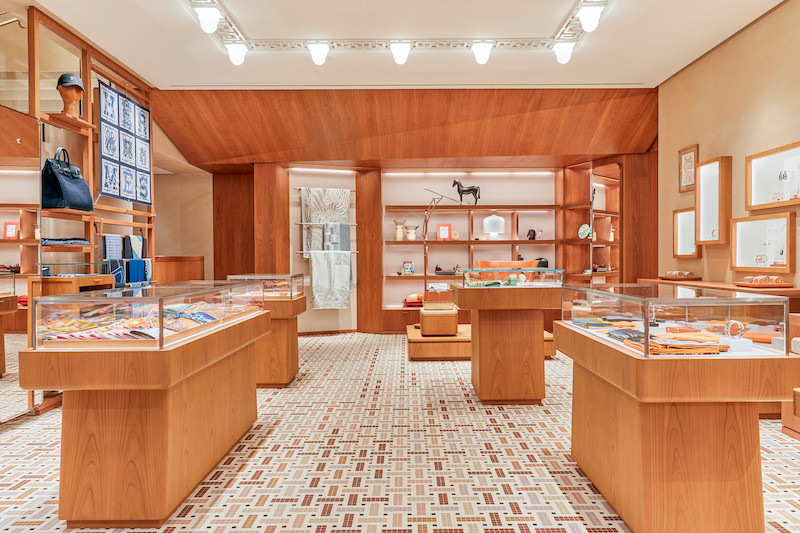 1 / 4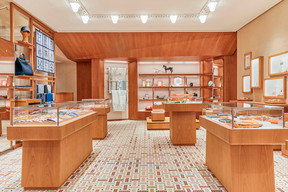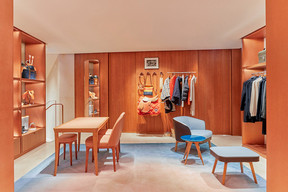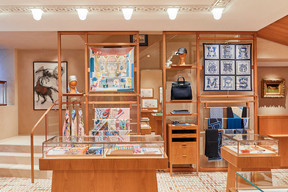 You mention the 16 Hermès métiers. Each store is required to showcase all of them. What is the reason for this strategy?
First, whatever the size of the store, our product offer is so very large that no store could display them all. Not even our largest store in the world, the Faubourg Saint-Honoré store in Paris. I think the key point is to be able to express Hermès not as a house of two or three well-known objects, but as a signature of an environment. You know, Hermès stands for quality and craftsmanship, but it is also Parisian elegance and its style that we've expressed through many different product categories.
There is this idea that we are a house of multiple existence and multiple realities, and we want our stores to reflect this.
We want people to be surprised. They come to a Hermès store because they've heard about our bags, or our scarves or our perfumes and then they may discover an object from another métier…from there we can introduce them to shoes or our ready to wear universes for instance. There is this idea that we are a house of multiple existence and multiple realities, and we want our stores to reflect this.
What lines perform best in Luxembourg, and has that changed due to the increase in tourist buses, especially carrying Chinese visitors, that arrive here specifically for luxury shopping?
I would say in Luxembourg we probably have a good mix of traditional activity around our historical métiers, as we call them. Maybe leather first, and then silk is very strong here. We are in a finance city, so we also have men's business driven by ties, for example, which still is very important. There are growing categories too as I've mentioned, around fashion in general, with ready-to-wear or shoes.
Tourism certainly impacts the business dynamics of a store, and, at some point, the customer experience, but in Luxembourg we are still a step aside from the big crowds of London or Paris. It is not a constant and permanent flow. I would say it is part of the modern reality of our business through the world. I joined Hermès in 1997 and, at that time, we were talking more about the Japanese rather than the Chinese market, which was just emerging.
The 2021 results for Hermès have so far been impressive to say the least. [Third quarter figures show sales growth of 31% at constant exchange rates compared to 2020 and an increase of 40% over two years.] But the figures for Europe, while excellent, seem to be trailing America and Asia. Is that fair to say?
We had a difficult first quarter in Europe, for obvious reasons. A number of our stores were closed, which was not the case in Asia. What I can share is that the past few months have been extraordinarily dynamic in Europe. We have a very strong activity across the world, including in Europe, and including here in Luxembourg.
Of course, the figures we publish are year-to-date figures. They encompass nine months of activity. What this doesn't show is the weekly trend, which is obviously very different from the beginning of the year. I expect, and I hope actually, that we are heading through a good holiday season. And I don't mean this in terms of business, I mean it in terms of life. I hope these coming weeks will bring joy and smiles and fun, which is probably what we are all missing the most.
As we emerged from the pandemic and lockdown, it seemed that there was a renewed interest in luxury brands. Is that a reasonable assessment and do you think it was because people have reassessed how they shop?
First, the first lockdown was very significant in terms of duration, so people could not shop for some time. Secondly, we had a limitation of people allowed in the store and that changed the dynamics. We heard comments about so many people queuing outside, this was also because of the limited capacity inside the store, because of health measures.  In former times, these people may simply have been browsing inside the store.
But it is true that in addition to these factors, we clearly have seen a different buying impulse. People were not traveling, couldn't attend celebrations…This probably generated some change, a pattern of people wanting to please themselves. So, it is a combination of multi-dynamics, people who were eager to go back in the store having spent months behind a screen, and clearly a willingness to indulge themselves.
it's been reassuring to see this ability we've had all collectively, and I don't mean just at Hermès, but as a society, to adapt and adjust.
Finally, as we come towards the end of the year, what is your vision for Hermès in 2022? What's your prognosis for the luxury market?
I've learned to stop making any prognosis, because I would literally say that everything that happened was not planned and everything we planned did not happen. The reality in which we've been working over the past 18 months is unheard of. But it's been reassuring to see this ability we've had all collectively, and I don't mean just at Hermès, but as a society, to adapt and adjust.
I would say for 2022, I expect us to continue to do what we do best, making beautiful objects, to remain agile in this capacity. We don't know where we will be one year from now. In a way, it is scary, but it is exciting also to be in an environment where your team and the people around you and your entire company has proven this capacity to react and adjust. I would hope that it also summarises human nature, this capacity to bounce back. It is an incredible challenge and I hope we all keep this resilience.