What do Adele, Stromae, Mumford & Sons, Dua Lipa and Rosalía have in common, apart from a good dose of talent and an undeniable success in the music world? Before exploding onto the world stage, they were all winners of the Music Moves Europe Awards. A prize created a few years ago, in collaboration with the European Commission, to help some of Europe's emerging talents break into the international arena. The awards are presented every January during the Eurosonic Noorderslag festival in Groningen, the Netherlands.
This year, for the first time ever, Luxembourg is lucky enough to have an artist among the 15 nominees: Francis of Delirium. A small event in itself for the Luxembourg music industry.
A meeting... at the after-school music club
Francis of Delirium is a project that features a rather unusual duo. On one side, Jana Bahrich, 20 years old, guitarist and singer. On the other, Chris Hewett, from Seattle, almost 30 years older, originally the band's drummer, but whom his little protégée defines today mainly as her "co-producer". They met at the rock club that Chris used to run for his kids after school. You can't make this up. So that's where it all started.
Now they are waiting for the ceremony on 20 January to find out if they will be among the six winners of the 2022 edition of the Music Moves Europe Awards. And they will leave the Netherlands with a cheque for €10,000, in addition to having put their names in the notebooks of many important decision-makers in the music world.
On BBC Radio 1
"I have to admit that the money wouldn't hurt. It would allow us to... change cars," smiles Jana, the young singer/leader. "Right now we're touring in a Volkswagen Passat. Every time, we have to take the battery apart to get it in... I dream of having a van."
That didn't stop Francis of Delirium--who appear as a three-piece on stage with drummer Dany Schumacher and bassist Jeff Hennico--from touring the UK this autumn.
About ten dates. Nothing too extravagant, but enough to realise that on the other side of the Channel, some people already knew their songs and were even able to sing them along with Jana on stage. It was also enough to get 'All Love' and 'Come Out and Play' played on BBC Radio 1, one of the world's leading music radio stations. And to be interviewed on the evening show, the one reserved for new indie sounds.
On tour in the US and on the radar of Pitchfork, Stereogum...
What's next? After a visit to Groningen in January, a second tour of ten or so dates in England is scheduled for February. Then it's off to the United States, where Jana and her bandmates will be opening for a well-established rock band, The Districts, in March and April. They will be playing around the country for about thirty concerts. The finale will be a festival in Atlanta with Green Day, Nine Inch Nails, Chvrches and Biffy Clyro.
The American tour could well attract the attention of many US music blogs. Pitchfork, NPR, Stereogum, The Fader, Line of Best Fit, Paste Magazine, Consequence of Sound, etc. Indeed, are among the media outlets that have already talked about Jana and her band over the last few months, highlighting the mini-albums 'All Change' and 'Wading', or the track 'All Love'.
A few days ago, Stereogum even placed "Wading" in its top 25 EPs of the year and Francis of Delirium in the 40 new artists of 2021 to watch, alongside a host of other emerging talents such as New York rockers Geese and rising star Olivia Rodrigo. A rather unprecedented situation for an artist from Luxembourg--like many things about this group.
Citizen of the world
Francis of Delirium owes its early (good) reputation on American soil above all to its music. The band's sound has already evolved quite a bit since the trio's debut in 2019. A bit like Bahrich who was born in... Belgium, of Canadian parents--teachers--, who then lived in Canada and Switzerland, but who only feels at home when she is in Luxembourg, where she has lived since 2014.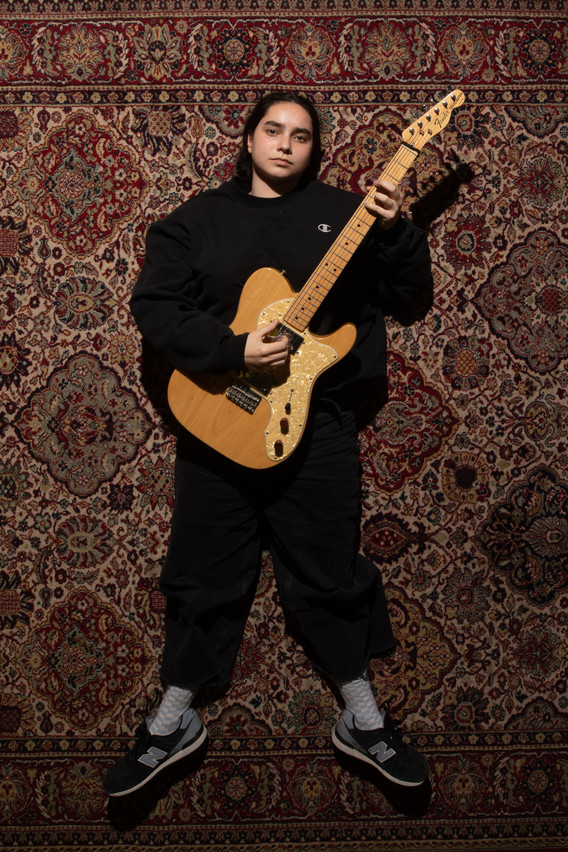 When asked to define her music, she talks about "pop music. But pop music dressed in grunge or indie rock sounds." That makes sense. And in any case, it sounds perfectly in tune with the times. When you listen to it, the first thing that comes to mind is the incredible Australian Courtney Barnett. And in spirit, it fits in with the Snail Mail, Soccer Mommy, Phoebe Bridgers, Japanese Breakfast, Julien Baker, etc.
At CAA, like Brad Pitt, Beyoncé
Since the first concert at the Screaming Fields Festival in July 2019, it's not just the sound of Francis of Delirium that has changed. The band's entourage has also changed. From now on, Jana Bahrich can count on two managers--one of whom still works for the famous 4AD label (Pixies, Bon Iver, The National...)--, but also a PR (press relations) located in the United States. Recruited directly by the singer--he was looking after an artist she liked, so she contacted him directly--, it was the latter who put the trendy American media on the track of the Luxembourg band.
On the side, the band now has a booker for the American territory. He is not just any booker, since he also handles some very big names (Tame Impala and The National) and is part of the CAA (Creative Artists Agency), the representation agency considered as n°1 in the world (Brad Pitt, Beyoncé, Leonardo DiCaprio are, for example, affiliated with them).
Rarely (if ever) have we seen a Luxembourg musical artist in such a favourable situation to try to break through internationally. 
The band's first album is scheduled for release in 2022.
This story was first published in French on Paperjam. It has been translated and edited for Delano.