If you can trace all modern rock bands back to the Beatles—and, screw it, let's say you can—then your understanding of amplified ensembledom will naturally become warped in a Beatlewards direction. To that end, everyone knows that Paul and John were hogging more than their fair quarters of the group's talent, and indeed today's rock standard still emphasises vocals, songwriting, and guitar licks over other elements. Which might be great. But it's Lennonhood and McCartneyism. 
I don't mean to disparage the Liverpudlian quartet, whose primeval hits I grew up with well beyond their heyday—but, in a certain way, Ringo let us down. I just read an article on the Grammy Museum website, published this year, which asserts that Ringo's playing inspired an entire drumming generation. And yet this claim is mainly backed up by the observation that Ringo "left plenty of room for the lyrical and melodic genius of songwriters George Harrison, Paul McCartney, and John Lennon to soar unimpeded."
The adjectives assigned to the man's beats are "crisp", "simple", and "basic".
And the next article I found on Ringo's style was devoted entirely to the cut of his suit. 
With no disrespect to Mr Starr, I believe that drummers deserve a better archetype. They are popularly dismissed as forgettable: secondary to the stars, shrouded in equipment, "keeping time" as if they were machines. I'd even suggest that their lack of access to tonality broadly corresponds, in concertgoers' minds, to a complementarily monotone standard of intellect. Any moron can keep the beat. But that singer… oh, my. Swoonworthy.
Watching Sérgio Manique, Jr. play the drums, however, alerts you to the existence (somewhere) of another archetype. His genres of hip-hop and R&B are as stadium-fillingly popular as Ringo's rock 'n' roll, yet Manique's mind is clearly in the middle of the stage, anticipating the progressions of his bandmates and taking a creationary role in musicmaking. And he's got the technical chops to author his every musical vision, making it a real joy to watch him compose himself into the song.
Manique is far from the first post-Ringo drummer to achieve musical multidimensionality on stage, of course, but it's nevertheless impressive. Even if the 26-year-old makes it look damn easy. So how do you get to that level? What is drumming the art form? What's inside your head when you perform in front of thousands?
For Manique, it all started in Bonnevoie.
The future percussionist grew up going to the Hope Center, a predominantly Portuguese church in Luxembourg City whose music had an early influence. "There were always full bands playing, with drums, guitar, bass, keyboard, lead vocals," he told me. "The music was very intense, very upbeat, and [there were] different genres like funk, pop, obviously gospel."
When Manique was eleven, the church launched a small music academy. "I remember there were maybe ten kids behind me who also wanted to play drums—everybody wants to play drums, you know? It's loud, it's fun."
Nine of those kids soon lost interest, however, leaving only Manique.
As people took notice of his natural talent, his journey on the drums began in earnest. At twelve, he got his first drumset, an electronic kit because he lived in an apartment. "If you don't wear your headphones, it just sounds like you're beating on plastic," he explained. Then, employing a youthful Americanism, he added: "Which is pretty awkward."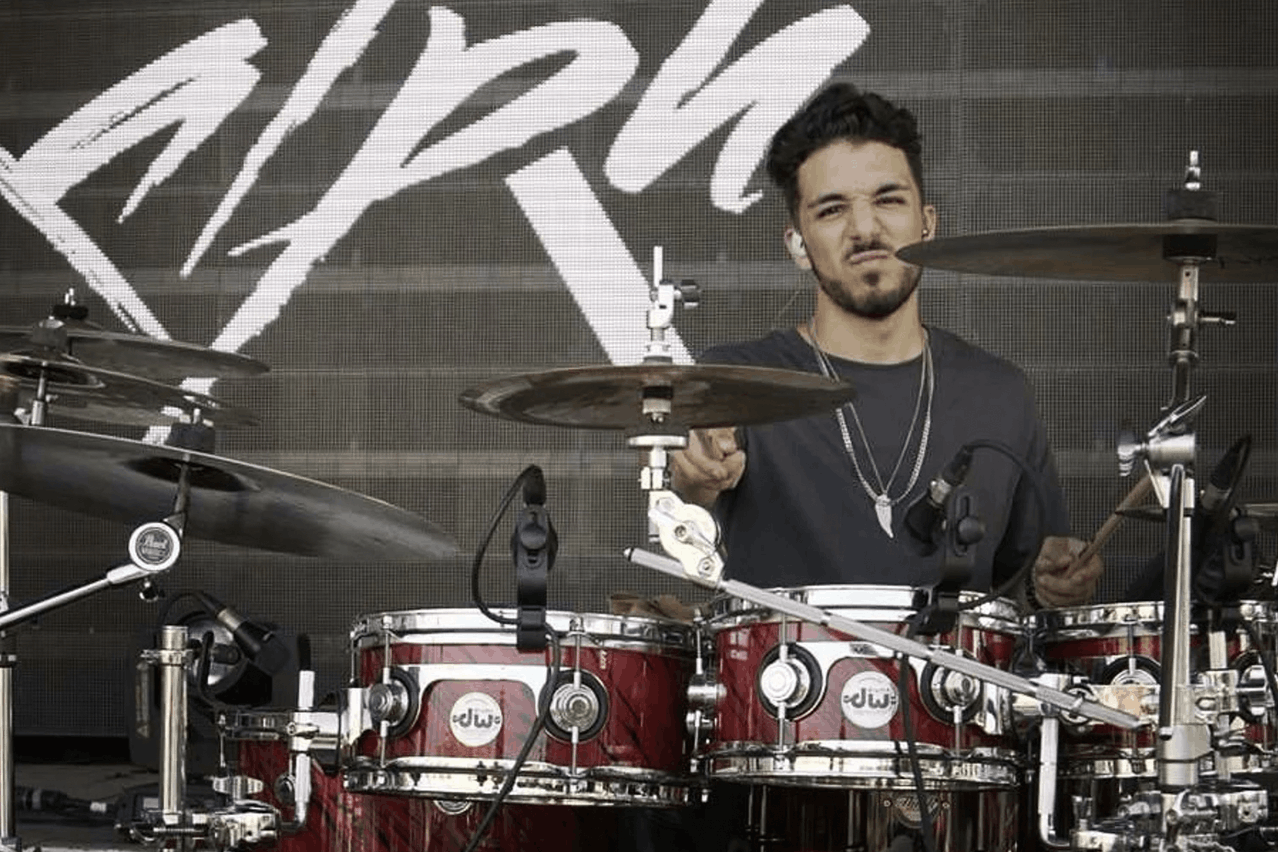 The young Manique went to the Cavem music school and then to the Conservatoire, whose programmes he found a little stilted. "You had to start with classical percussion and do solfege on the side. Which, you know, as a teenager you're like: Jesus Christ, I have to sing do-re-mi-fa-so and play the marimba? I didn't want to do that."
This last comment echoes a core difference between European and American education systems: over here, students start with fundamentals—be it in music, literature, languages, anything—that have been predetermined by the community and which represent that community; in the USA, you do whatever the hell you want. (For better or for worse.) It's perhaps telling, then, that after coming up in para-institutional stomping grounds like the Hope Center's music programme, Manique joined a few bands in Luxembourg before ultimately enrolling at the Berklee College of Music in Boston.
Berklee is where the drumming education really got cooking. Manique told me about lessons with drumming guru Dave DiCenso: "The first lesson with him, you don't even touch the drums. It's just you. It's very spiritual. Sometimes you can get lost in all the technicalities at Berklee, in all the fancy scales and fancy chords, and all that stuff—you forget about the real essence, which is your personal relationship with the instrument, with yourself as a musician."
At a certain point, musical training leaves technical skills behind—not that students are allowed to slack off, but musicality eventually surpasses drills and technique—and you enter an entirely mental phase of musical engagement. (Pianist Jeremy Denk outlines this phenomenon brilliantly.) Manique told me that DiCenso held office hours where students gathered not to discuss drumming but to talk about life. "As musicians, we're very emotional people," Manique explained. "Outside elements have a huge impact how we play, how we perceive music, how we write music. It was life-changing, taking lessons with Dave DiCenso. He takes you places where you never thought you'd get."
At this point in the interview, having reached the subject of the parts of musicianship that transcend the playing of notes, I asked him to describe his style.
"People always say I play very loud," was the response.
I laughed, but he was half-serious. "That was a big problem at the conservatory in Luxembourg," he said. It was coming into focus that American culture's freestyle approach to music education—Manique later commented that Americans tended to be "open-minded"—was always going to be a good fit for the drummer. He told me about the "drum sheds" at Berklee, sessions where four or five drumsets are set up in a room, often with a mix of senior and junior students. "And you just play together. It's like a drum workout." Certainly, a far cry from classical marimba.
After graduating from Berklee in 2020, Manique moved to Los Angeles, where he is in demand not only on drums but also as a producer and arranger. The job of a producer (I asked) is to "create a song from A to Z", except for the lyrics; the song "Asleep", embedded above, is an example of his work in this area. Manique will actually be coming home to Luxembourg in August to work as the band director for pop artist Edsun, who will have a residency at the Rockhal.
After that, however, it's back to LA and beyond.