After a one-year hiatus due to the pandemic, the Open Days weekend is back for its 15th edition and the public will be able to visit 18 companies across the country. On the industrial side, it will be possible to visit the ArcelorMittal wire drawing plant in Bissen, or to discover the many trades in the field of heating at Genista, which will celebrate its first year in its new building in Fentange.
In Dudelange, the public will be able to discover the work of the laboratory workers at the national laboratory (LNS), at the forefront of the fight against covid-19, or the company B Medical Systems in Hosingen, which is the world leader in freezers and refrigerators for medical products, but also in storage and transport solutions for vaccines.
Still in the medical sphere, the "Centre de transfusion sanguine in Luxembourg" will be showing the journey of blood from donation to transfusion. Glanzstoff Textilcord in Steinfort will also open its doors, and it will be possible to discover a mask production line capable of manufacturing 20 million masks per year.
"This is our third participation in the Open Days, and our teams are keen to be able to present their work, especially on our surgical mask production line, which was set up this year. It's also an opportunity to show the local population what we do and how we do it, with what resources and why. And it is a moment for our employees to show their families their daily work," said managing director Céline Vuarnesson.
People want to live again, they want to go out again, they want to have a normal life again.
The "Syndicat des eaux du Sud" in Koerich will show where Luxembourg drinking water comes from, and Luxlait will show the Luxembourg dairy industry. In the agricultural field, Agri-Distribution and Agri-Center will be giving demonstrations with agricultural machinery and tools in Noerdange and Allerborn.
"On 8 August, we had a public demonstration in the fields with agricultural equipment. Normally, this type of event attracts 200 people. Here we had 800 people. So I started to do a little survey, and it turns out that people want to live again, they want to go out again, they want to get back to normal life. Taking part in the Open Days was therefore an obvious choice," said René Diederich, owner of Agri-Distribution and Agri-Center. He wants to take advantage of this event to try to bring "the consumer and agriculture closer together. We want to renew this link. We want the consumer who buys a loaf of bread in a supermarket to understand the production process and the tools needed for this production," he said.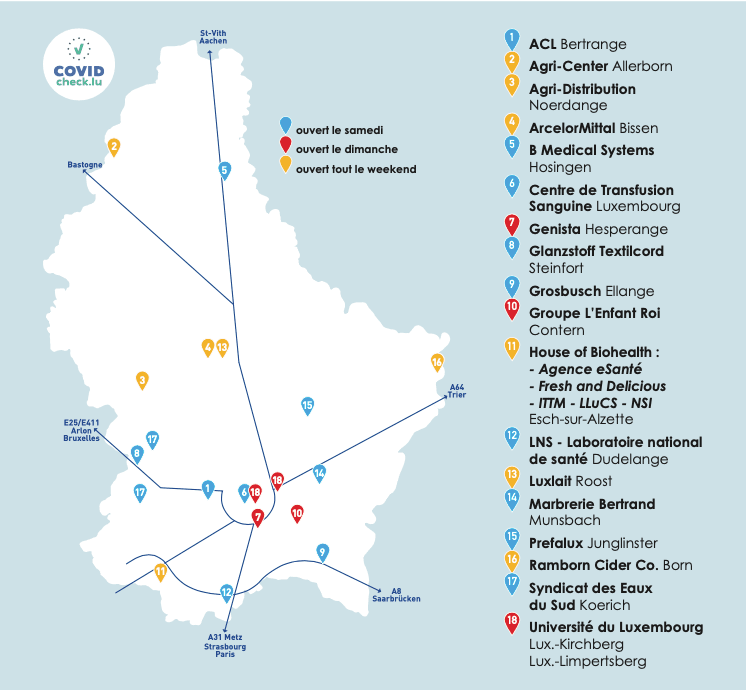 A new feature is a visit to the Ramborn cider mill, which produces apple juice among other things. "We already do tours, and the Open Days are also an opportunity to increase traffic to our shop and production facilities, while raising our profile. It is also a good opportunity to prepare for our 'Harvest Days', which will take place in October with the public," said Jacques Roberto, the new CEO of Ramborn.
The other companies participating in the event are: ACL (in Bertrange), Grosbusch (in Ellange), L'Enfant Roi (in Contern), the House of Biohealth (in Esch-sur-Alzette), Marbrerie Bertrand (in Munsbach), Prefalux (in Junglinster) and, finally, the University of Luxembourg (in Kirchberg and in Limpertsberg)
It should be noted that the Open Days will be held under the CovidCheck system. In order to make it easier for people who are going to visit several companies, participants will be given a bracelet indicating that they passed the check. Reservations are not necessary. All information on the visiting hours is available on the event's website.
In its 15 years of existence, the event supported by the Ministry of the Economy has attracted more than 280,000 visitors to 380 different companies. This year, the minister for small and medium-sized enterprises and tourism, Lex Delles (DP), will visit the company Genista on Saturday afternoon.
This story was first published in French on Paperjam. It has been translated and edited for Delano.