Last time Delano talked to GoldenMe founders Mara Kroth and Johannes Heuschkel, the duo worked with volunteers to offer a newsletter, various events, a blog and workshops to elderly people. But with the pandemic, the team decided to review its priorities and focus on its so-called Smartphone Cafés.
"Before the pandemic, we had a lot of events we advertised in our newsletter. With the pandemic, the courses, such as a mindfulness or yoga courses, moved online. But then, after a few months of the pandemic, we started seeing the real impact on older people, and we wanted to put the emphasis on bringing everyone online, to connect them to the rest," Kroth reminisces. "Of course, it's more difficult for older people, so as soon as it was possible again--with restrictions and masks--we organised the Smartphone Cafés."
During these events--which sometimes but not always take place in cafés--visitors get a personal consultation of up to 45 minutes to ask their specific questions with regards to using smartphones and the internet in general. Some visitors are more experienced while others accumulate knowledge over time. In the end, be it Luxtrust tokens, Google, picture galleries--any question that comes to mind is answered.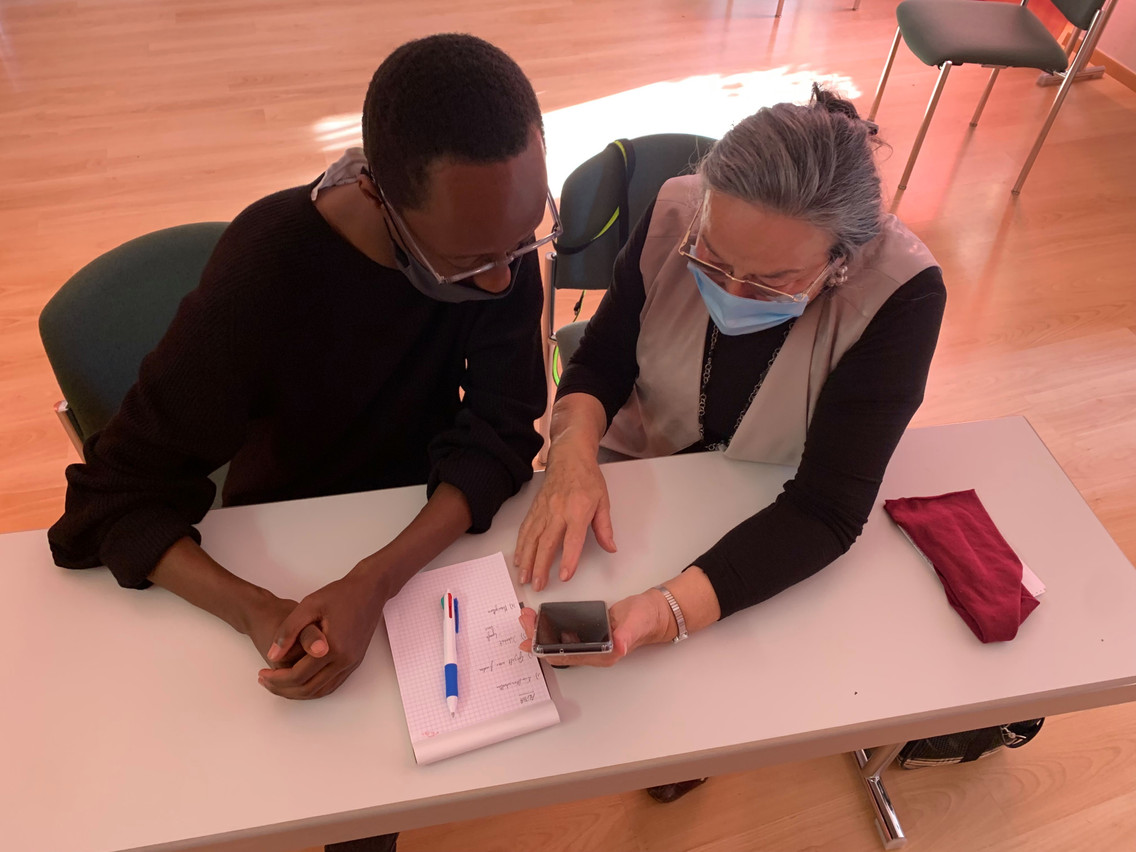 Enriching for youths and the elderly
But who provides support during the workshops? The NGO works with the maisons des jeunes youth clubs who raise awareness among teenagers. Younger generations--digital natives--tend to find using smartphones instinctive, so the young tutors master their courses well.
Aside from giving the elderly answers to their digital issues, the cafés have an added value for all participants. "It's one of the rare times where young people can teach older people about something they know a lot more about. I think that's really interesting. The older people tend to look forward to the exchanges--we get a lot of positive feedback," Kroth explains.
Younger people enjoy the Smartphone Cafés too, as they provide positive reinforcement, she adds. "There is a very personal exchange here, which is lovely." GoldenMe does teach them about exchanging and communicating with older generations though, as these age groups tend not to mingle outside of family circles.
"It's one of the rare times where young people can teach older people about something they know a lot more about.
Awards, CSR trainings and future plans
GoldenMe has already been recognised for its efforts. The ministry for digitalisation in May 2022 handed the organisation a digital inclusion prize, the proceeds of which the initiative plans to use to employ staff in September.
Some companies are also keeping GoldenMe on their radar. One business has already collaborated with the NGO, sending its employees to help out at the Smartphone Cafés for its CSR. This type of offer could happen more often from the start of next year, Kroth says.
Talking about the future, Kroth hopes that the non-profit can continue to take away the fears linked to internet and smartphone usage.
"We would like to build it up in a way where we become the number one reference when it comes to digital questions with people who haven't grown up with these things--this means different generations, [as not every young person is a digital native.] We want to distribute the smartphone cafés in a way where they provide access to information to people in all kinds of places," Kroth explains.
Ultimately, GoldenMe wants "people to feel like they can always come to us," be it for digital knowledge or social contact. And for this, the NGO continues organising its smartphone cafés and offers a newsletter here.