Her Royal Highness, the Grand Duchess of Luxembourg, announced the winner during the ceremony streamed from the European Convention Center Luxembourg (ECCL). 
This year, the award put the spotlight on initiatives by organisations facilitating access to quality and affordable health care, especially in low-income communities. Haiti-based NGO Fonkonze was crowned the winner of this year's edition, for its Boutik Santé initiative.  
Like the previous edition, the European Microfinance Award ceremony took place following a rigorous preliminary selection process led by a high-level jury composed of seven people, including the Grand Duchess of Luxembourg, the president of the European Investment Bank Werner Hoyer, and economy minister, Franz Fayot (LSAP).
In total, 43 organisations from 32 countries were evaluated before the three finalists for this year's award were announced. "We were very proud when we heard that we had been selected for the award… having our work recognised was really encouraging," said Carine Roenen, the executive director of the Fonkoze foundation, adding that the award "will help us improve Boutik Santé and its benefits."
"I am with you because I am proud of this award, Luxembourg, the government and all those who are part of the project," said the Grand Duchess, who announced the winner.
Fayot underscored the role of microfinance for Luxembourg's development cooperation strategy and the crucial role the European Microfinance Week plays as a platform to highlight key issues and prompt action. He noted that all three projects had a high percentage of female clientele and that the decision was not an easy one.
The winner of the award will receive a cash prize of €100,000, while the runners-up will get of €10,000 each. The theme for next year will be "inclusive finance for women".
The winner
Fonkoze, which is made up of three institutions, was selected based on its Boutik Santé initiative launched in 2014. The initiative facilitates training for clients to provide screenings and health education. Doctors and public health experts are charged with training nurses, who in turn train microfinance clients and elect community health entrepreneurs. The latter then conduct basic health screenings, deliver health education sessions, and procure health products for final beneficiaries. The NGO founded in Haiti in 1994 has a combined portfolio of 48,960 clients and 962 staff members. They also run a nutrition project, given the high mortality rate for children in the country, to the benefit of over 800,000 children under the age of five.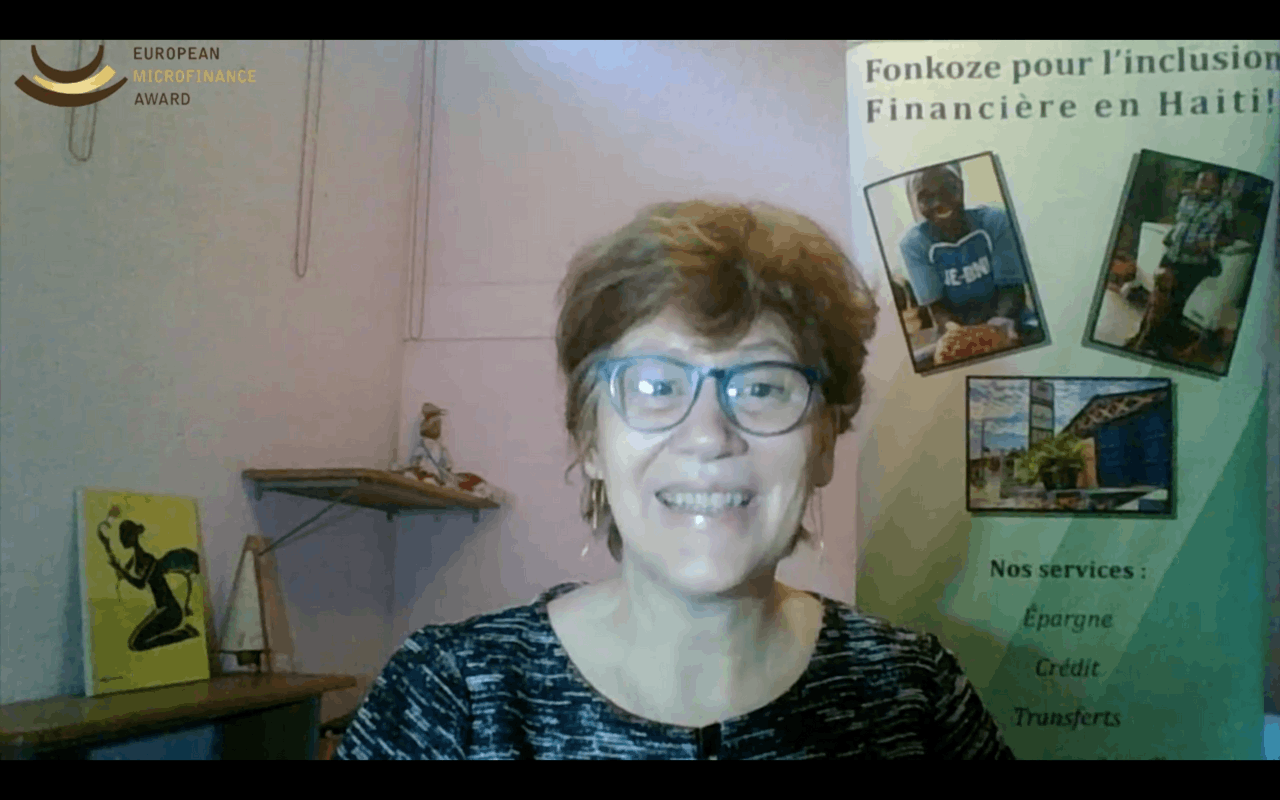 The finalists
Crecer IFD, a Bolivian NGO and non-banking financial institution founded in 1999, was selected in recognition of its health programmes, especially its cervical cancer prevention (CACU) for rural women, which was launched in 2013. "Cervical cancer is a leading cause of death among Bolivian women, although it is one of the cancer types that can be detected and treated with a high survival rate," Isabel Rueda Fernández of Crecer emphasised during the ceremony. In 2017, the NGO, which has 1,371 employees, also launched health credit facilities to cover health expenditure such as high-risk surgeries. About 80% of its 221,136 clients are made up of women.
Dreamlopments Ltd. from Thailand was selected as a finalist based on its low-cost (M-Fund) health microinsurance for migrant families and border communities through its 28 health facilities. The non-profit social enterprise and foundation, which was established in 2015, has grown its portfolio to 21,334 clients with 60 staff members. Funding for various concerns such as coverage for chronic conditions, old age and pregnancy, is made available through its innovative web-based application.
The European Microfinance Award is jointly organised by the Luxembourg Ministry of Foreign and European Affairs – Directorate for Development Cooperation and Humanitarian Affairs, the European Microfinance Platform (e-MFP), and the Inclusive Finance Network Luxembourg (InFiNe.lu) with the support of the European Investment Bank (EIB).