"Adopting Microsoft technology is not just a once-off: it involves a host of activities that can benefit from additional support, which could look like: project and change management, cost-efficiency, tech expertise, compliance and regulatory knowledge, scalability, and ongoing support," says Ajay Bali, Partner and Digital Emerging Technologies Leader at EY Luxembourg. Before even making the leap to adopt technology, it is important to understand the business's exact needs, so as to make an informed decision about which Microsoft technology to utilize and how it can be customized to seamlessly fit into day-to-day operations. 
The EY-Microsoft partnership: use cases explored
To contextualize the EY-Microsoft partnership in the local business environment in Luxembourg, some real-life, practical use cases that help modernize the application are illustrated below.
Streamlining HR processes: "Increasingly, we see firms wanting to leverage Microsoft technology for HR purposes," says Ajay. "One of our recent projects involved enhancing a financial institution's timesheet system with Power Apps, enabling employees to submit more easily and faster, and managers to review and approve in a more streamlined fashion."
One key focus of the EY-Microsoft alliance to execute projects like the above is the Power Platform, which includes Power Apps, Power Automate, and Power BI, and can be used across sectors and business functions, and integrates with accounting and CRM systems, like SAP, NetSuite, QuickBooks, Sage Intacct, and Salesforce (etc.).
Automating data quality checks for finance processes: In another scenario, Microsoft's Data and Power Platform was, after consultation, selected as the ideal technology to automate the consolidation process of an asset management company.
Simplifying IT service management (ITSM) processes: Sometimes Microsoft technology can be used to develop an entirely new system or application. In this case, an IT function was enhanced by developing an application using Microsoft Power BI, Power Platform, and D365 Customer Services. The app optimized ITSM processes and reporting, reducing time wasted and providing better oversight for the firm's incident and asset management.
Back-office workflow automation: In another project, an asset servicer was able to introduce workflows for all back-office work, involving auto-routing of service requests, tracking, SLA management, and capacity management, by integrating Microsoft technology with their own.
Legal and regulatory knowledge mining using OpenAI: For a different client, OpenAI was used to enable speedy knowledge mining across documents and databases. This project is paving the way for a new and widely adopted language-based AI technology that's becoming essential for businesses to thrive in Luxembourg's knowledge-driven economy.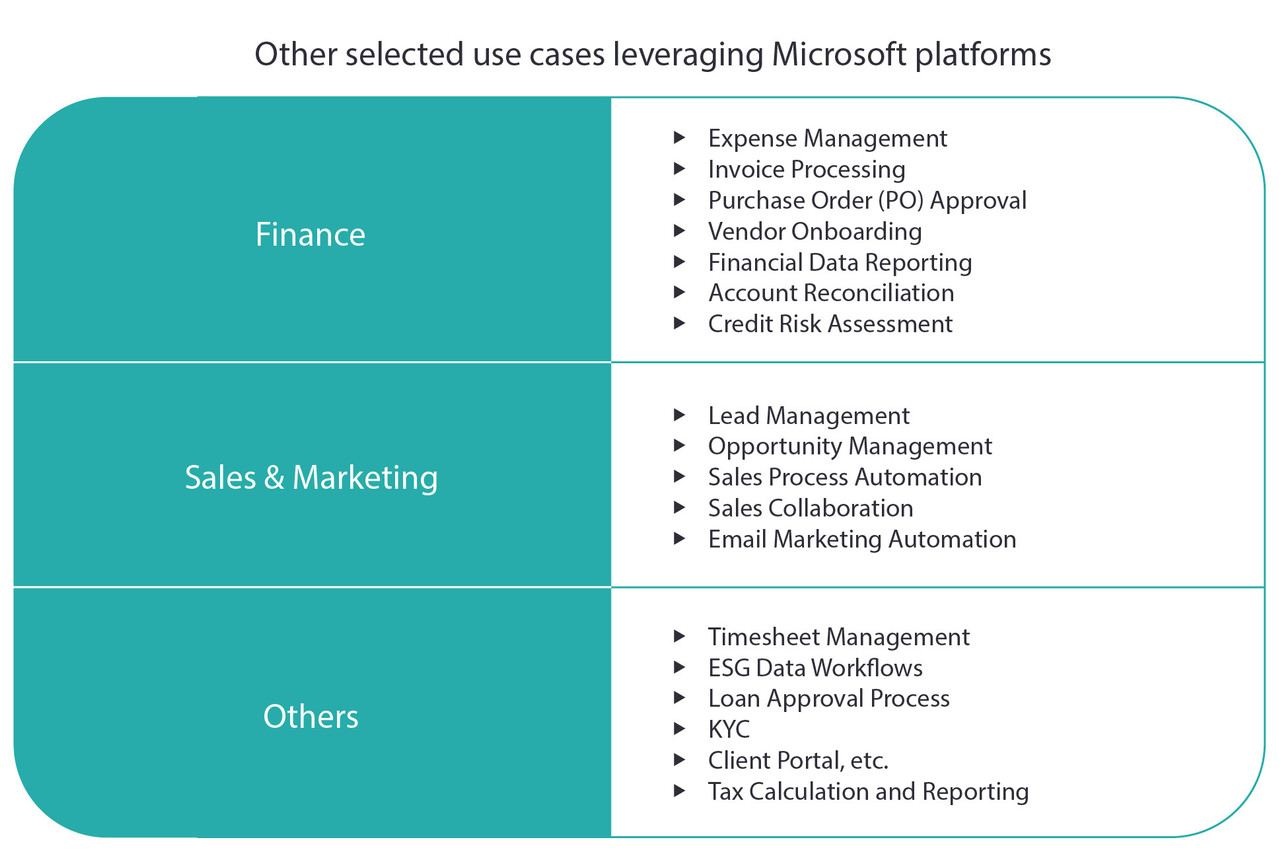 Where business meets technology: the perfect partnership
To conclude, to ensure the probability of project success, adopting Microsoft technology should involve comprehensive support to meet specific business requirements. In addition, we have observed many clients may have Microsoft platform licenses, but have not been able to fully benefit from this. Leveraging a business integration firm which has a strong Microsoft alliance can help you to assess and make the most of your IT investment and remain competitive in a rapidly evolving digital world.