Halfway between Marche-en-Famenne and Rochefort, on the border between the provinces of Luxembourg and Namur, lies the small village of Humain, the kind of village where there are many more trees than inhabitants. There are a few of them in this wooded region of Belgium, less than an hour from Luxembourg.
But in these woods, which were used as the backdrop for season 2 of the series La Trêve, there are six small huts that are like no other in the region. Their modernity is totally at odds with the rural nature of the area, while the materials they are made of blend in beautifully with the landscape.
Learning to disconnect
A real paradox was desired, in order to stand out from the other more "rustic" huts, by the Belgian duo behind the project, Toon Heverhals (37) and Tim Goes (30).
It was the latter who came up with the idea for the project. "When I finished my studies, I travelled a lot with my backpack for five years. On average, I travelled three times a year, visiting southeast Asia, Australia, New Zealand, North and South America... and trying out a lot of unusual accommodation," he says.
One of which made a particular impression on him, in Colombia. "A youth hostel located on an island lost two hours by boat from the coast." A place truly cut off from the world that helped him to understand the value of completely disconnecting from the various networks that litter our everyday lives.
"I wanted to reproduce that effect, but adapt it much closer to home," he says, smiling.
So when the opportunity arose in 2018 to buy this plot of land in Humain, not far from his parents' home, he jumped at the chance. "It met my requirements, namely to be located on the Brussels-Luxembourg axis and to be less than an hour and a half from the Belgian capital." Not forgetting that "lost" aspect, even if, in the end, you are less than ten minutes from towns like Marche-en-Famenne or Rochefort.
Three original types of huts
Goes then called on his colleague from the investment fund that employed them for the architectural part. Heverhals is responsible for these original cabins.
There are three types, each of which was built in duplicate.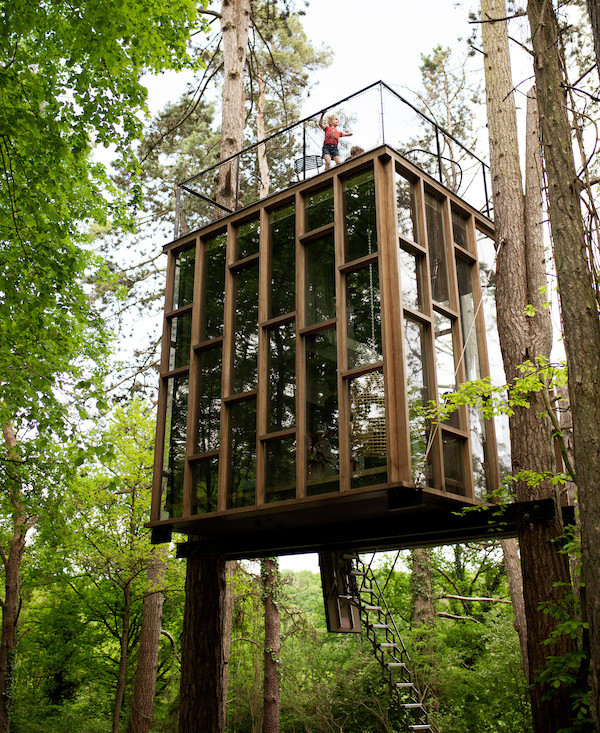 The second model of cabin, also suspended in the air between the trees, is the aptly named Flying Farmhouse. "It is more cosy, more cocooning, with its covered terrace, its two glass walls and the other two in wood", says Goes. At 30m², it is also designed to accommodate four people.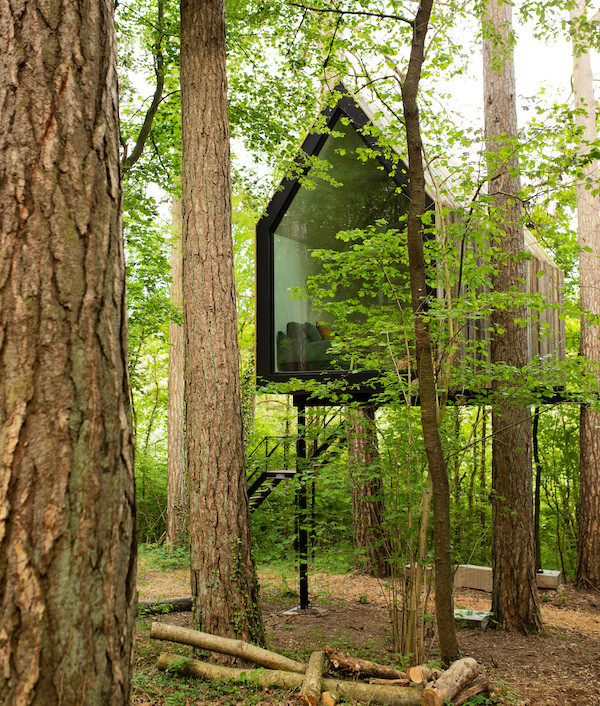 Finally, there is also the Tower and its "high feel. You live on the ground floor, before taking the staircase up to two floors where the mezzanine rooms are located. Here too, the total surface area is 30m², but it can accommodate four or six people.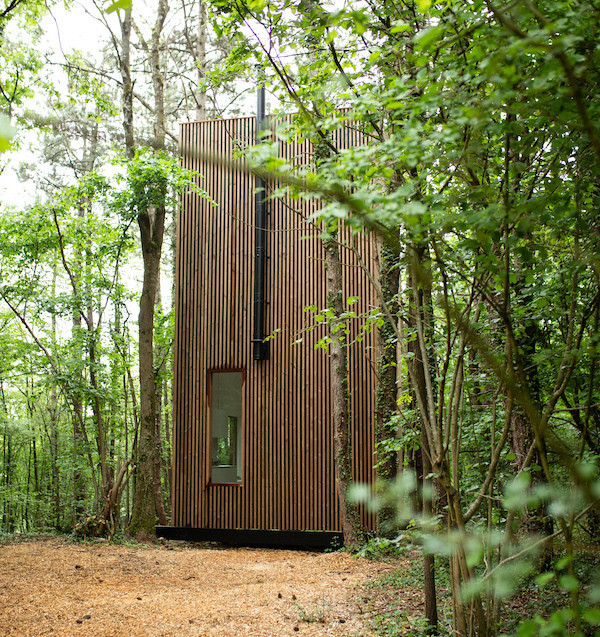 In order to really disconnect, no wifi is available in these homes. And to try to get 4G, you'll have to sit on the terrace. But the aim, of course, is to do without it for a weekend or more.
€200 or €250 per night
It will cost you €200 per night outside the (Belgian) school holidays and €250 during them. Breakfast is optional, at €15 per person.
If you are tempted, you should allow for a certain waiting period. These cabins are usually fully booked three to four months in advance. This concept is indeed very successful. Launched in June 2020, it boasts "a 98% occupancy rate in the first year," Goes says.