It is certainly a building that will become emblematic in Belval: Icône, designed by the English firm Foster + Partners (also the architect of the Royal-Hamilius in Luxembourg) in collaboration with the Luxembourg firm BFF... was developed by Besix Red and Lux TP. With a surface area of 18,800m2, it is comparable to a large air bubble enveloped by concrete-structured glass walls, as the interior spaces are largely open and natural light is omnipresent.
The building was sold by Besix Red to AG Real Estate in March 2022, on behalf of its parent company AG Insurance, which acquired 100% of the shares in the company that owns the building, B-9 SA.
Previously, Société Générale Luxembourg signed a BEFA--lease in future state of completion--in April 2021 for a period of 15 years.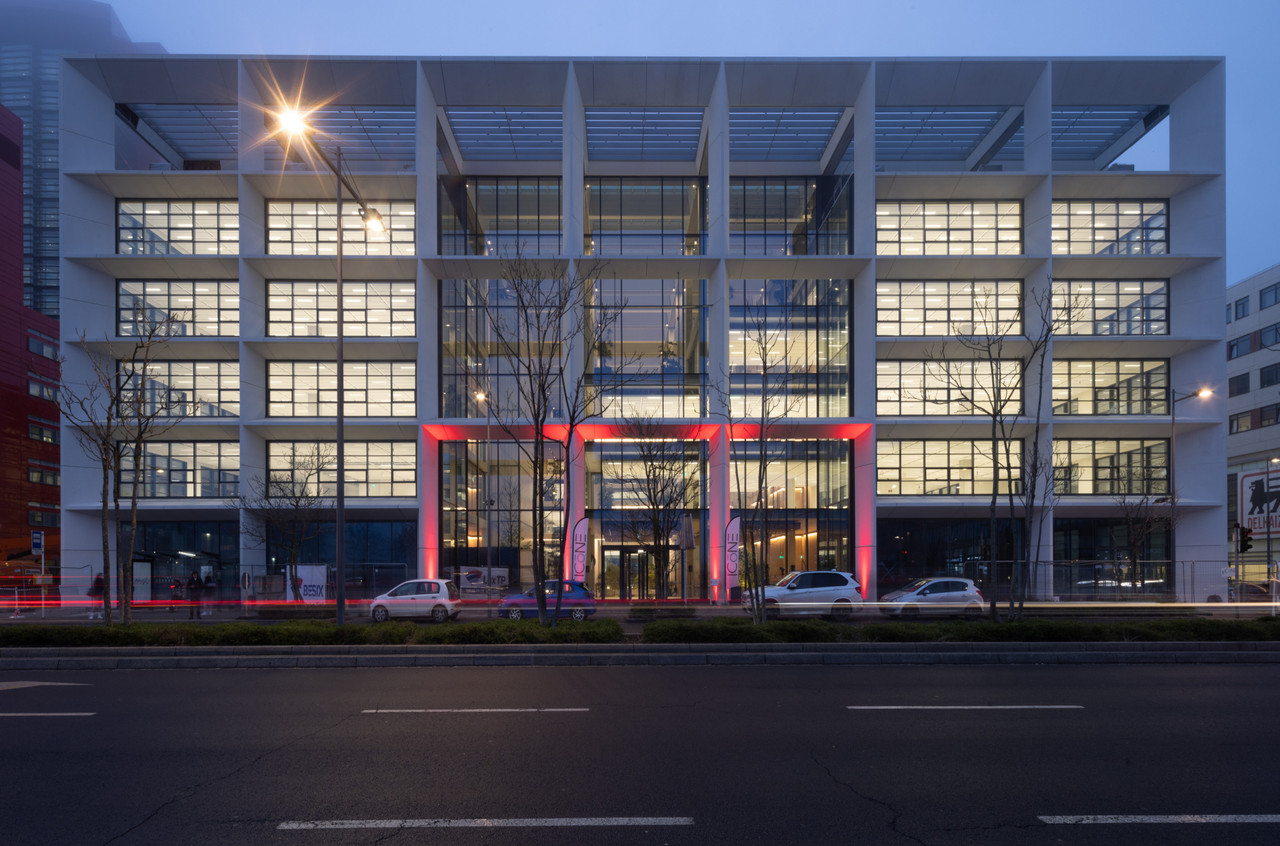 A building made for collaboration
Designed in 2016, before covid, the building is nevertheless perfectly adapted to new ways of working. "We observed the market and the different designs of administrative buildings a lot before we started designing this project," explained Geoffroy Bertrand, director of Besix Red Luxembourg. "From the start, we wanted to focus on collaboration, informal work and employee well-being."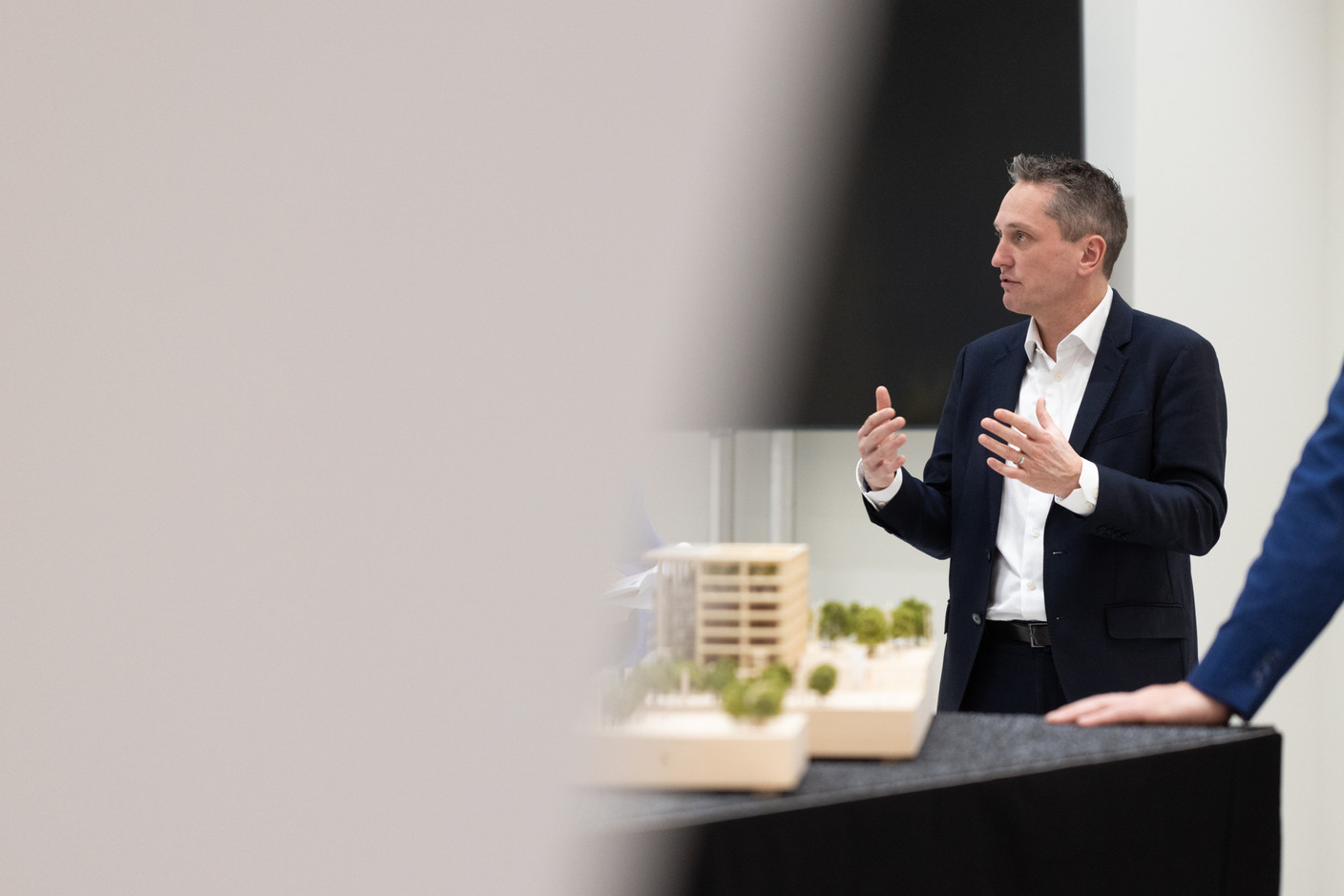 1 / 2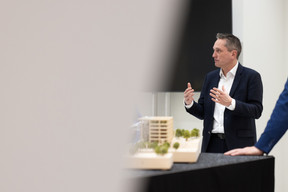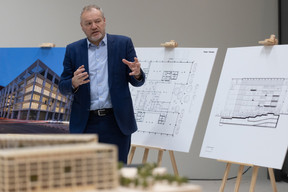 This is how the project came to be seen as a professional campus. "We thought of the building from the inside out," said Darron Haylock, partner at Foster + Partners. "The relationship with nature, the visual connections with the outside, the great flexibility of the spaces were pivotal elements. In the end, covid only confirmed and solidified these intuitions, which reinforced our choices."
The building is initially designed to accommodate up to 40 companies. It has two main and pedestrian entrances, supplemented by access via the underground car park (237 spaces). The final tenant will not be a group of companies but a single company, Société Générale Luxembourg, which will bring together various departments.
A clear structure
The building consists of two six-storey blocks linked by a central covered atrium.
The floors can be fitted out with traditional offices, but also with co-working spaces and flexible areas allowing a variation in the number of workstations up to 1,235. In total, there are 17,303m2 of office space.
In addition, 1,444m2 of shops and restaurants are developed on the ground floor. The commercial cells are accessible from the street and positioned in the corners of the building. They will be occupied, among others, by food shops (O'Tacos, Pokawa and Black&White Burger), with space still being negotiated.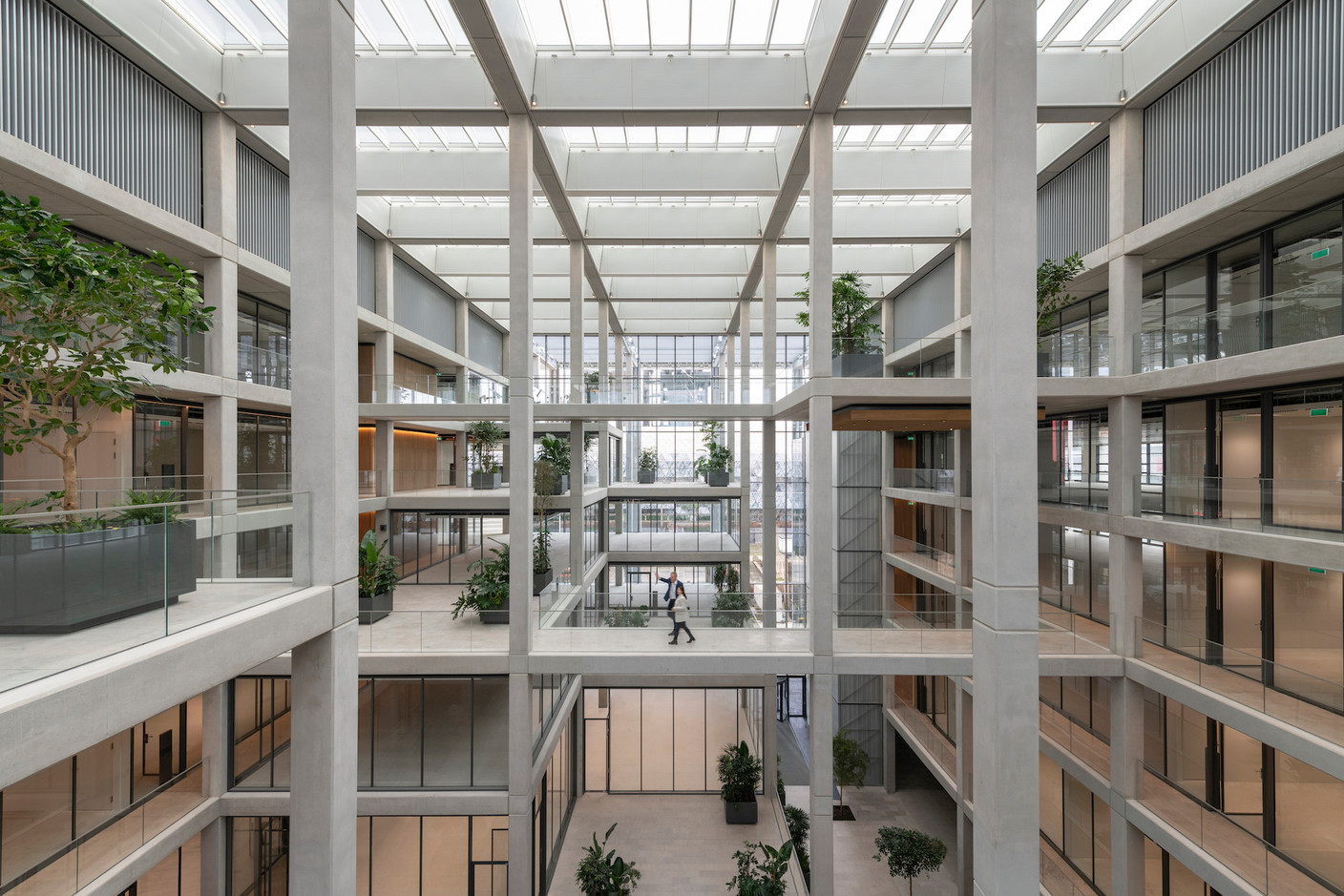 1 / 4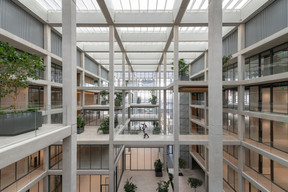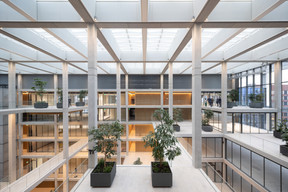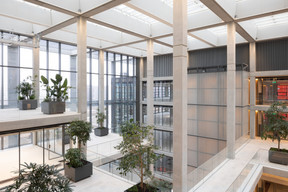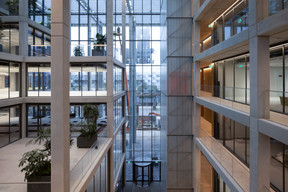 Between the two wings, a large atrium acts as a connecting space. The ground floor is presented as an interior street, giving access to the various restaurant and service spaces that will be located in the building. This artery also makes it possible to absorb the difference in level between the Place de France and the Place de l'Académie, which explains the presence of the staircases. It is covered by a set of Velux windows, also designed by Foster + Partners.
Footbridges allow movement from one wing to the other. In several places, they widen into suspended terraces, which can be for private or collective use. These provide opportunities for informal meeting places and work spaces, encouraging creativity and collaboration. Oblique views are possible everywhere and visual connections can be made in all directions and to all floors. The space is also landscaped, with over 450 plants and trees planted in mobile pots, which adds to the atmosphere.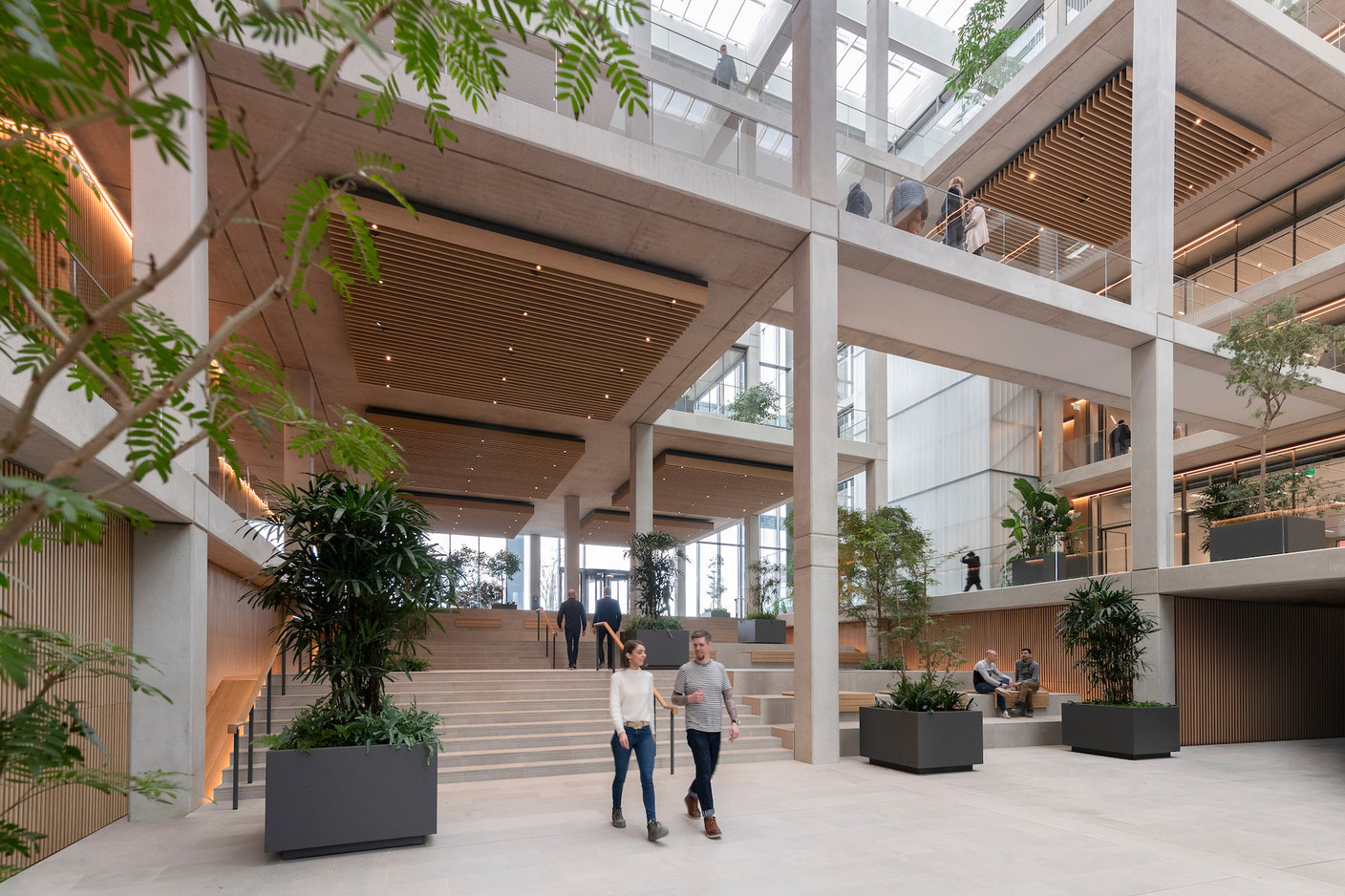 1 / 2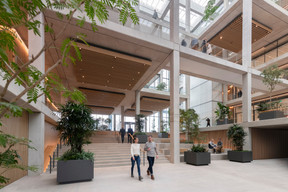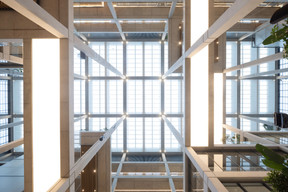 Design as quiet as possible
"The design of the building is very simple," said Haylock. "It consists of two wings of office space served by two lift shafts and connected by a large covered atrium. In this atrium, you can move from one wing to the other via walkways and suspended terraces."
This atrium is also marked by the strong presence of the concrete grid, which was created with great care in the details of execution, and which structures the space with frankness and honesty. Its rigour provides users with a visual reference point and prevents them from feeling lost or oppressed by this large empty space.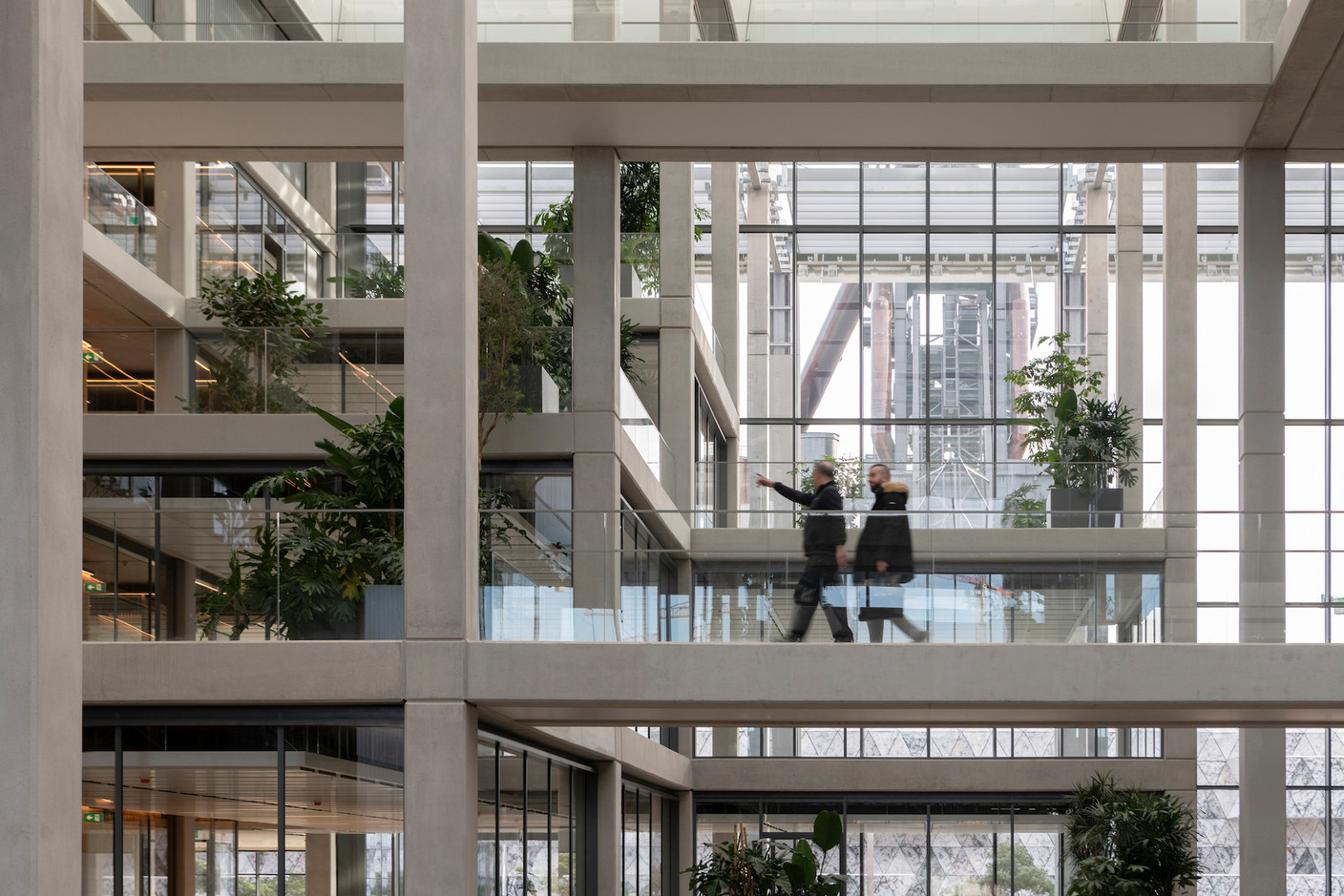 1 / 5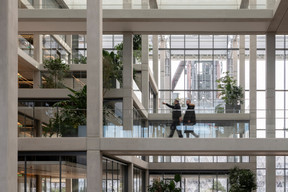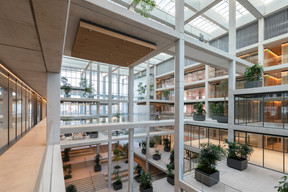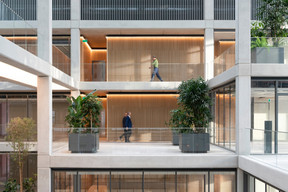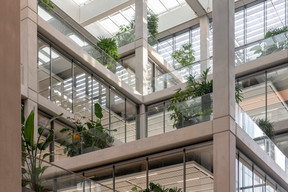 "We also made sure to keep the material palette as small and calm as possible," said Haylock. "Concrete for the structure, glass for the façades and wood for some of the interior cladding." The wood brings a warmer character and, because it is micro-perforated in several places, significantly improves the acoustic reverberation.
The façades are fully glazed. They are subdivided into small horizontal windows with metal joinery that recalls, in a very conscious reference, industrial architecture. "We are in Belval, a former steel production site. So a reference to the site's industrial past seemed necessary," confirmed Haylock. To avoid overheating from the sun, a 1.35m deep concrete exterior grid acts as a sunshade.
A post-industrial architecture
For BFF..., it is a work in progress at Beval. Tom Beiler, architect and partner of BFF..., was also involved in the renovation of the blast furnaces, and last year the office also delivered the renovation of the Mollerei. After having worked on the heritage elements of the site, BFF... is also writing the history of Belval with contemporary buildings.
This construction is a "smart building," which will facilitate both the long-term management of the building and the daily use of the spaces for the users. The building is environmentally friendly and has received BREEAM Excellent certification.
For Société Générale Luxembourg, occupancy will take place after the interior fittings have been completed and the move is scheduled for July 2023. Two-thirds of the teams will be relocated to Belval and one-third to their new headquarters in the city centre, which is currently under construction.
Technical details
Developer: Besix Red and Lux TP
Owner: AG Real Estate
Tenant: Société Générale Luxembourg
Architect: Foster + Partners, BFF...
Consulting engineers civil engineering: Ney
Consulting engineers technical engineering: Greisch
Project management: Q-Build
Cost consultant: Q-Build
BREEAM certification: PwC
Landscape designer: MDP
Lighting consultant: Greisch
Technical control: Secolux
Acoustic consultant: Venac
Design: 2026
Start of construction: 2020
Delivery: January 2023
Site area: 5,500m2
Total area: 18,747m2
Net interior surface area: 13,000m2 + 3,800m2 of common areas
This story was first published in French on Paperjam. It has been translated and edited for Delano.