Some 25 years after he opened his first bar in Luxembourg, the all too short-lived Playground (in the space that is now The Tube), Swedish entrepreneur Ture Hedberg has launched Café Saga. The brand-new space in Belval is located between the Rockhal and the university's Maison du Savoir.
Ture has a knack for opening iconic bars. He followed the Playground with The Elevator in Hollerich and then Konrad in rue du Nord. Unsurprisingly, given its location in the former steelworks at Belval, Café Saga is a mix of industrial chic and Scandinavian style.
It's glass front lends it plenty of natural light, and a glass wall behind the bar showcases a vast vault with lighting that glows red at night. The high ceiling is dominated by a huge central chandelier, with discreet lights suspended over individual high tables and wall lights providing further warm illumination--the entire lighting design is by Lucy Genazzini of Illuminance.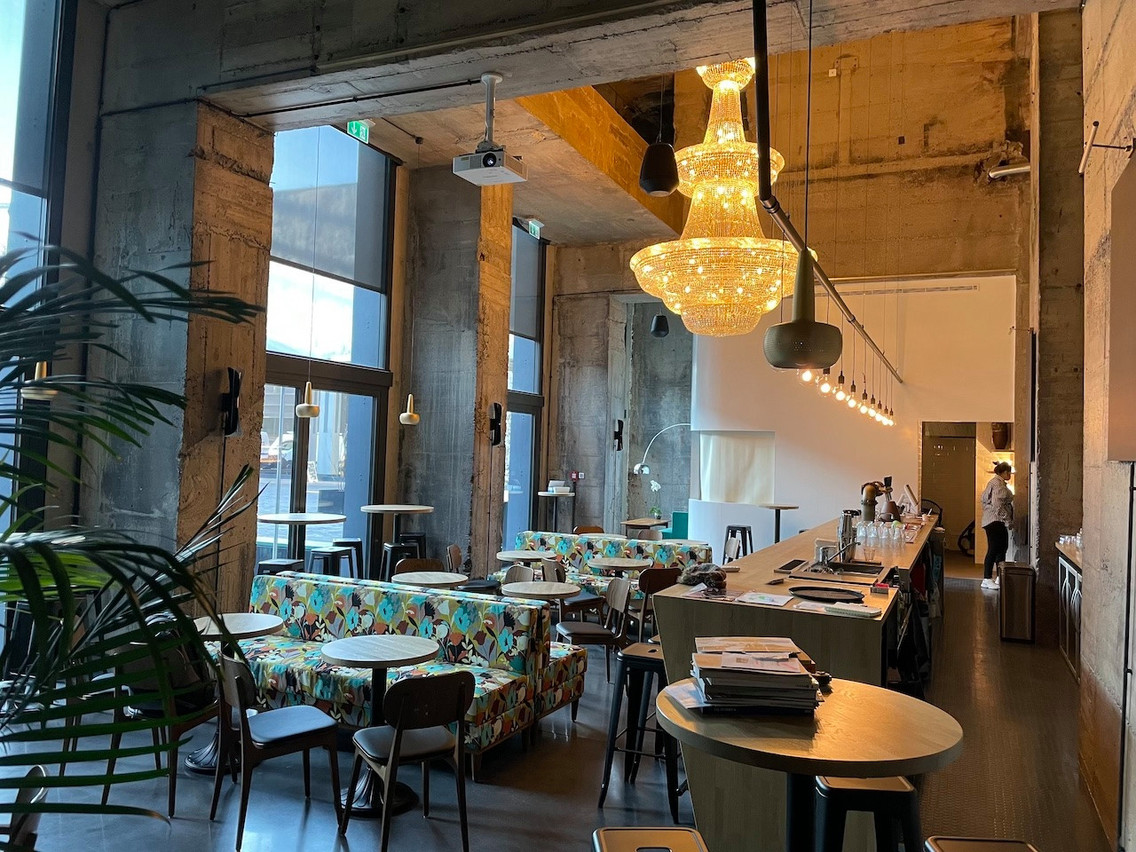 The wooden furniture creates a neat contrast to the bare concrete and includes benches sporting floral patterns by Jane Graham. The venue can comfortably seat around 70 guests and will also have a terrace with seating for a further 120.
Normandy meets Stockholm
A large pass to the kitchen also gives the place a feeling of openness. The kitchen will be fully operational in mid-February and up until then Café Saga will be serving soups and sandwiches for lunch and cheese and charcuterie in the evenings. "The menu will be Normandy meets Stockholm," Ture explains with a nod to his own native Sweden and the home of chef Kalyan Legrix.
But he emphasises that Café Saga is a bar rather than a restaurant, somewhere to relax during the day and meet friends after work. When the kitchen is open it will also be serving à la carte brunch on Saturdays and Sundays.
The bar serves a range of draught Simon beers, Ramborn cider and has a bi-monthly special from Bitburger on rotation, as well as a wide selection of bottled beers including imports. Wines and the usual array of spirits and cocktails as well as coffees and teas are also available. Ture has hired a small team led by the inimitable Andriana Andrei--familiar to regulars of Beaulieu in Bonnevoie--to help run the bar.
Anyone familiar with Ture knows he enjoys hosting quizzes, which will be a regular feature of Thursday evenings at 8pm.
Café Saga is open Monday to Saturday from 12 to 11pm as of 17 January. Stay up to date on Facebook or Instagram.