As the homes of local lords of varying ranks, time has often been unkind to lowland castles. Unlike their high-rise counterparts, once unoccupied, they were often used as stone quarries to build houses or roads, used as animal shelters, or razed to the ground or left to fall into ruin. As a result, significant medieval remains of this type of castle are rare. Koerich is the exception that proves the rule, a close neighbour of the castle of the Lords of Autel in Barnich, Belgium, which is the very last remaining castle in the southern part of the Belgian province of Luxembourg.
Due to its size and location, Koerich was unlikely to disappear altogether. But time would have irreparably worsened the condition of the structures. It took patience for it to regain some of its lustre, but it was worth it.
Friends to the rescue
The castle had not been used as a residence since the second half of the 18th century. One incident after another, and it was the last owner, from 1950 onwards, who consolidated here, shored up there, trying to fill in the gaps in a sinking stone vessel classified as a national heritage site. It was the local dynamic that saved it, the inhabitants refusing to see "their" castle fall apart. This led, in 1993, to the creation of the association of the Friends of Koerich Castle, 8 years after the Ministry of Culture became the owner of the walls. There was an urgent need to consolidate the structures. An excavation campaign was also carried out between 2000 and 2003.
1 / 2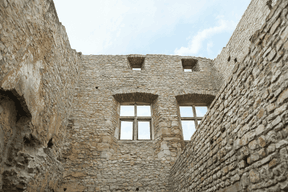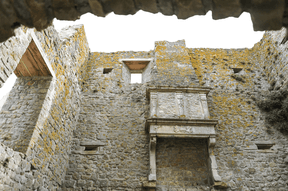 The potential of Koerich is obvious. Several development projects have been submitted. Once again, as with the Belgian neighbour Barnich, some were unsuitable, too bold or too expensive. In 2011, Fabeck Architects was awarded the project on the basis of its preliminary plan, a foundation stone was laid in 2013 and the work was finally completed in August 2019.
In addition to the stabilisation of the walls, an architectural route was set up, accessible to people with reduced mobility, with the possibility of organising cultural events. This is marked by a large, protected stage.
Just like in Falaise
As in the beautiful Château de Falaise in France, the architects chose to integrate metal and glass. This gives a very contemporary look to the fittings. A harmonious and perfectly successful combination, as it does not distort the site.
This has also given a new lease of life to the local cultural life. Koerich Castle now offers a beautiful musical programme every summer, which can be enjoyed while admiring the magnificent lighting of the site.