The history of Luxembourg cinema continues to be written. The tenth edition of the Lëtzebuerger Filmpräis took place on 11 November at the Grand Théâtre, where 12 awards were presented (variously) to Luxembourg's best films and artists. The AI-themed ceremony, hosted by actors Magaly Teixeira and Max Thommes, celebrated the talent shaping the country's film industry.
Best original score
The award for best original score went to Thionville musician and composer André Dziezuk for his music in Icare (Icarus), produced by Iris Productions. "I'm a bit floored, even though I knew the film was great. The work of Carlo [Vogele, the director; editor's note] was phenomenal, and pushed me to my limits," said Dziezuk.
Best creative contribution in an animated feature film
This prize--for which only feature-length animated films were considered--is meant for those artists who work behind the scenes but on whom the film relies. This year, the award went to sound engineer Louis Collignon for the sound in My Love Affair with Marriage by Signe Baumane and produced by Antevita Films, Raoul Nadalet, Robert Vinovskis and Sturgis Warner.
"This award goes straight to my heart. I'd also like to thank my sound designer Pierre Vedovato, who did all the sound design, and who isn't here tonight. This award goes to him, too," said Collignon.
Best creative contribution in a documentary or work of fiction
Film Fund representative Nicole Jans and the culture ministry's 

Jo Kox presented the prize for best creative contribution to documentary or work of fiction. It went to Amandine Klee for her cinematography in Kommunioun (Communion) by Jacques Molitor and produced by Les Films Fauves.
Best short film
The best short film prize went to La Valise Rouge (The Red Suitcase) by Cyrus Neshvag and produced by Cynefilms. The Iranian director gave a powerful and moving speech on receiving his award: "I would like to thank the Filmakademie and the Film Fund for considering my work, and also my team, 90% of whom are Luxembourgers, without whom nothing would be possible. I would especially like to thank

Guy Daleiden, who is like a father of cinema to me. I'd like to thank the country whose representatives are all here, because without their welcome, I would have died."
Best transmedia series or production
Before awarding the prize for the best series or transmedia production, Filmakademie president Yann Tonnar provided some context: "More than ten years ago, the first Luxembourg cinema conference took place--and the directors' and scriptwriters' association put forward the idea that the country should get involved in the production of series. Today, we can see the success and validity of this approach."
The prize was awarded to the short film Quickies, made by a collective of 19 directors. The project was launched during the covid pandemic by directors Adolf El Assal and Govinda Van Maele. The filmmakers each received €2,020 with which to produce a film of up to ten minutes.
Best XR work
"XR" stands for "extended reality," meaning the use of interactive technologies like AR and VR. In this category, the award went to Missing Pictures by Clément Deneux and produced by Wild Fang Films. "This award puts the finishing touches to a project that is very important to me, because we tried to create a bridge between cinema and virtual reality. The fact that we've won an award makes sense," said Deneux, speaking from Paris.
Best feature-length documentary from Luxembourg
The prize for best Luxembourg feature documentary went to Anne Schiltz for Michel Majerus, Next Step, produced by Samsa Film and Anne Schroeder. Released in 2021, it traces the life of Luxembourg painter Michel Majerus.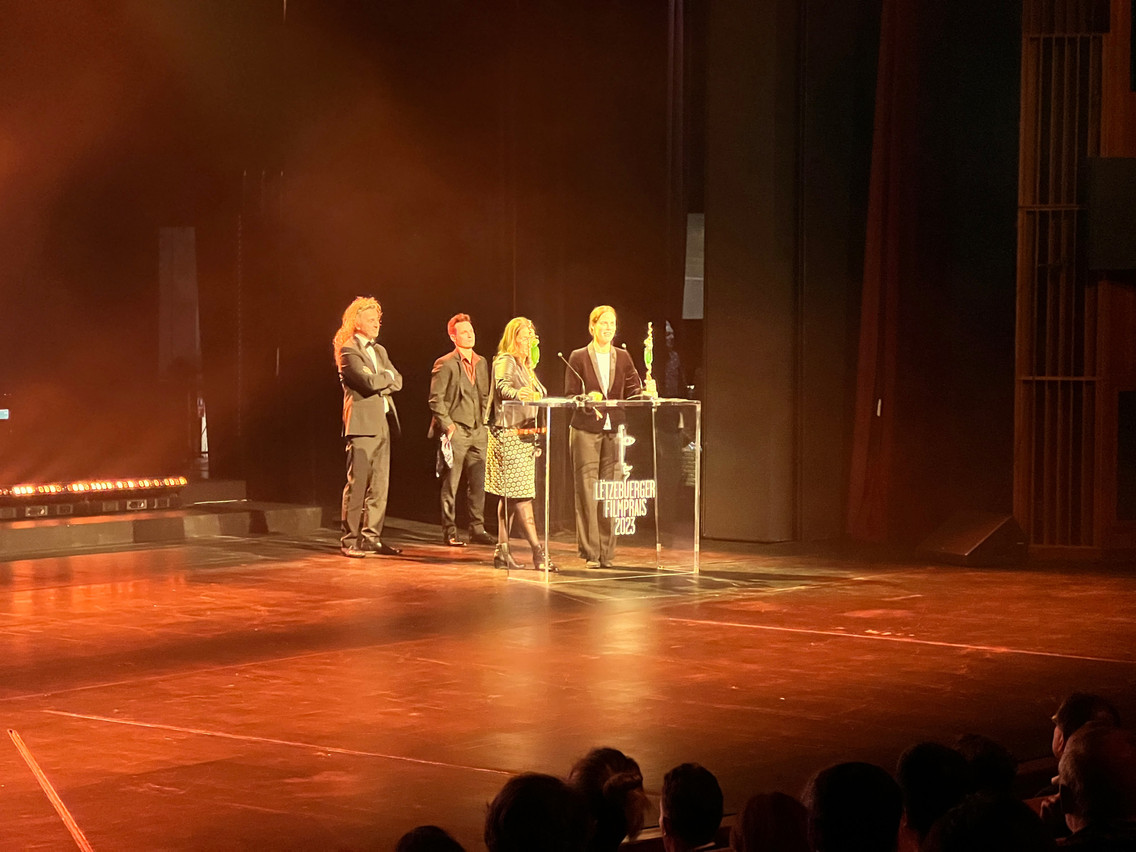 Best actor (female)
Actress Céline Camara presented the award for best performance by a female actor, stressing the need for greater equality and diversity in the film industry, both among actors and professionals. The award went to Vicky Krieps for her role in Corsage, directed by Marie Kreutzer and produced by Samsa Film.
Best actor (male)
The award for best performance by a male actor went to Marc Limpach for his role in Hinterland, directed by Stefan Ruzowitzky and produced by Amour Fou Luxembourg. He is best known for his role in the series Bad Banks.
Best animated feature in co-production
The prize for the best animated feature in co-production went to Where is Anne Frank?, directed by Ari Folman and produced by Samsa Film.
"It's excellent news to learn that we have won this prize, especially in these troubled times," said Folman from Tel Aviv. Producer

Jani Thiltges also thanked the Samsa Film teams and all the professionals involved in the film. "This story has real meaning, something we keep realising, year after year," added producer Pierre Urbain.
Best feature-length fiction or documentary co-production
Film Fund director

Guy Daleiden invited Irish actor, director and producer Jim Sheridan--who is currently working on a docu-drama with Fabrizio Maltese and Vicky Krieps--to join him in presenting the award for best feature-length fiction or documentary co-production. The prize went to Corsage by Marie Kreutzer and produced by Samsa Film.
Best feature film (live action or animated)
Outgoing ministers 

Xavier Bettel (DP) and 

Sam Tanson (déi Gréng) presented this prize, which went to Kommunioun by Jacques Molitor. "A film is never made alone; all the actors and teams contribute to it. Writers are not sufficiently valued in Europe, and there is still work to be done in terms of their fair remuneration," said the Luxembourg director in his acceptance speech.
Producer Gilles Chanial emphasised the work of Les Films Fauves--"a little hectic this year but committed to defending a singularity: that of films we love"--before congratulating the young Victor Dieu, who plays Martin, for his "bite!"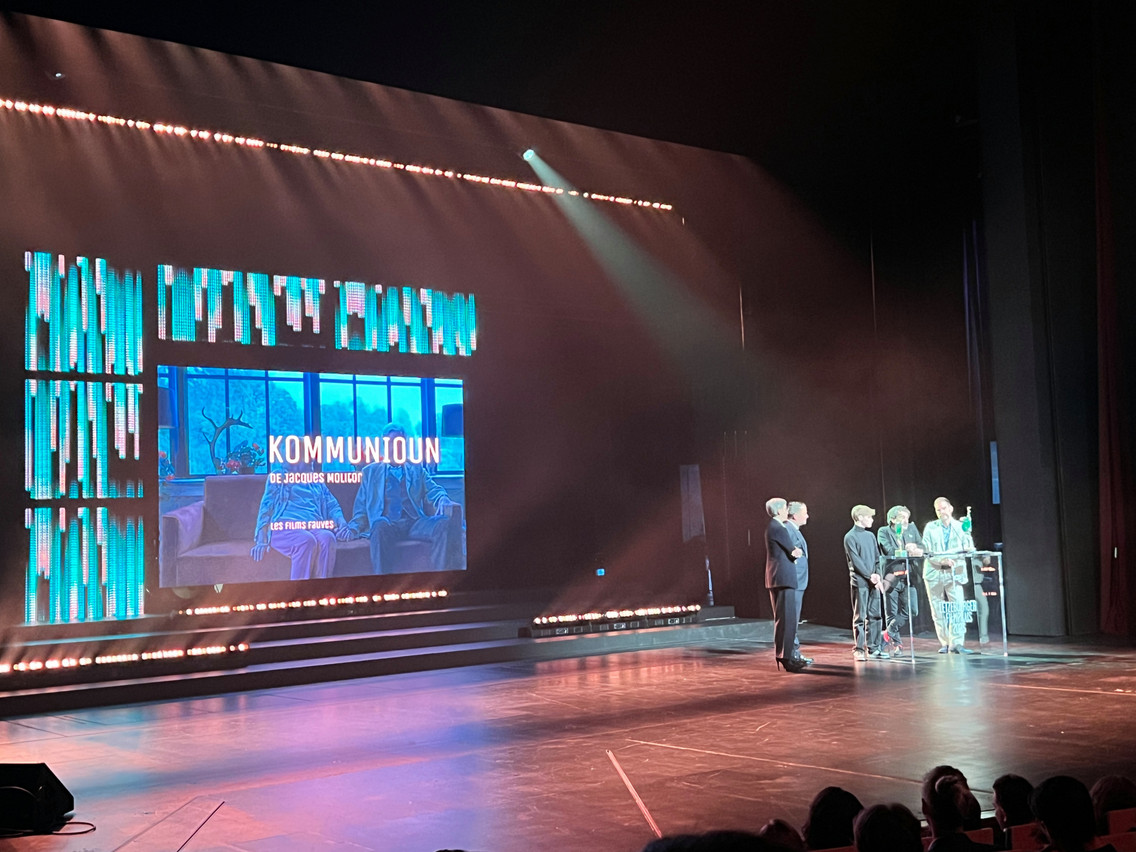 Experts' pick
After two rounds of voting, the Luxembourg Film Press Association chose Les Intranquilles (The Restless) by Joachim Lafosse and produced by Samsa Film as their favourite film. "It's a film that we wrote, prepared and shot with a Luxembourg production team and Luxembourg and Belgian technicians who, I have to say--because of the productivity that exists in the country--are truly magnificent," declared Lafosse before launching into "Forza Luxembourg!" chant.
Best culture minister
The only real standing ovation of the evening, however, was given to outgoing culture minister Sam Tanson when she took the stage to present the best feature film award. Tanson took the opportunity to thank the 900 film industry professionals in the audience for the past five years. It was an emotional moment, with almost 60 seconds of applause, an unprecedented moment for an outgoing minister--especially as cinema officially falls under the remit of Bettel, who, besides prime minister, was also communications and media minister.
This article was originally published in Paperjam. It has been translated and edited for Delano.