In December 2023, Maison Moderne will celebrate its 30th anniversary. What were you doing in December 1993?
Laurent Futin. –«December 1993... It was the beginning of my high school years with all the lightness, complexity and discoveries that characterize them. New school, boarding school, new friends, new rhythm... all to the tune of Bjork, 2 Unlimited or Freddie Mercury remixes. We are in the 90's, electronic music is in full swing and TV shows like X-Files captivate our generation. Memories, memories... I'm far from imagining the digital revolution that is going to unfold, with the arrival of internet and the first smartphones a few years later.
What are Luxinnovation's communication challenges?
Luxinnovation's communication challenges are multiple. Our activities are very diverse as they consist on one hand of promoting Luxembourg's "know-how" in terms of economy and innovation at the national and international level, and on the other hand, of making the agency's services known to companies."
Our communication actions are based on developing visibility, both for the agency and its support programs for businesses, as well as for Luxembourg on the international scene. They also involve engaging our target audiences, raising awareness about various topics related to innovation, and providing them with engaging and relevant content that can accompany them in their reflections in order to better innovate.
At the heart of our communication strategy is a multichannel approach that allows us to maximize the reach of our actions: digital channels are certainly essential, but we also rely on other more traditional channels such as press presence and events - which made a strong comeback in-person this year. All of this is monitored via management dashboards.
What does your office look like, and what does it say about you?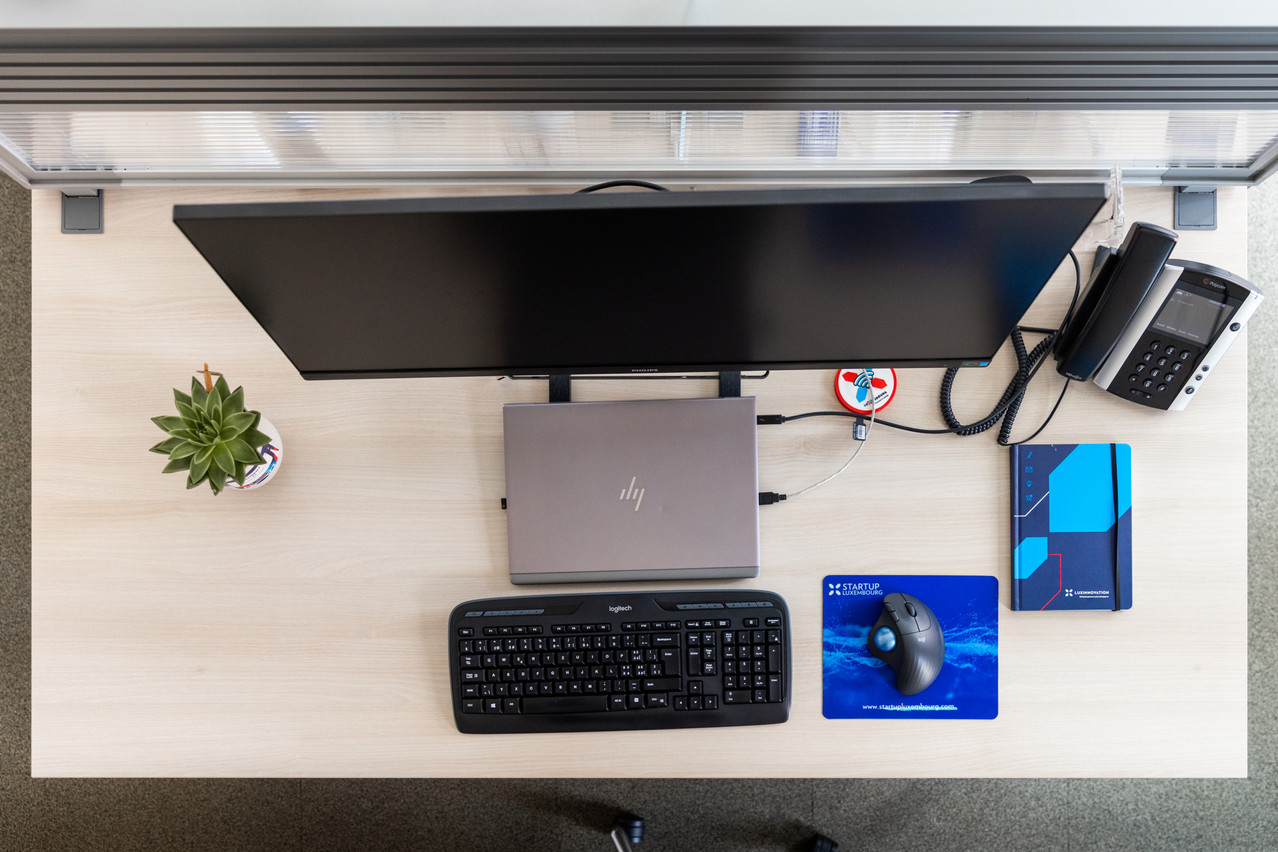 I share my workspace with part of the team. I believe it is important on a daily basis to remain close and connected with colleagues.
My desk remains very simple, with very few personal items or distractions, perhaps a small green plant here and there... It should remain uncluttered to avoid generating additional stress and enable better focus.
Clean, organized, and comfortable, that's my ideal desk in a few words…
What are the first 3 things you do in the morning when you arrive at work?
My 3 ingredients for a successful start to the day at the office:
- A dose of energy: a good black coffee before starting the day
- A dose of social: reconnect with colleagues and have a quick look around
- A dose of organisation: checking the day's agenda and urgent emails.
How do you see your digital communication strategy of tomorrow?
Tomorrow's digital communication strategy will have to integrate new technological trends such as artificial intelligence, virtual assistants, and chatbots that will allow us to go even further in personalizing content and the user experience. Today, with Chat GPT, for example, things are evolving very quickly, and as marketers, we must stay up-to-date and integrate these innovations to increase productivity, creativity, and skills.
I believe that audience engagement will evolve with more immersive and interactive content. Augmented Reality and Virtual Reality remain interesting engagement tools that will continue to grow and enrich interaction and brand experience.
A final, more societal aspect is the relationship with ethics and sustainable engagement, which will logically impact our digital communication strategy, with a growing need for transparency, identification with strong values, and a focus on privacy protection by users.
As Head of Marketing, what three pieces of advice can you give to companies that are growing rapidly in terms of communication?
- Keep your target audience in mind to provide them with ever more relevant, engaging and distinctive content and reach them on the right channels
- Define clear communication objectives that allow your teams to navigate in the same direction and establish stable performance indicators
- Don't underestimate budgetary needs: brand awareness is built over the long term and through the various channels where your target audience is located, which may require you to allocate significant budgets in line with your objectives.
On Tuesday 25 April, the event "10x6 SMEs: Scale Up Me" will take place. What are your reasons for doing so?
I will indeed be present for this evening which promises to be rich in learnings. I can't wait to hear about the experience feedback from each speaker.»