In December 2023, Maison Moderne will celebrate its 30th anniversary. What were you doing in December 1993?
I was 8 years old and celebrating the festive season with my family in Italy at Lake Garda.
What are LuxProvide's communication challenges?
LuxProvide targets organisations of all sizes in Luxembourg and the Greater Region that are looking for support with their digitisation projects. Our biggest communication challenge is to explain our offer in a simple way to the uninitiated!
It's important to look at the evolution of the company to understand why, to achieve our communications objective, we unveiled our new logo and brand image in 2023 this year.
Since the MeluXina supercomputer was commissioned in June 2021, the LuxProvide teams have started to look at the usages of the machine, identifying the different use cases, and testing and optimising its performance. LuxProvide's mandate covered a key aspect: customer integration. As a result, several Luxembourg companies were able to gain rapid access to MeluXina's top-of-the-range computing capacity.
User companies acknowledge MeluXina's extraordinary performance and coverage of their infrastructure needs. However, they could use more concrete support in the pure IT service offered by the tool. LuxProvide therefore sought to reshape its strategy. We realised that our offering would not be complete without supporting customers with a co-creation approach.
To achieve this, we embarked on an intense exercise in early 2023, which involved first of all defining the new vision and drawing lessons for our go-to-market strategy, in order to find the right target audiences, and then going through what I call a Messaging Framework to define everything from the tagline to the storytelling around the brand. This exercise has helped us develop a brand identity, which has recently unveiled a new logo accompanied by a logomarque and a visual campaign.
Our current challenges have led us to focus on 3 main areas:
- Expanding our network of partners, enabling us to scale up our offering and sector expertise
- Visibility, to ensure that all our target organisations are aware of our solution.
- The creation of "use cases" to remove obstacles and reluctance.
What does your office look like, and what does it say about you?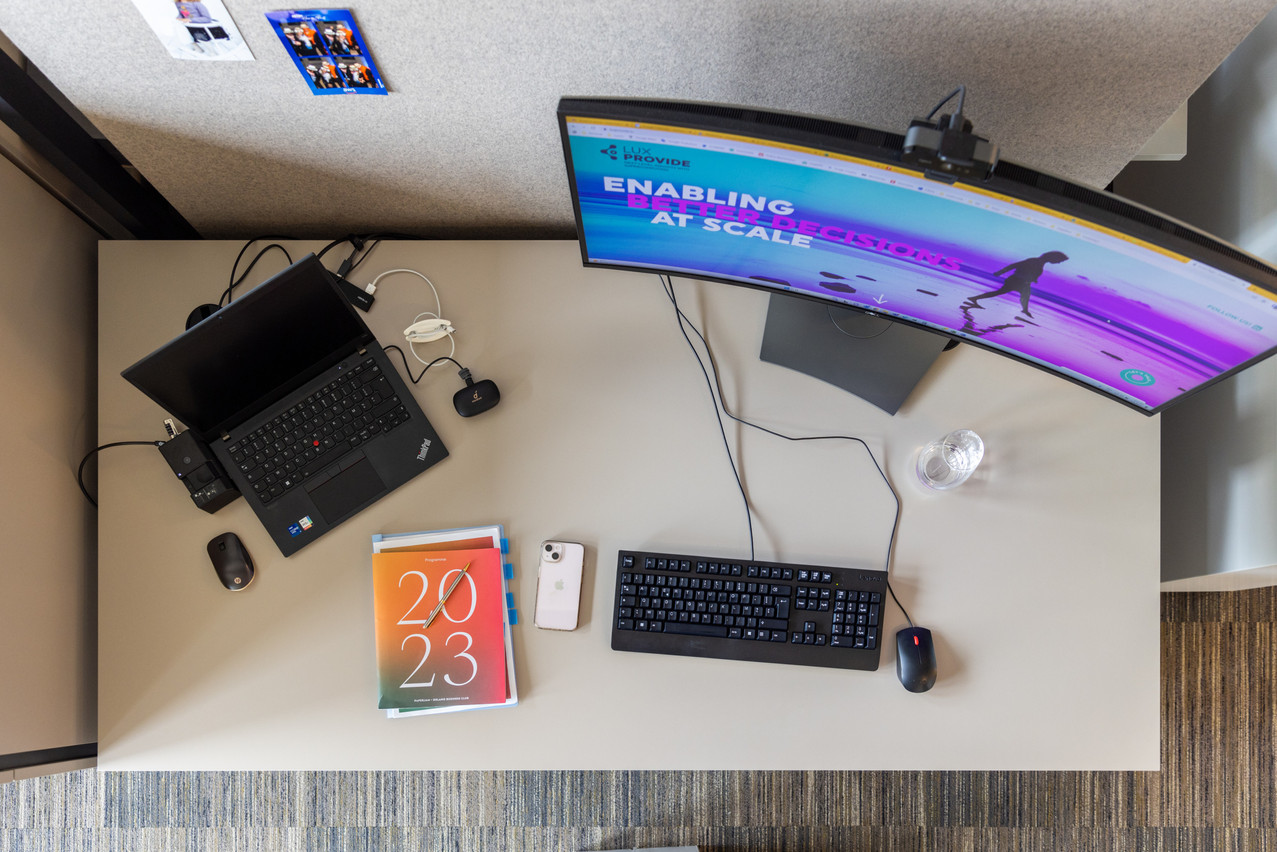 My desk is in a very modern, bright open-plan space. It's adjustable, which means I can work standing up, which I like.  I like to move around and I appreciate change! I hardly ever use paper any more, just my laptop, a screen and a keyboard to ensure a maximum flexibility and always access my documents online. I like speed and organisation.
As the mother of a little girl, I couldn't resist posting a few photos of us. I also have photos with my colleagues from events we've shared. My Italian side means that I love exchanging and sharing with my colleagues. 
What are the first 3 things you do when you arrive at work in the morning?
When I arrive at the office, the first thing I do is get a glass of water out of the kitchen, have a quick chat with any colleagues I meet and then check my emails and my schedule!
How do you see your digital communications strategy for the future?
I envisage a digital communications strategy that places both the customer and the human being back at the centre, exploiting new technologies to generate stronger links and communications tailored to different customer profiles. Tailor-made digital communications!
Can you explain us a bit more what is MeluXina?
I've already covered a lot in my second question, but here's some additional information:
MeluXina is LuxProvide's supercomputer, which will be inaugurated in June 2021 and financed by the Luxembourg Government and EURO HPC Joint Undertaking. MeluXina has been designed to serve a wide variety of complex, data-driven workloads, covering all areas of business and research. Its design is forward-looking, responding to the convergence of simulation, modelling, data analysis and artificial intelligence.
A supercomputer is a powerful, advanced computing platform designed to perform complex calculations and process large amounts of data at extremely high speeds. It represents the pinnacle of computing power and is used to solve large, complex problems in a variety of fields.
In the specific case of MeluXina, the computing power is 18,000,000,000,000,000 Flops per second. More concretely, if every human being on the planet had to launch a calculation at the same time, like pushing the ENTER button on a computer, you'd have to multiply the Earth's population by more than two million to reach MeluXina's capacity.
As Head of Marketing/Communications, what three pieces of advice can you give to fast-growing companies when it comes to communications?
First of all, planning is important, but so is execution, because a project never goes 100% according to plan. So it's vital to be flexible and adapt to the obstacles you encounter so that they turn into opportunities.
Develop a corporate culture that 'walks the talk' and acts on its values. Transparency with customers and the market is essential today.
Being attentive to the market and the environment in which the company operates is crucial. The diversity of customer/market feedback is the key to developing new ideas that will enable us to deploy hard-hitting and impactful communication.