The first Bettembourg-Chengdu train left the Luxembourg intermodal terminal on Thursday 4 April 2019. It travelled through Germany, Poland, Belarus, Russia and Kazakhstan to arrive, after fifteen days and 10,000 kilometres, in China. There, it carried 41 containers loaded with food, medical equipment, electronics, hardware, ceramics and everyday consumer goods. A few months later, on 19 October of the same year, the so-called "Railway Express Chengdu-Luxembourg" took the opposite route from China, arriving in the Grand Duchy on 2 November.
These journeys were proudly relayed by the CFL Multimodal group, which operated the train in collaboration with Chengdu International Railway Service (CDIRS, China) and Rail Transportation Service Broker (RTSB, Germany). And welcomed by the Ministry of Mobility. In this way, Luxembourg hopes to make its mark on the "New Silk Road". The aim was to offer one rotation per week from mid-2019.
This ambition never materialised. Almost three years later, no train has run on this route again.
China now passes through Poland
"This was a decision taken some time ago. There was no market need for a regular line," explains Barbara Chevalier, Director of Strategy and Development at CFL Multimodal. However, she does not want to use the word "abandon". "CFL handles requests for connections between Europe and China via its connection to Poznan in Poland," she corrects. She described the Chengdu-Luxembourg Railway Express as a "test train". When contacted, the mobility ministry did not comment on the subject.
The 1,000 km line between Bettembourg and Poznan was inaugurated at the beginning of 2020 and has since been operating with a frequency of four round trips per week.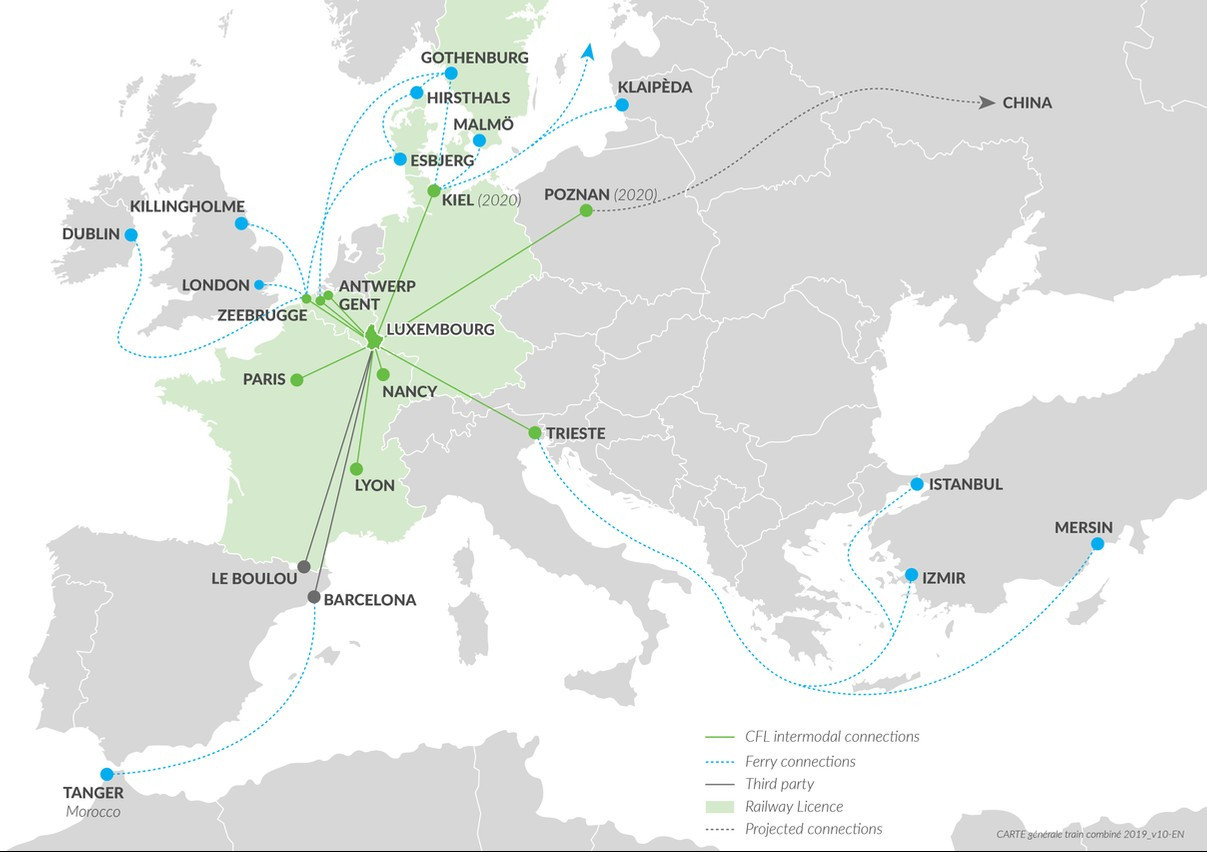 The train has a transport capacity of 38 intermodal units with a transit time of about 23 hours. The customers are from "very different sectors such as the textile industry, the automotive sector and consumer goods". The group still has the objective, already stated in 2019, of increasing to six rotations per week, "as soon as market demand allows it".
CFL could not provide figures on the countries of origin of the route's customers and their destinations. When a company specifically requests a route to China, the logistics company assures that it works with its partners after Poland. This request remains "a minority". For the others, it does not know whether Poznon is their final destination or not.
The impact of the war in Ukraine
It remains to be seen whether CFL counts Russian companies among her clients. "We are in the process of screening to respect the embargo constraints," says Chevalier. The European Union has planned to extend the scope of export controls on dual-use goods (which can be used for both civilian and military purposes) in order to restrict Russia's access to key technologies, such as semiconductors or advanced software, in response to its invasion of Ukraine.
Without figures for the moment, CFL considers itself "not very exposed" given that its business is focused on "the European market". "We are following developments very closely," it added, as the crisis is already having "consequences on the organisation of logistics flows in Europe", with a reduced number of trains around Russia.
This story was first published in French on Paperjam. It has been translated and edited for Delano.