Visitors are greeted by an aisle of flags in Markiewicz and Piron's exhibition at the Casino Luxembourg, curated by Kevin Muhlen. An aisle of honour, with a red carpet... But is that what it's all about? Not really, because on closer inspection, the flags are crudely hand-painted, and the red carpet ends at a dead end with a pile of red sand, evoking rather a pool of blood...
These are in fact the flags of the 27 countries of the European Union, facing those of the countries colonised by them. Instead of a hedge of honour, this is an area of tension and reflection on history. But what remains of this colonial history today? How is it being passed on to young people today? The red sand is a reminder of the disastrous facts of this colonisation and also evokes the dramatic forced exiles that still take place today from other countries such as Syria and that unfortunately end tragically on the sandy beaches of the Mediterranean.
The visitor wanders through this reconstructed history, constrained by barriers that he or she will have to overcome to discover the rest of the exhibition.
Exile, geopolitics and poetry
These questions of exile, geopolitics, history and its consequences on migratory flows and populations are recurrent subjects for the artists Markiewicz and Piron, who tirelessly question identity, otherness, collective memory and the transmission of the past through their works. To do this, they do not hesitate to call upon disciplines other than the plastic arts, such as poetry, which is very present in this exhibition, or other technologies, such as virtual reality and deepfakes.
The title of the exhibition is an extract from a poem by the Afghan poet Meena Keshwar Kamal. This poem is recited, thanks to a game of digital trickery, by politicians during speeches to the nation gathered in a video installation ("I am another").
This question of the manipulated image is pursued in the rest of the exhibition: the saturated paintings are exposed in negative, leaving only an illusionary effect in memory, the outlines of a ship at sea that can be guessed at, like a ghostly presence. Or this ultra-slow motion video work representing women during a demonstration in Kabul on 21 August, whose soundtrack is a reinterpretation of a Mozart requiem.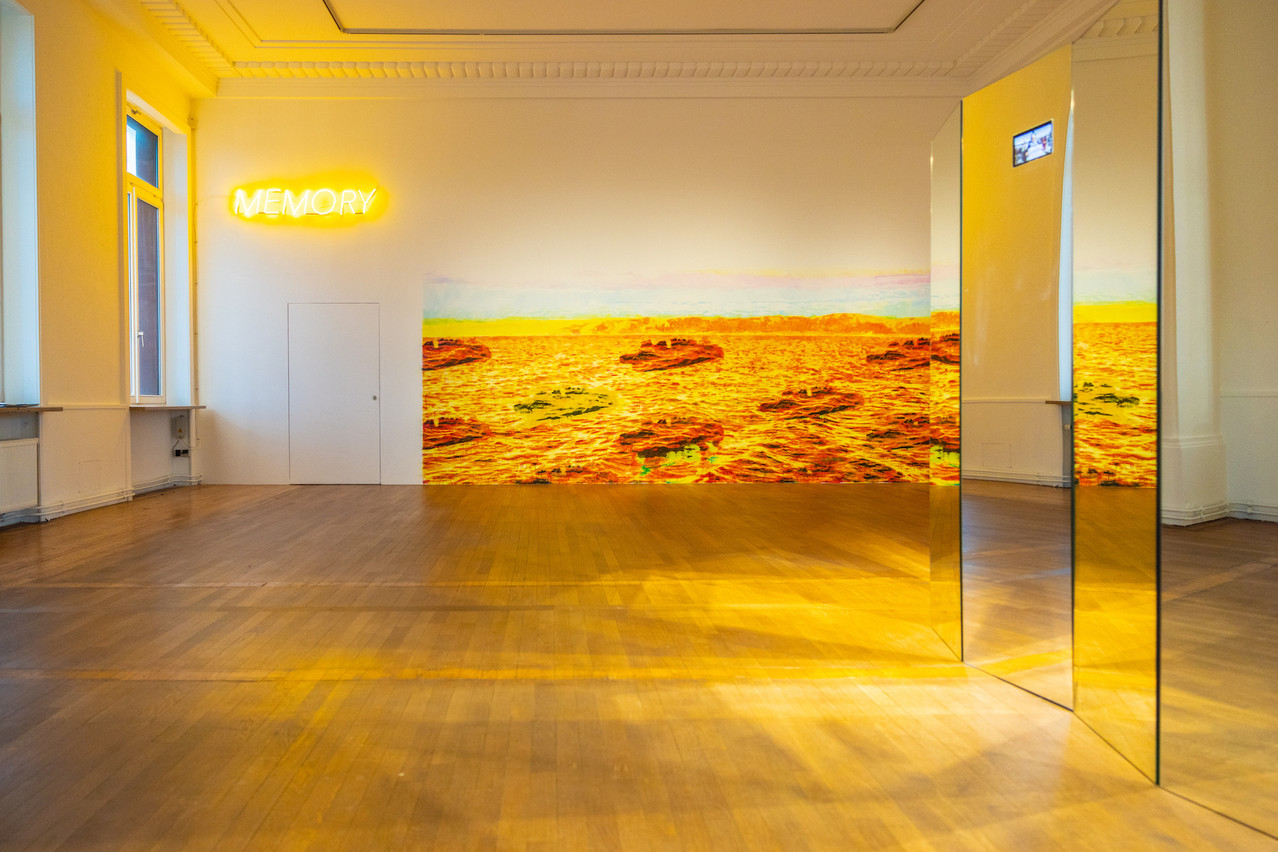 In the centre of the main hall, an imposing installation of mirrors contributes to the loss of spatial reference points, reflecting the architecture of the hall and the works presented. However, the mirrors are arranged in a precise order, reflecting the borders of the EU27. On some of these mirrored surfaces, digital screens broadcast images of our contemporary world in dislocation, like our memory that alters memories.
A little further on, visitors are invited to sit at the negotiating table. With the help of a virtual reality headset, it is possible to discover the story of Yunus Yusuf, who travelled from Afghanistan to Luxembourg. Above this table, barriers are suspended. They are a symbolic reminder that, depending on the decisions taken during international negotiations, these barriers either fly away and are no longer a threat, or they literally fall on our heads.
Finally, the visitor ends their journey by listening to young adults who tell of their exile, but also testify to their strength and their ability to envisage the future. Staged in a play of light that evokes icons, they carry a final message of hope and reflection, even though they have been through hell.
"Stronger than memory and weaker than dewdrops" is open at Casino Luxembourg until 30 January. Admission is free.
This story was first published in French on Paperjam. It has been translated and edited for Delano.