Aiming to grab the ministry's attention and push it into action, the advertisment published at the start of December read: "€570 million in future subsidies for the survival of family farms, biodiversity and climate protection." This statement by the non-existent "ministry of sustainable agriculture" was illustrated with an official government logo.
The ministry, which at the time had accused the alliance of promoting fake news, has now filed complaints against the organisations with the state prosecutor's office for usurping the logo. The decision was revealed by prime minister Xavier Bettel (DP), who also serves as minister of digitalisation,  in an answer to a parliamentary question.
Bettel cites in particular Article 232bis, where any unauthorised use of the symbols, flags, badges or coat of arms of a governmental entity for fraudulent, commercial, professional or advertising purposes is punishable by law. The accused might face imprisonment ranging from eight days to three months, and a fine of between €251 and €5,000. 
The mouvement écologique reacted to the revelation in an open letter. 
In a call with Delano on 21 December, Blanche Weber of the mouvement écologique said she was disappointed with the ministry's reaction to the advertisment. She insisted that the clear coloured logos of all three organisations underneath the ad and the added opinion letter, should have made it clear it was their project. "We find it questionable that the government only reacted to the form," and not the content of the letter, says Weber. She also deplored "that the parliamentary questions regarding this are also just about the form."
"We stand by our actions," she added. "It's absolutely recognisable what it was." But she hoped the situation would spark dialogue about the pressing issue of the environmental cost of current agricultural policies.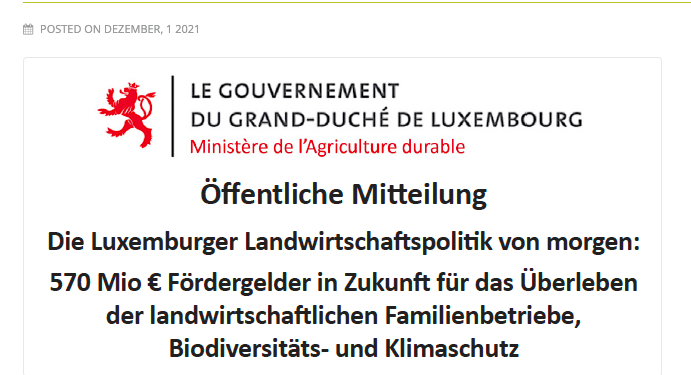 The campaign criticised the lack of inclusion of citizens and environmental and consumer groups in discussions concerning the drafting of the national strategy for future agricultural policies, saying that any content available was too voluminous and specialised for the average person to read. A statement the ministry did not agree with when asked to react. 
Bettel, in his answer, dismissed any requests to use GouvCheck (a QR-Code that helps recipients verify the authenticity of official documents) for communications in the press. He also explained that publishing houses and newspapers were not bound to control mechanisms when accepting publicity. Implementing it would "in that sense, be a type of censure and go against the freedom of the press".  Magazines, newspapers and other such organisations are responsible for accepting the ads they take in, Bettel added. 
This article was updated to include Blanche Weber's reaction to the complaint.