The national mobility plan 2035, presented on 22 April by transport minister François Bausch (déi Gréng) provides a roadmap for the development of Luxembourg's transport infrastructure over the next decade.
And as far as P+R are concerned, the philosophy remains the same: to have large car parks (between 1,000 and 4,000 spaces) on the outskirts of the capital, in order to keep cars away from the centre and to have more space for the tram and the bicycle network.
At Findel in 2024
In the East: While the Luxexpo P+R is already in operation, the work and tender for the Héienhaff P+R (at Findel) will be launched in line with the tram's extension. The Héienhaff will be a large park-and-ride facility, connecting to the tram. It will be able to accommodate traffic coming from Trier, Grevenmacher, Wasserbilig, etc. It should be in service at the same time as the arrival of the tram at the airport, during 2024.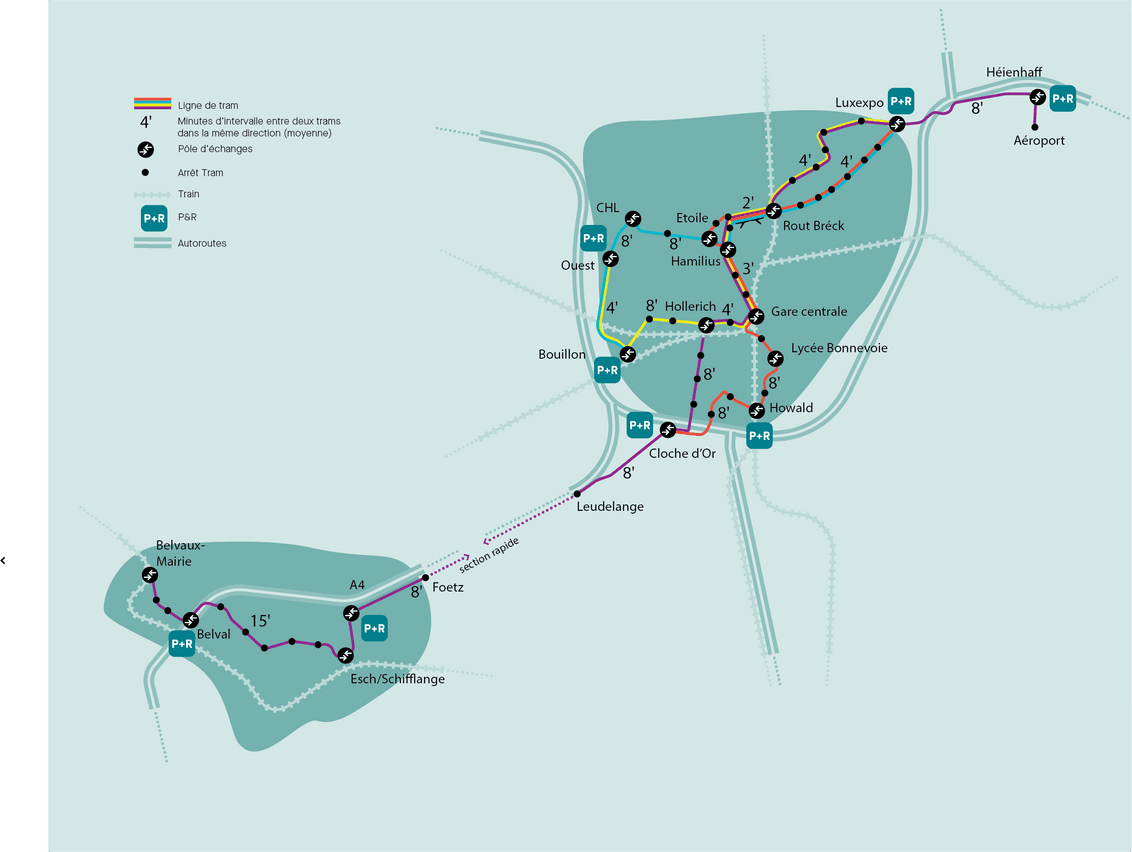 In the south: The P+R Cloche d'Or (which is located next to the Stade de Luxembourg and should open at the end of the year) is currently under construction. But a little further east, there are plans to redevelop the B3 and the Howald interchange in order to build a new car park. This will eventually replace the P+R Lux Sud (where many French border workers park), the site of which is to be developed. No concrete timetable has yet been set for this new P+R, but it will probably be in the 2030-2035 timeframe.
A P+R closer to the Belgian border
In the West: This will also change, but again in the medium term. As already announced, the Bouillon car park will be moved a little further south, towards Esch, to make way for a more modern district. However, the major change lies elsewhere. There are plans to build a brand new P+R, currently called P+R West, which is likely to appeal to Belgian cross-border workers. The idea is to close the current interchanges at Strassen and Bertrange and create a new one between the two. The latter will then serve this P+R West, which will benefit like all the other P+Rs from a connection with the tram.
In Esch/Belval: The Belval P+R already exists. A second one, a little further north, will be built near the Um Monkeler business park, on the edge of the A4. This is a strategic location because of the numerous flows linked to the southern bypass.
This story was first published in French on Paperjam. It has been translated and edited for Delano.