Situated on a hill above Differdange's town centre is a castle dating from the 16th century which may well be the grand duchy's earliest Renaissance castle. Countess Anne d'Isenbourg wanted to have this more "meager castle" built after the fortified castle of Soleuvre was vandalised and burnt in 1552 due to war, and initially the new castle also meant as a fortification, complete with a moat and drawbridge (both of which have since been removed).
Local steel company Arbed took over the site in the early 1900s as a staff restaurant and hotel before the Miami University Dolibois European Centre (Mudec) arrived to let the site in 1997. The site is named after John E. Dolibois, former US ambassador to Luxembourg, who was a frequent speaker about his Nuremburg trial experiences (which more recently was brought to life in 2017 in the "Codename Ashcan" theatrical performance). Nearby is an associated villa which has since been converted into a crèche, and Manes explains that Mudec opened up some of its own path available. "That was under former Mayor [Claude] Meisch because his vision was that he wanted people to be able to cross Differdange without having to cross the street," Manes explains. "The only place that doesn't work is just outside here, but the plans are there."
Rooms, hallways full of tales
There's also a gardener's house--which proved useful for campus isolation measures in light of covid-19, which also impacted the size of the student body and their tours abroad. According to Manes, there are 10 staff members, and the size of the faculty varies from about 15-18. This autumn, classes should once again reach normal levels, with just over 100 students expected to come to Luxembourg from the Ohio-based main campus.
Manes says that some of the favourite spots for students these days are the outdoor terrace area--where they have barbecues and soirées or simply relax in hammocks--and the vaulted caves, once used for wine storage but now used to house study breakout areas, laundry machines, mood boards and more.
As we tour the premises, one of the highlights include a library-office space, where Manes says part of the Luxembourg co-production Hannah Arendt was filmed. "The walls here were white, but they wanted to paint the walls green [to reflect the era better]. We ended up liking the colour," Manes explains. Just outside this space are framed photos and a signed letter from Winston Churchill capturing recollections of his July 1946 visit.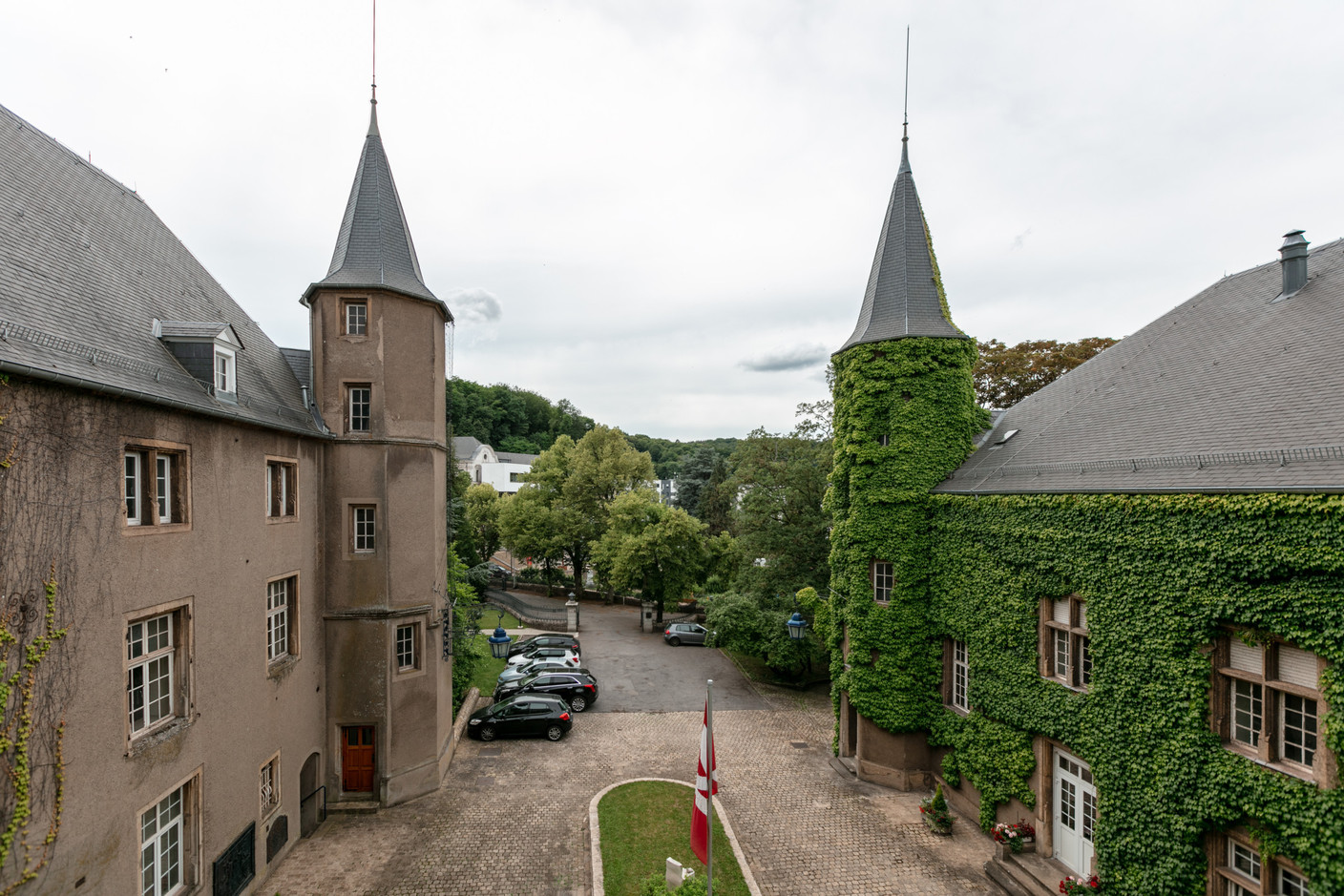 1 / 21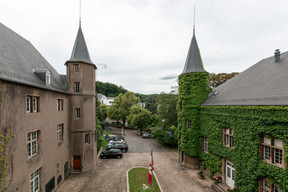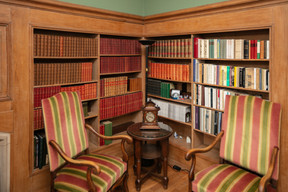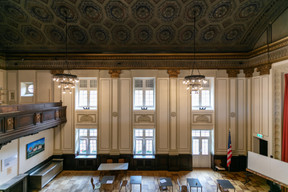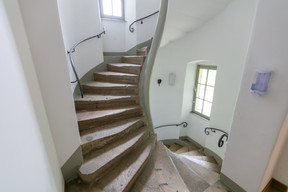 Such a castle also lends itself to stories told over the years. Case in point: Manes says he has heard on separate occasions, from two different individuals, about a rumoured bottle of spirits left behind by Napoleon, still lodged inside one of the room's walls. There are the usual creaks and groans from the old building, which has spooked more than one overnight visitor, fuelled perhaps by the fact that there is a stone marking a child's grave on the castle grounds.
Old-world charm meets modern
And then there's the "Harry Potter" cafeteria-style space downstairs, which has been used often for dinners but previously had a stage during the Arbed years. A small projection hole still exists on the opposite side. The balcony above is now a library space where students gather and study. But most impressive are the chandeliers hovering high above, which previously had to be accessed through a passage. "That was first of all dangerous, because if you brought them down too far they could have gone through the floor. Always someone had to be in the room to shout stop. It was very thin, and to walk through you could have fallen through [the ceiling]," Manes explains.  
The executive director marvels at the original wooden installation, upon which the weight was intelligently balanced, and the fact that someone once had to manoeuvre ropes to move the chandeliers up or down, so the school wanted to find an electric option. "But to find that was a challenge. I even asked at Neuschwanstein in Germany how they were doing this, and the woman there said, 'It's a disaster!'"Manes recalls.
There are a few turrets on the site, and one of the oldest parts of the castle is a staircase up one of them. Still visible on its stone slabs are original runic engravings.
Despite the old-world charm of the castle, the spaces where on-site staff live upstairs had to be modernised. Manes says visitors tend to be surprised after walking along the corridor, turrets and ironworks visible outside a window, and then opening a door to the living space, with a modern kitchenette, shower and other amenities. Students generally live either with host families--which Manes says is becoming rarer now, as some host families are now downgrading from houses to flats--or in other accommodations.  
Manes, who took on his new role one year ago, said that while he hasn't had much time to reflect on the fact that he is the first Luxembourger in the role, he's looking forward to the year ahead as the campus and Luxembourg start slowly opening up again.