A new editor-in-chief for Paperjam
Paperjam is renewing itself with the appointment of two new editors-in-chief:

Thierry Labro is now the new editor-in-chief of all of Paperjam's digital channels.

Benoit Theunissen, a financial journalist who was already in charge of Paperjam's supplements, is now the new editor-in-chief of the Paperjam magazine.
Maison Moderne media partner of the European Design Festival
As announced in the January 2023 Mediarama, Mike Koedinger, CEO of Maison Moderne, will be a member of the jury of the European Design Festival. Paperjam and Delano are becoming media partners for this event, which will take place from May 31 to June 4. Discover all the highlights here!
Delano Finance Newsletter
Delano, Luxembourg's Financial Community is the reference media for the financial sector and the expatriate community. Do you know its weekly newsletter? It comes out every Tuesday! Covering the news of the internationally renowned Luxembourg financial sector, Delano Finance offers in-depth interviews with key players from the private sector and public institutions, expert insights on the market, and news particularly relevant to the 55,000 people working in banks, fund industry, insurance companies, law firms, fintech, public administrations, service providers and consulting and tax companies, including the Big Four. Want to subscribe? It's right here!
Changes in the release of newsletters
As Tech and Green news is gaining momentum, Maison Moderne has decided to integrate it into its bi-daily newsletter and will stop publishing the thematic newsletters Paperjam Green and Paperjam Tech. These contents will now be read by around 31,000 subscribers.
Grand Dossier PropTech & Smart Cities: The Smart Showcase for Real Estate Tech 
On June 28th, Paperjam.lu and Delano.lu will publish a special Proptech dossier featuring contributions and interviews from experts in the real estate technology sector. This communication opportunity, in partnership with Re-Smart, the Salon des Nouvelles Technologies de l'Immobilier in Luxembourg, highlights the professionals in the Proptech industry, particularly the exhibitors of the Salon, with a special offer for the event. It's a unique opportunity to enhance visibility and benefit from the wide reach and highly qualified audience of Paperjam.lu and Delano.lu websites, as well as their respective newsletters. To learn more and secure your position now, please contact us!
100.000 subscribers on Facebook and Linkedin for Paperjam
Paperjam gains even more visibility on social media. Present on four platforms (Twitter, Facebook, Linkedin, and Instagram), the francophone media of Maison Moderne now has nearly 129,000 followers. 15 months after reaching the milestone of 100,000 followers on these four networks, the dynamic duo of Facebook (36,881) and Linkedin (63,290), the two most active networks in Luxembourg, has also reached this symbolic threshold. Over the course of four years, the community gathered on these two social media platforms has multiplied by 5.4. On Linkedin, Paperjam leads the media/news pages in the country in all indicators. On Facebook, Paperjam concluded 2022 with the highest annual growth in subscriber base among news titles in the Grand Duchy.
Follow Paperjam on social media: Twitter, Facebook, Linkedin, and Instagram.
https://twitter.com/paperJam_lu
https://www.facebook.com/Paperjam/
https://www.linkedin.com/company/paperjamluxembourg/
https://www.instagram.com/paperjam_lu/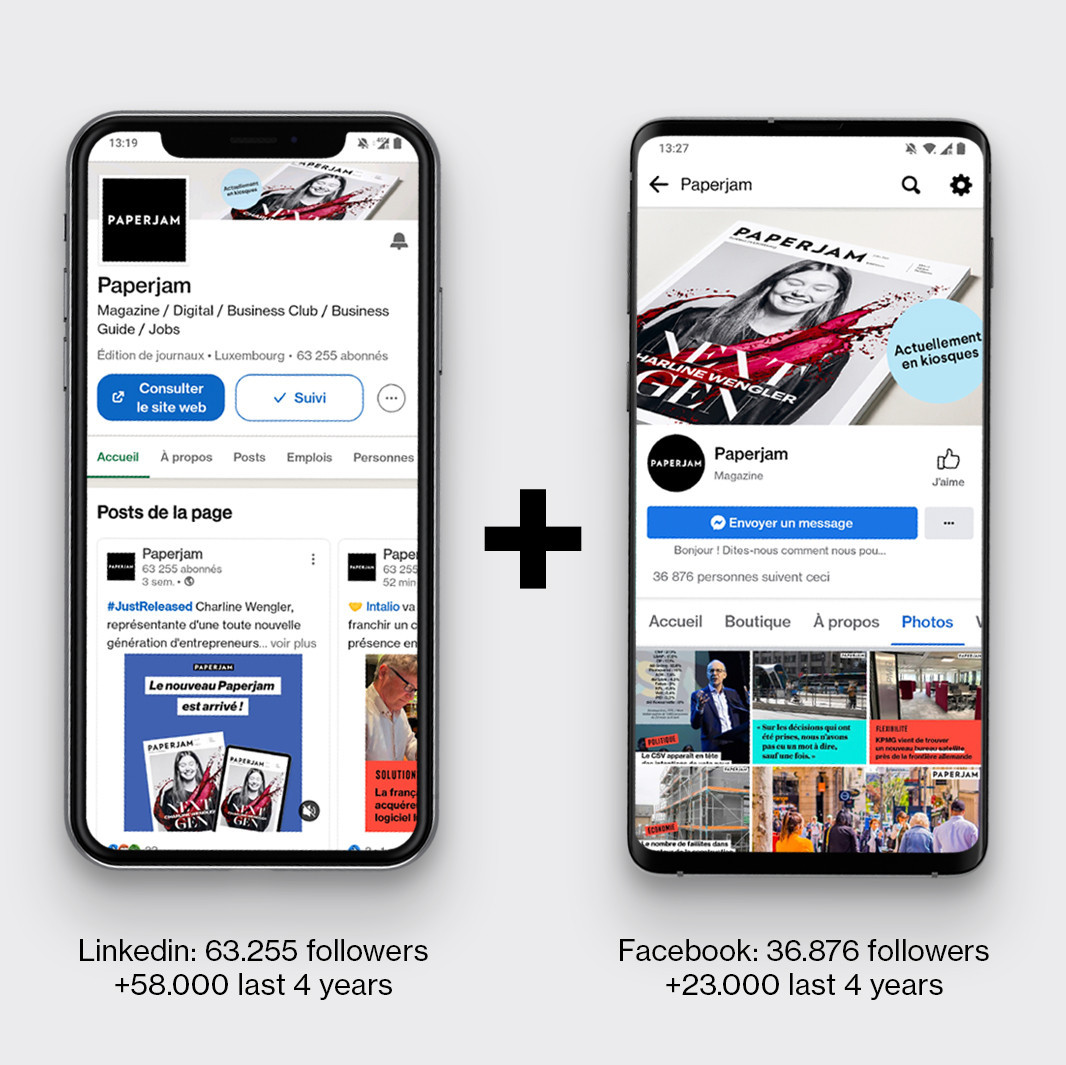 Are you a member of the club? Discover all the services! (2/3)
Did you know?
Being a member of the Paperjam+Delano Business Club is an excellent way to increase your visibility in Luxembourg. Depending on the size of your company, you can have up to 10 e-news per year as part of your membership. These allow you to share business news in the Paperjam or Delano newsletters and invite our readers to visit a website of your choice. In addition to e-news, the business club offers up to 10 press releases per year in the dedicated section of the Paperjam.lu or Delano.lu website. This is the best way to disseminate commercial information when it cannot be covered by our editorial team. Finally, don't forget to subscribe to the Paperjam & Delano magazines!  Do you have a question? Don't hesitate to contact us!
Maison Moderne participated in Relay for Life
Maison Moderne supported the Cancer Foundation, which has been working tirelessly for 25 years in the fight against cancer. Indeed, Maison Moderne employees collected 635€ in donations and walked for the cause. Look how beautiful they are!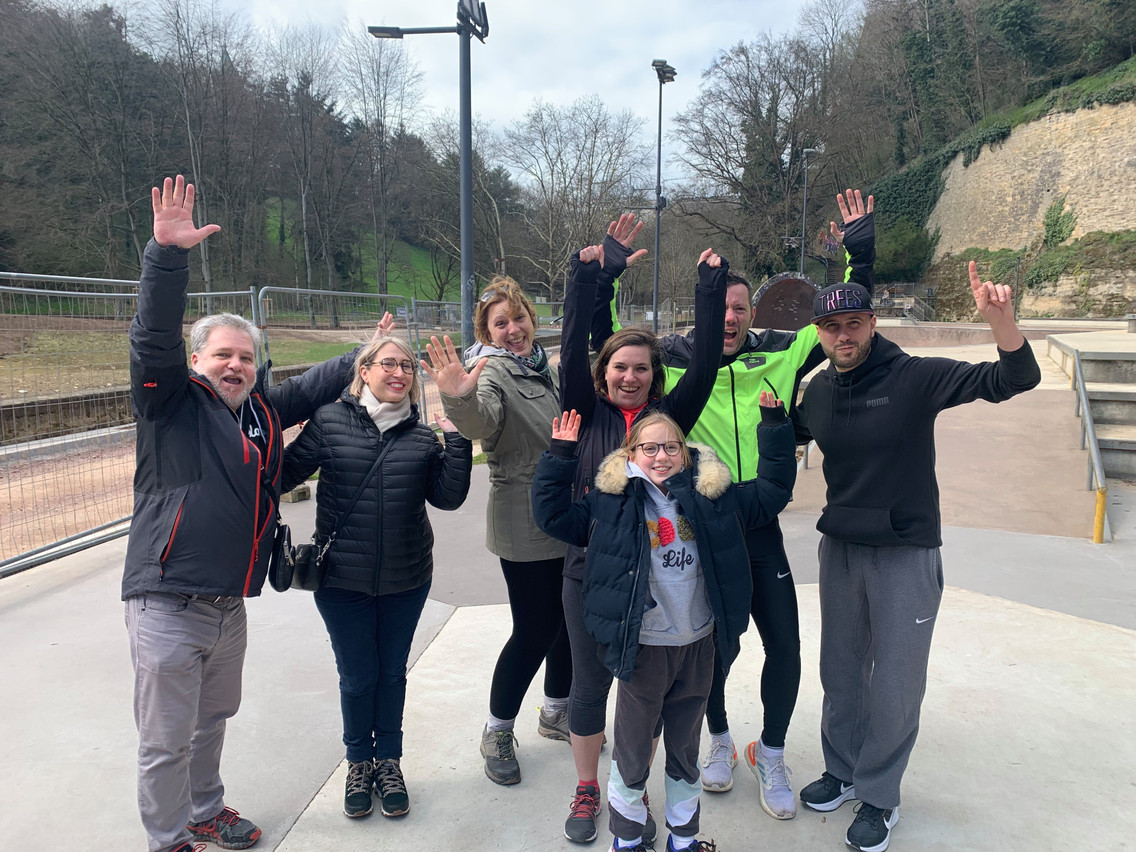 TGIF
A look back at the last edition on Friday 3 March 2023: Leadership Lunch!
Do you want to book for the upcoming TGIF on Friday 28 April 2023 : Register here!