This week we start a new regular series called "What's on my desk", where a financial sector executive or employee shares some of the objects in their workspace that are important to them for professional or personal reasons. First up:

Niccolo Polli, CEO of HSBC in Luxembourg.
Polli has a reasonably sized corner office with an impressive view of the city centre and Kirchberg across the Pétrusse and Alzette valleys. When he moved into the office, Polli moved the desk from centre-stage to the side, lined up against the wall with the office door. He wanted to make the space more welcoming and encourage people to come in, back when that was allowed, he said. Closer to the window, there is a meeting table with six chairs.
During Delano's visit, Polli presented six items that were particularly important to him.
Seen in the picture above, from left to right:
#LuxUK Links
A copy of the "#LuxUK Links" book written by the former UK ambassador to Luxembourg John Marshall, which was released in October 2020 and details political, economic and cultural ties between the two countries. (The book was published by Maison Moderne, the company that owns Delano. HSBC was one of the corporate sponsors that underwrote the book's publication.) Polli keeps copies in his office, because, "number one, I like it" and secondly, to use as presents for visitors.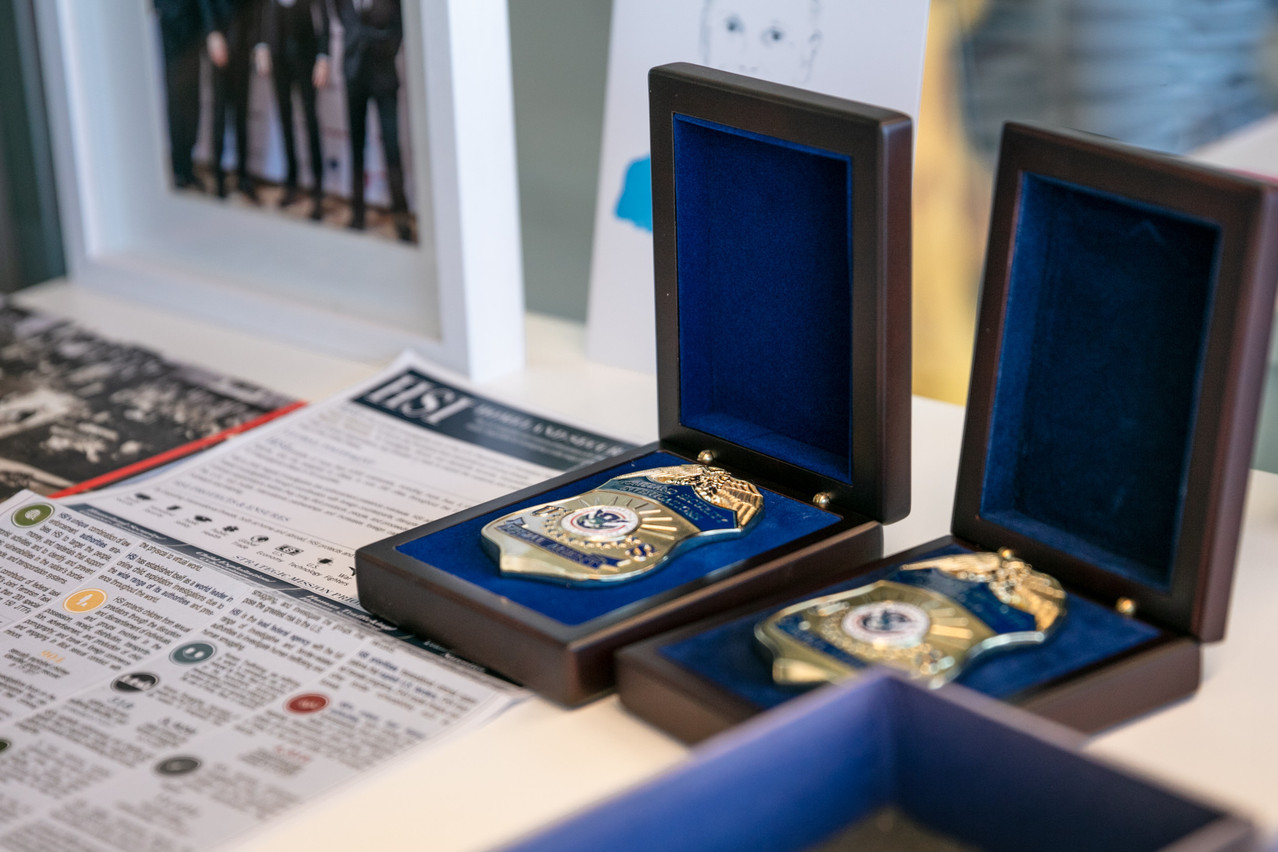 Homeland security badges
Polli received a pair of ceremonial US homeland security badges--they're not real--after extensive briefings with US homeland security officials in Brussels and London when he was named head of HSBC in Luxembourg. The officials provided Polli with an assessment of Luxembourg in terms of financial crime, he stated. It was a real "download on what to expect and what to be alert about as a bank CEO." While he can't discuss what he was told, Polli called the meetings "very helpful" and said he "really enjoyed" meeting the officials.
Photo from a professional event
Polli has fond memories of this black tie event, held in early February 2020. He is pictured with

Claus Mansfeldt, chair of both Swancap Investment Management and of the Luxembourg Private Equity & Venture Capital Association; Jérôme Bloch, CEO of 360crossmedia; and

Nasir Zubairi, CEO of the Luxembourg House of Financial Technology.
His mobile phone
Polli said his mobile phone was "unfortunately" an important part of his workspace, given how much he uses it.
Company publication
A commemorative book marking HSBC's 150th anniversary that was presented to clients and partners. This version was published in Mandarin.
Photos of his kids
Polli is father of three young children, aged 7, 8 and 10. Having pictures of his kids at the office "keeps me grounded" and "makes me happy".
Niccolo Polli
HSBC's country CEO Luxembourg since December 2018. Polli joined HSBC in 2011, previously holding a variety of management roles in London. Prior to the bank, he held positions with Link Financial, Oliver Wyman and Capital One. Polli earned a bachelor's in industrial engineering at Stanford University and an MBA from Insead.