Just eight out of 108 global asset managers have earned a "Morningstar ESG Commitment Level of Leader" distinction in the fund research firm's most recent review.
The top scoring firms were Robeco, Impax, Parnassus, Australian Ethical, Boston Trust Walden, Domini Asset Management, Affirmative Investment Management and Stewart Investors.
"In most cases, these firms have focused on sustainable investing (formerly known as responsible investing) since day one, and this philosophy remains core to their identities today," Morningstar, a fund research and data firm, said in a report released on 30 August. "These firms operate from a shared belief that sustainability goals go hand-in-hand with long-term financial return, and this is reflected at all levels of the organisation."
The second highest score, "Advanced," was issued to 21 asset managers. Nearly half (48) of the firms evaluated earned a "Basic" label, with 31 getting a "Low" grade.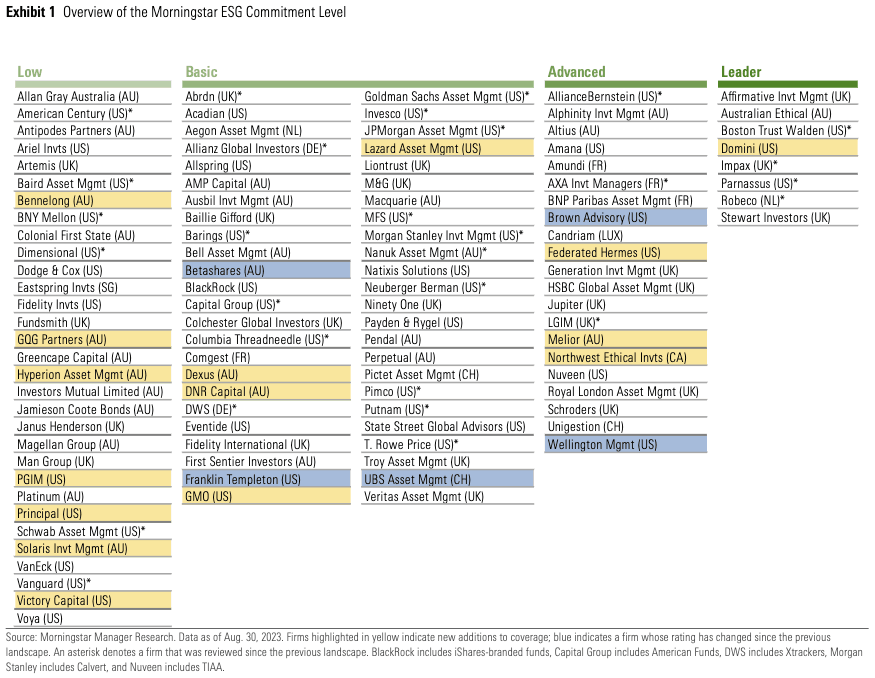 AllianceBernstein's impact funds
One of the asset managers with an "Advanced" rating was AllianceBernstein, which has $704bn in assets under management globally and has dozens of funds and subfunds domiciled in the grand duchy.
"AllianceBernstein has built a credible, research-backed program of climate investing and engagement in recent years," the Morningstar report read. "The firm continues to augment its already-strong environmental, social and governance resources despite a significant departure." However, "its approach to ESG integration is less robust compared with leaders in the space."
The research outfit highlighted AllianceBernstein's product range positively, writing: "The expansion of AB's thematic impact investing series that launched more than five years ago maintains its momentum. These offerings target specific social and environmental objectives in line with the United Nations Sustainable Development Goals. For example, the Luxembourg-domiciled AB Climate High Income fund launched in 2021, and it invests with debt issuers that enable the transition to a low carbon economy, support people and infrastructure in adapting to climate change, and develop technological solutions to the climate crisis."
Delano asked AllianceBernstein for comment.
Principles, expertise, stewardship
Morningstar started issuing ESG Commitment Level ratings in 2020. To determine each asset manager's grade, Morningstar analysts evaluate its "philosophy and process," "resources" and "active ownership," the firm explained.
The report stated: "Although not an exhaustive list, philosophy and process includes factors such as a firm's history of sustainable investing, the alignment of a firm's investment philosophy and ESG principles, and the level and consistency of ESG integration across the investment lineup. Sustainable investing requires adequate resources including specialised sustainability expertise and useful ESG data. To evaluate a firm's active ownership practices, analysts consider the firm's engagement and proxy-voting policies, its record of support for ESG shareholder resolutions, and its level of disclosure around these activities, among other factors."