Luxembourg's Polish community joined protests in their home country and other cities around the world on Sunday evening amid fears that Thursday's Constitutional Tribunal ruling that Polish law can take precedence over EU law, could lead to a "legal Polexit" from the EU.
Waving the iconic blue and gold star flag of the European Union and holding placards bearing slogans familiar from anti-Brexit protests, around 100 Poles made it to the demo outside the Polish embassy in Limpertsberg.
 "We want to draw attention to the fact that our government is taking all steps to take us out of the European Union, our family for 19 years now," one of the organisers, Ania Bator, told Delano. "We are shocked that this populist right-wing government wants to do this despite the majority of Polish people, close to 90 percent wanting to stay in the European Union. People still don't realise what they are trying to do."
Indeed, a poll published in September, conducted by United Surveys for the daily newspaper Dziennik Gazeta Prawna and radio broadcaster RMF FM, showed that 88% of those polled wanted to remain in the EU, and just 7% wanted to leave.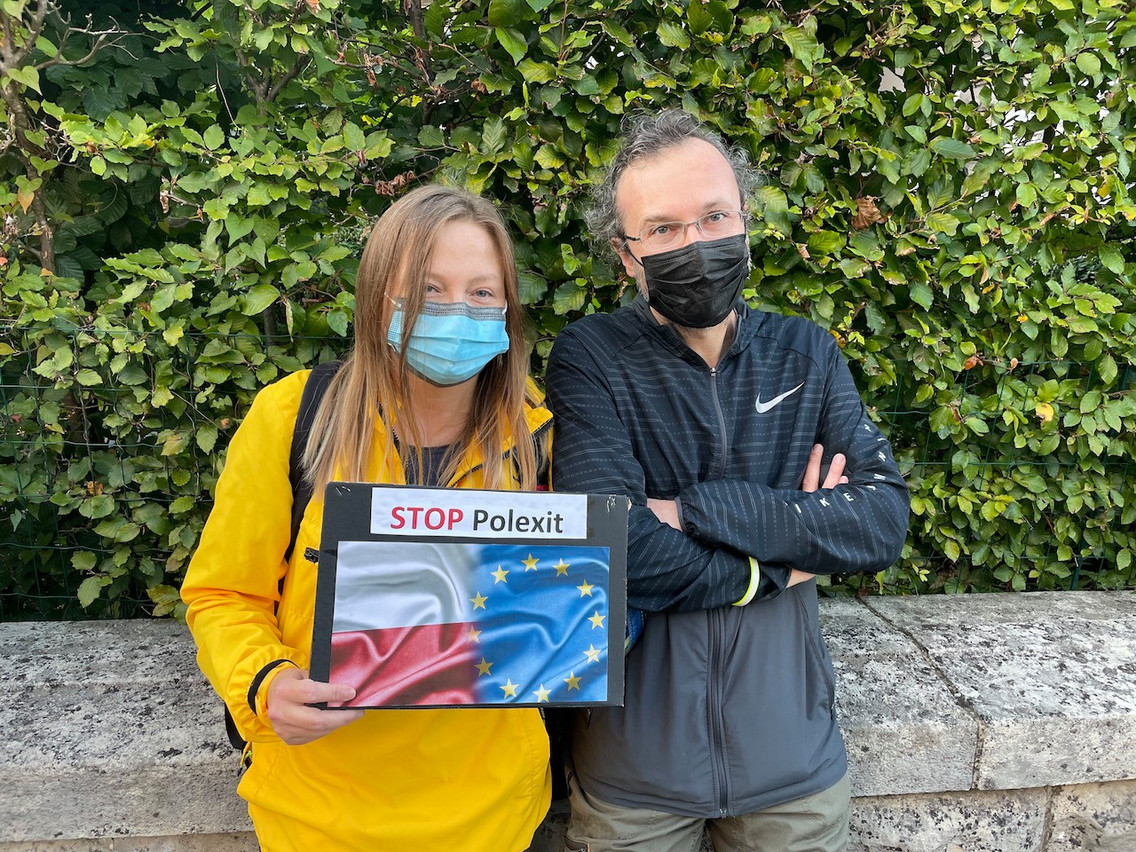 On the other hand, while 30% of those polled were concerned that Polexit could happen 57% replied that they did not regard the possibility of Polexit as a "realistic" scenario. "The constitutional court ruling is a big step towards Polexit," says Janusz. "Many people don't see the link, and we need to make them aware that these small steps will lead to the European Union kicking Poland out."
Many observers regard the Constitutional Tribunal as being under the influence of the ruling Law and Justice (PiS) party. Its chief justice, Julia Przyłębska, is a close associate of PiS chairman Jarosław Kaczyński. In May this year the European Court of Human Rights even ruled that the court is not a "tribunal established by law" because Przyłębska was illegally appointed. It had even "been subordinated" to provide the executive "a tool to formally legalise laws adopted by parliament despite their apparent constitutional flaws", the ECHR said.
In Warsaw, where around 100,000 people joined Sunday's protest, former European Council president Donald Tusk, who now leads the Civic Platform (PO) opposition party, said "The pseudo-tribunal--a group of people dressed up in judges robes--decided, under the orders of the chairman of the ruling party, to lead our homeland out of the EU."
But Bator fears that because the ruling party has such media influence, people won't realise fully what is going on.  Indeed, France24 reports that state run broadcaster TVP "ran a news ticker that read 'protest against the Polish constitution' during its coverage of Sunday's events."
And there is also a lack of unity among political parties who want Poland to remain in the EU, Bator says. "The opposition parties in Poland have to work better together. People are divided between selecting five or six parties right now and they are really cooperating very well."