Dreaded for its magnitude for 48 hours, the demonstration of Polish workers, angry after the closure of a coal mine on the Czech border, took place on Friday morning in Kirchberg without notable incident. Led by the Solidarność trade union, the protest was peaceful as intended.
"We are facing the loss of hundreds of thousands of jobs, the paralysis of an entire region and the pushing of ourselves and our families into energy poverty and destitution," read a statement distributed at the procession. It denounced the "completely callous, one-man decision of the EU Court of Justice".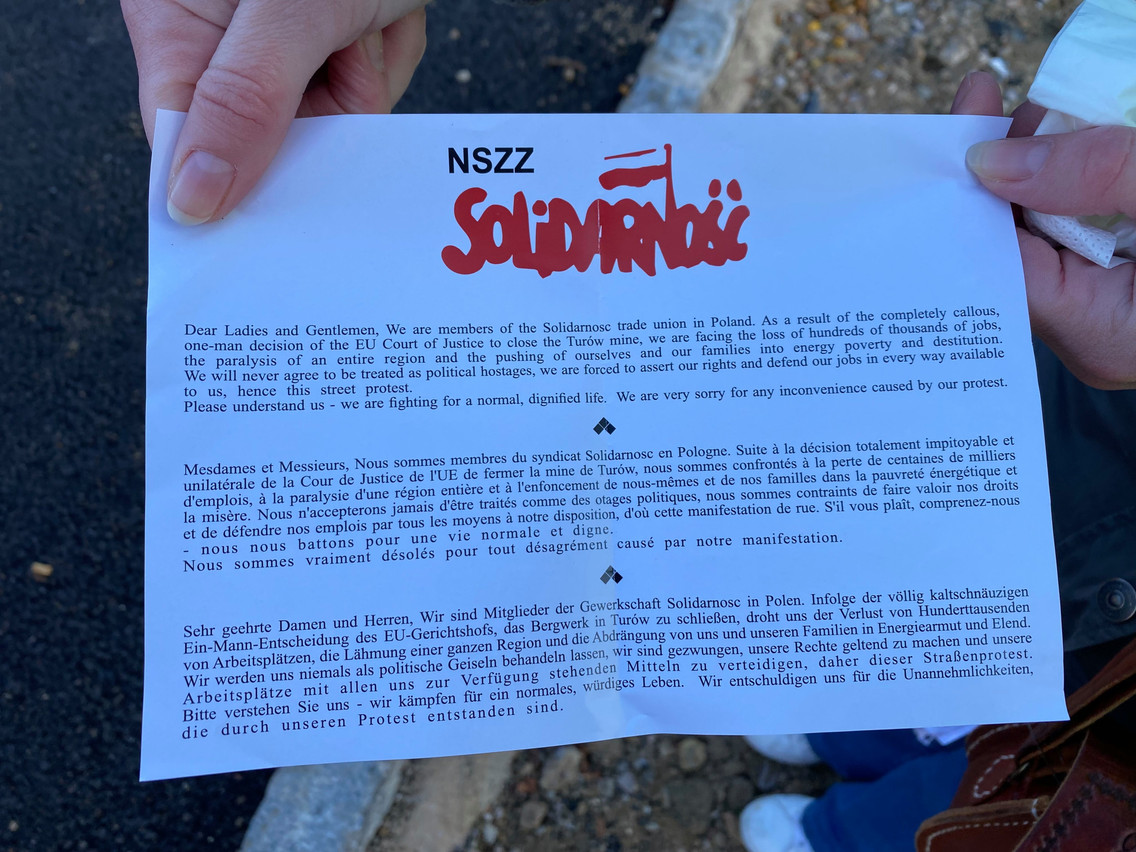 At the root of the protest was a complaint by the Czech Republic to the CJEU against a Polish coal plant in Turów, on the border between the two countries. The CJEU ordered the closure of the mine in May and in September sentenced the country to a daily penalty for not complying.
After making their voices heard in Kirchberg, the demonstrators headed for the Czech embassy, located on the Robert Schuman roundabout, on the other side of the Red Bridge. As a direct consequence, tram traffic was disrupted along the Avenue John F. Kennedy, which the procession was following.
The workers were able to pass by a counter-demonstration being held in front of the Philharmonic, which was in favour of Poland remaining in the EU. About 20 people, under police protection, held messages opposing the threat of a "Polexit".
More than 800 Luxembourg and Belgian police officers were mobilised to prevent any unrest during the day. Since Thursday, the area had been barricaded and many companies and institutions established on the Kirchberg plateau had invited their employees to telework on Friday, including the EIB or the Chamber of Commerce. Similarly, around the CJEU and the Robert Schuman roundabout, several roads were cordoned off on Thursday. The City of Luxembourg had "recommended avoiding the area" as traffic was impossible in some places.
This article was originally published in Paperjam. It has been translated and edited for Delano.