Located opposite the Junglinster P+R, where Laboratoires Réunis has set up its covid test centre, the Gulf service station also welcomes some of its patients. "About twenty a day," confides its assistant manager, Steven Fontainhas. At issue is the requirement to present a printed prescription to be tested.
"I declared a positive self-test to the national health agency (CNS), which sent me a prescription for a PCR test," says Agathe Goisset. So she went to the drive-through at Laboratoires Réunis in Junglinster, where the security guard managing the queues told her that she could not present her prescription over the phone, but had to print it out. Agathe does not have a printer and, as a precaution, is not supposed to go to a facility or even a friend's house to print out her paper, at the risk of contaminating others. Yet she is invited to go and print her prescription at the petrol station across the road, as many patients are.
"We don't mind. We are always careful, we wear a mask and continue to offer our service to customers to make it easier for them," Fontainhas says.
To each his own, or not
It is a paradoxical situation because at the answer from the telephone reception desk was: "We don't send people to print their prescriptions elsewhere, we tell them that they should do it at home." How can a positive person do this if they don't have a printer? "We don't currently have a plan B," admits Laboratoires Réunis director Bernard Weber. "We still need a paper prescription to get reimbursement." It is not even possible to send it by e-mail, as the drive-throughs do not have printers. When asked about the possibility of installing printers, the director thinks: "I'd have to see. So far, it hasn't caused us any major problems."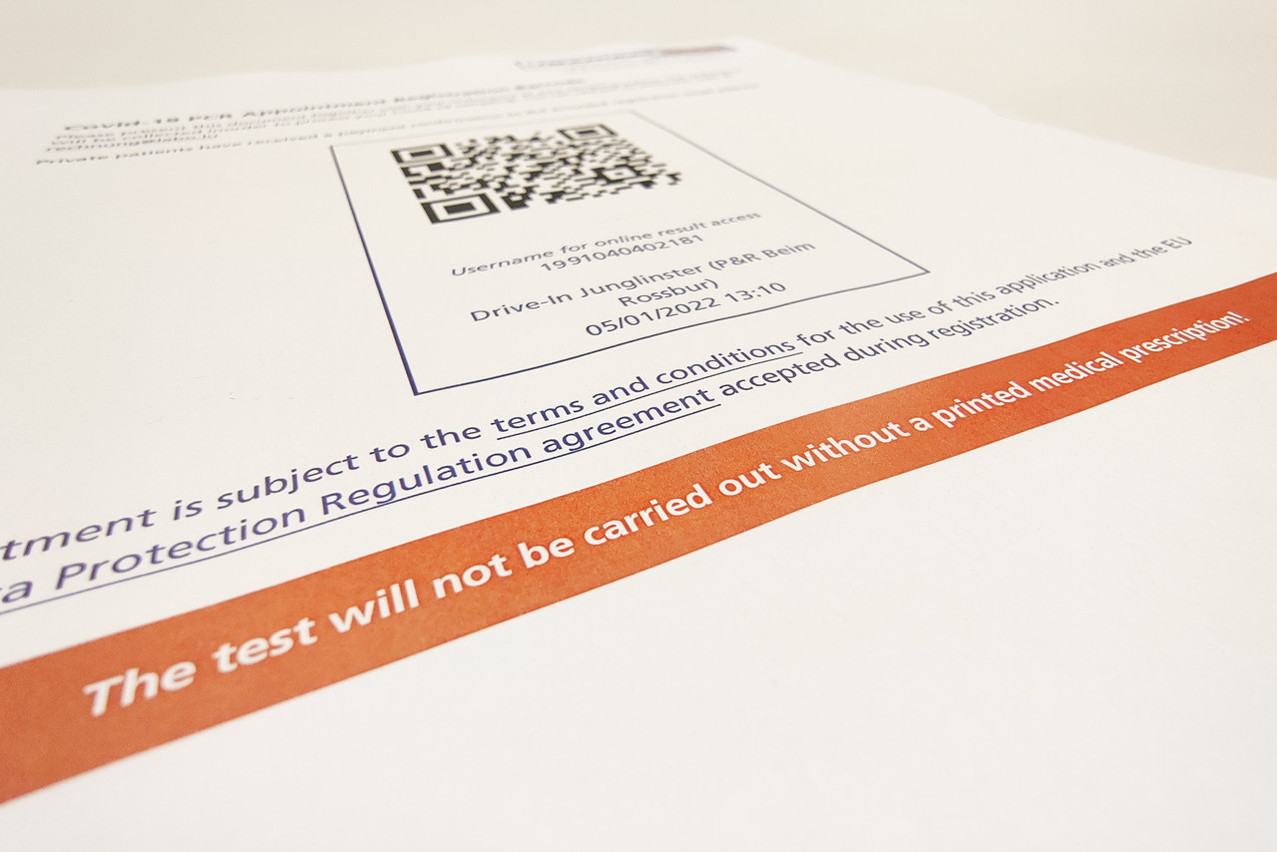 The concern is not unique to Laboratoires Réunis. "I know it's a problem," admits Jean-Luc Dourson, director of Bionext Lab. Here too, prescriptions have to be printed: "The CNS asks us for a paper prescription," he explains. "That is why I am campaigning for the introduction of electronic prescriptions," which would also save administrative time. In the meantime, for patients who cannot print out their prescription, "we make arrangements", he assures. If the person presents their prescription over the phone, they can be tested, but they are asked to send their prescription by e-mail. Although the Picken Doheem department does not always have printers and "we don't have time" anyway, the laboratory prints them out later.
At Ketterthill Laboratories, too, paper prescriptions are mandatory. But "if you come to one of our centres and explain that you don't have a printer, we will give you the e-mail address to which to send your prescription and we will print it out," the receptionist assures us.
Peaks in demand
This is another problem for laboratories, which are already under pressure with the resurgence of covid-19 cases. "On a technical level, we have the capacity. But we don't have enough staff" to cope with the increase in demand, says Weber. Laboratoires Réunis is currently carrying out "between 1,200 and 1,800 tests per day". This rate has already been exceeded during previous peaks, "especially in November 2020, when we were at nearly 3,000 per day". The laboratory employs 260 people, of which a hundred are dedicated to sampling. "There could be a possibility of allowing medical assistants, after training, to take samples," he explains.
At Bionext Lab, "we are seeing peaks like never before since the start of covid," says Jean-Luc Dourson. His laboratory is carrying out up to 3,500 tests per day, whereas in previous waves it had never exceeded 1,500 to 1,800 daily tests. "To make things more fluid, we are trying to extend our working hours. But this means increasing the resources for sampling, and we can't find any more," he regrets. The technical capacity allows us to carry out 3,500 tests per day, soon to be 6,000 with the planned arrival of a new machine. But the company, which employs 210 people, including a hundred nurses, would need "40 more people to absorb the demand", according to its director.
It remains to be seen whether the situation will worsen on 15 January, when CovidCheck will become compulsory in all companies. "That's a fear we have," says Dourson.
This story was first published in French on Paperjam. It has been translated and edited for Delano.