Politicians from the Pirate Party and Déi Lénk have reacted strongly on social media to a video that appears to show a dog from a private security firm attacking a man on avenue de la Gare late on Saturday evening.
The man shown in the video was treated in hospital but later discharged. However, according to RTL, a police spokesperson has said that the man was arrested for aggressive behaviour--he had allegedly spat at the private security personnel as well as using insulting language. Meanwhile, the police and public prosecutor have launched an enquiry into the what exactly happened and why the security personnel allowed the dog to attack the man.
But the incident has once again highlighted the polar positions of Luxembourg's political parties on safety in the Gare neighbourhood.
Pirate Party MP Marc Goergen tweeted that "the private illegal security firm in the city is paid for by the DP/CSV. A letter calling for an urgent commission [enquiry] has been sent. We can no longer accept this! This is exactly what we warned parliament about".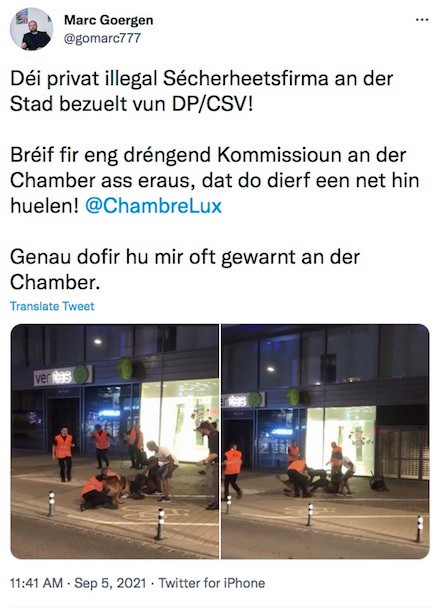 Goergen's Pirate Party colleague Sven Clement tweeted that "At the end of the day Rent-a-Cop will be the victim of the failed policy in the city" but said that the police judiciaire
 and the public prosecutor should be allowed to do their job first.
Former Déi Lénk MP David Wagner also challenged the legality of the City of Luxembourg's contract with security firm 4GS and called for the minister in charge of the police Henri Kox and interior minister Taina Bofferding to "do something about this illegality".
CSV city alderman, responding to a challenge from RTL journalist François Aulner to comment on Twitter said that "we should let the police and public prosecutor conduct their enquiry before jumping to conclusions."