The assessment, which looks at the state of R&D from 2010 to 2021, says that although there is an openness to the international market there is a certain stagnation in performance or even decline in some categories.
The Chamber of Commerce bases its conclusions on data from a report of the Institute for Management Development (IMD) to which it contributed information about Luxembourg, and which takes a look at 64 countries in total.
In 2010 Luxembourg ranked 21st in total expenditure as percentage of GDP, while spending 1.5% of its GDP on education. The most recent report sees the grand duchy drop to 34th place and its spending amount to 1.2% of its GDP. The average for the 64 countries part of the IMD's report is 1.5%.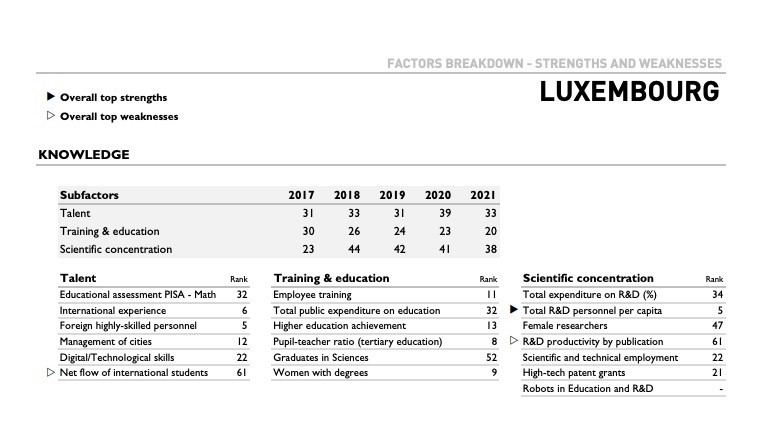 "Scientific and high-tech subjects are the core of an innovation-based economy," says the Chamber of Commerce. And in this bracket Luxembourg shows some progress with the percentage of graduates in scientific subjects rising from 14.7% in 2012 to 18.5% in 2018. Yet the country lags behind the leading performers Hong Kong, Malaysia and Germany who all surpass the 35% mark in this indicator.
Luxembourg has also seen a decrease in R&D personnel such as researchers, technicians, and administrative staff. Their share in total employment has fallen from 2.3% in 2010 to 2% in 2019.
The Chamber of Commerce's report invites stakeholders in Luxembourg to think about ways of consolidating an innovative ecosystem. It highlights that 73% of the total R&D expenditure of companies comes from private structures with at least 250 employees. This points to the fact that private sector spending is predominantly done by large companies. So, the onus is on them to contribute more to R&D. But also, on SMEs to play a bigger role.
The report will be followed at the end of January 2022 by a workshop on Luxembourg's competitiveness organised by the Chamber of Commerce centred on eco-innovation.