Advertising memorization, consideration, investments and penetration... All the indicators are being affected...
The findings are crystal clear! Advertising memorization is being affected for all the brands studied. It takes only 6 weeks on average for a dropping media investment to have a negative impact.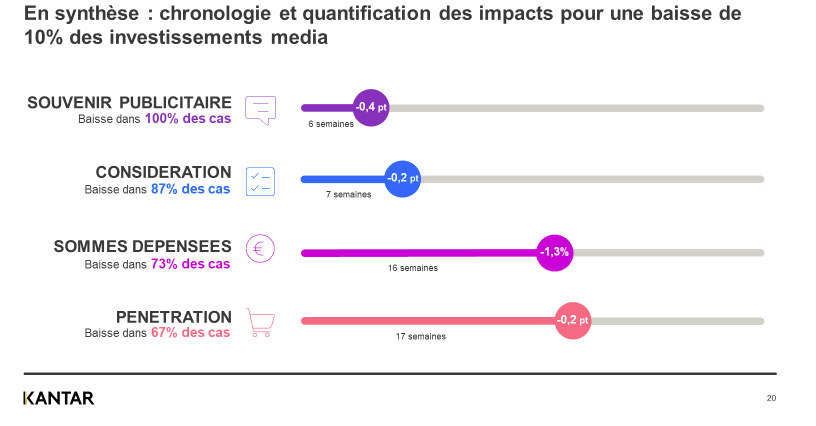 Consideration quickly follows, with 87% of the tracked brands affected. The decline takes effect after 7 weeks, with an immediate impact in 45% of cases.
Sales are not saved either. Even if the impact is not immediate (16 weeks on average), it affects nearly 3 out of 4 brands, 21% of them immediately. A 10% drop in the gross media budget will reduce the sums spent by 1.3% on average.
As for penetration, it will post a decline in almost 70% of cases after 17 weeks. Most affected brands lose an average of 100,000 buyers per 10% reduction in investment.
"All brands that reduce their media investment are at risk! Almost 9 out of 10 are considered less, almost 3 out of 4 suffer an impact on their turnover and 2 out of 3 see their penetration drop. They are well and truly at risk."