Today, there is a new paradox never seen before. In a labour market that appears employee driven in certain sectors, employee's expectations on their remuneration, work-life balance, and flexibility are higher than ever.  At the same time, the economic context of a booming cost of living forges a salary inflationary trend that challenges the purchasing power of the working population. In addition, organisations are confronted with sustaining or growing profits and containing rising costs.  
Salary increases, paid with caution, are still part of remuneration agendas. We observe some forecasts for salary increases, ranging between 1% and 5%, but the main concern remains the two validated indexes next year in Luxembourg by the Tripartite, which have already raised some concerns among CEOs.  Additionally, a third index in 2023 could be possible according to STATEC.
There is a likelihood that remuneration packages may progress at a slower pace in the coming year than what we currently observe.   This may expose companies to risks in retaining their talents. It is especially critical when commuting to work is reappearing in our daily habits for a working population counting 212,000 cross-border employees. Today, 62% of companies are increasing compensation and another 22% are considering it[1], according to a PwC US survey.  On the other hand, higher salaries and benefits seem like a stopgap measure and might not be sustainable in the long run, nor aligned with employee expectations in terms of other important work elements.
In addition, employee engagement is fundamental for the continuity and prosperity of businesses. To solve the attraction, retention, and engagement challenge, employers should  look at the big picture of their employees' lifecycle and revisit their value proposition to challenge the status quo.
What is the best method nowadays to attract, retain, and engage?
The next ways forward are reinventing the reward package and diversifying the financial, and mainly non-financial benefits to suit the workforce's needs. It is time to shake up the reward philosophy and strategy, and see it in a different lens.
Organisations should address and align the non-financial reward benefits to their employees' preferences and needs to remain competitive.  From a PwC global survey, 60% of workers said one of the most important factors when considering job changes was their team caring about their well-being[2], together with flexibility and a hybrid work environment for 65% of respondents.
Other trending figures show that while an increase in pay is a main motivator for making a job change (71%), wanting a fulfilling job (69%) and wanting to truly be themselves at work (66%) round out the top three criteria employees value most. Nearly half (47%) prioritised being able to choose where they work.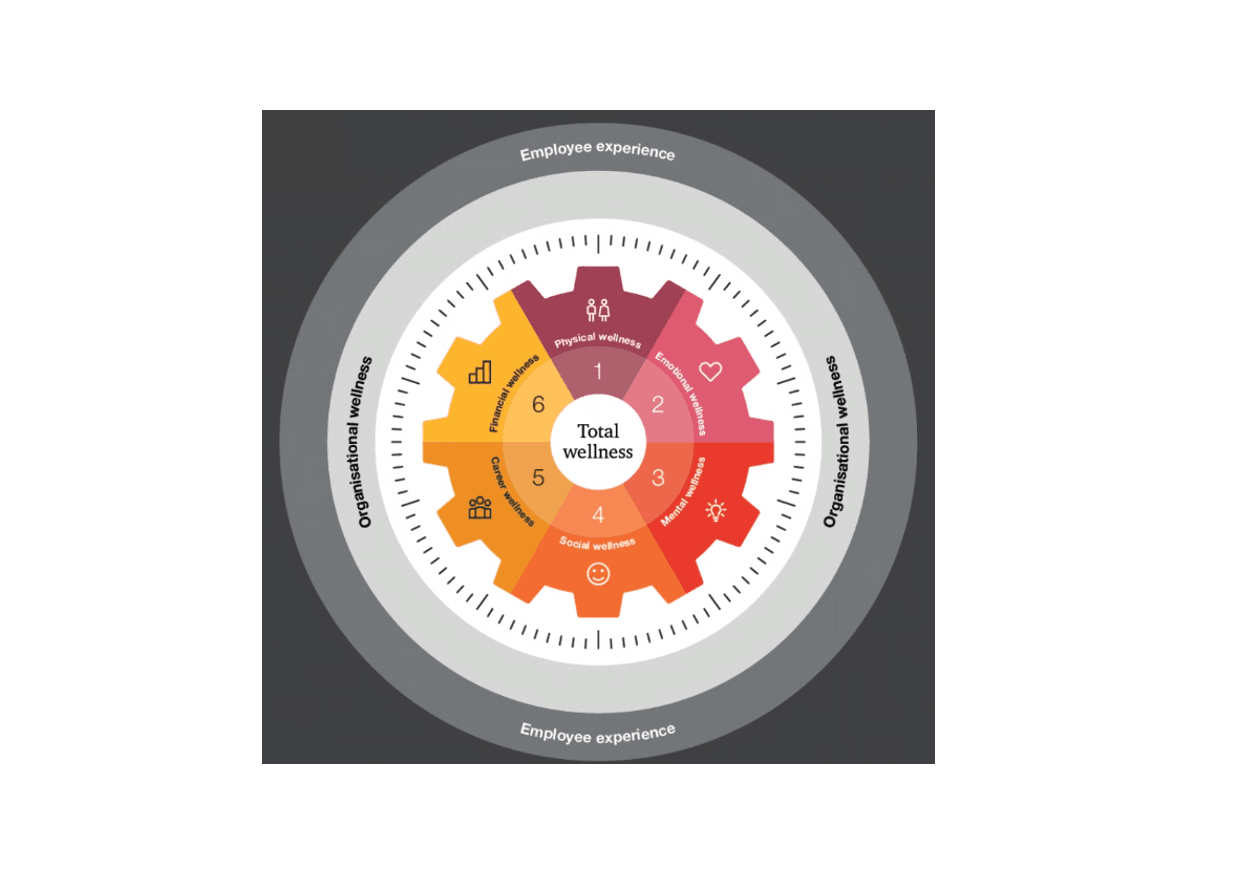 Organisations should thus focus on taking a holistic approach when reinventing the reward package of the future. Some organisations may not have the cultural readiness to implement all elements, but when possible, the magic mix of the six elements below will not create a "Total Reward" package, but rather a "Total Wellness" package.  Research shows that it makes economic sense for an organisation to invest in employee total wellness.  Combined with exceptional employee experience, total wellness results in talent attraction, engagement, and retention.  Organisations are 3.2 times more likely to engage and retain workers, 2 times more likely to be recognised as a great place to work, 10.8 times more likely to have a lower absenteeism rate, and 5.4 times more likely to recruit new talent.  The ROI is clear:
●      A competitive and equitable financial wellness proposal, with ESG principles.  Remuneration and benefits must meet environmental expectations (i.e. reducing CO2 emissions on company cars), social expectations (i.e. gender equal pay), and governance expectations (i.e. reward policies with transparency and fairness);
●      Career wellness with growth, training, and development;
●      Emotional wellness with a supportive culture of appreciation and recognition;
●      Physical wellness with healthcare coverages and sport benefits;
●      Healthy work environment to promote mental wellness with psychological safety and flexibility for work-life balance;
●      Social wellness with leadership trust & transparency, and a culture of diversity & inclusion.
[1] PwC Pulse Survey: Executive views on business in 2022 (USA survey) https://www.pwc.com/us/en/library/pulse-survey/executive-views-2022.html [2] PwC 2022 Hopes & Fears Survey (Global survey) https://www.pwc.lu/en/people-organisation/hopes-and-fears-2022.html