The Luxembourg flag flies alongside the French flag and that of Thales Alenia Space. On a beach in Cannes, senior citizens and couples with small children laze in the sun. On the other side of the road, at the edge of an industrial zone, in a former seaplane factory established in 1929, a dozen engineers in white coats are making the final adjustments to SES-17.
Next week Tuesday, the 6.4-tonnes Luxembourg satellite will head for Kourou in French Guiana, from where it is due to be launched on the night of 22 to 23 October by Arianespace. A sanitised white zone, as difficult to enter as a hospital in the middle of the covid-19 pandemic, simulates conditions in space.
"It's exciting," says SES technical director Ruy Pinto. "We are in a phase where we will be holding our breath every day. When the satellite is taken to Nice airport, when it's on the plane, when it's delivered to Arianespace's site, when it flies into orbit, when it spreads its wings, when we do the commissioning and, finally, when it delivers the first gigabytes to our customers."
Technological breakthrough
This will be roughly in June 2022, a stretch of eight months that should allow SES to enter a new era. For the jewel built by Thales Alenia Space is equipped with disruptive technologies. "This is a strange time: the space market has never been so disrupted... which creates so many opportunities. This is not the war of low orbit versus medium orbit or high orbit. It's the war of the services you can provide with a technology," Pinto says.
SES pushes forward with its existing customers, of all types, its proven satellite fleet, and its partnerships, whether with Amazon, Google, Boeing or Thales Alenia Space. And the company is working, challenging partners and talent around one idea: an open, cloud-based infrastructure that can offer all connectivity services at the best price, expressed here in euros per byte.
Already, SES-22 is being assembled just a stone's throw away. But first, SES will launch SES-17 at the end of October--"quite simply, the most advanced and versatile satellite in our fleet," the company says, "and the first of its kind"--and then the first four O3b mPower satellites in December.
A 'brain' to change distribution in real time
This first all-Ka-band satellite in geostationary orbit (GEO) in the SES fleet will have a total processing capacity of 200GHz and an all-digital payload connected to around 200 beams, capable of maintaining a throughput of 2Gb/s per connection.
Among its innovations, is its Digital Transparent Processor (DTP). "A sort of big router," explains the project leader since the satellite was ordered in 2016, Jean-Philippe Bernardin. "Imagine that there is a big earthquake in San Francisco. With this fully digitised satellite, we will be able to reallocate connectivity capacity where it is needed to help the rescue efforts. The signal that arrives in analogue mode is transformed into a digital signal, sliced and reassembled according to availability and need."
The transformation of the market is going so fast that it was the fourth generation of DTP that was supposed to equip it, but it finally received the sixth, while the fifth was not even finished, obsolete before the satellite was even launched.
The DTP will be used for another first, the Adaptive Resource Controller (ARC), a software application that not only allows dynamic and automatic traffic assignment in real time, but also orbit switching for full interoperability between the SES medium Earth orbit system and this GEO satellite. It is the future of SES to build an open architecture between its satellites.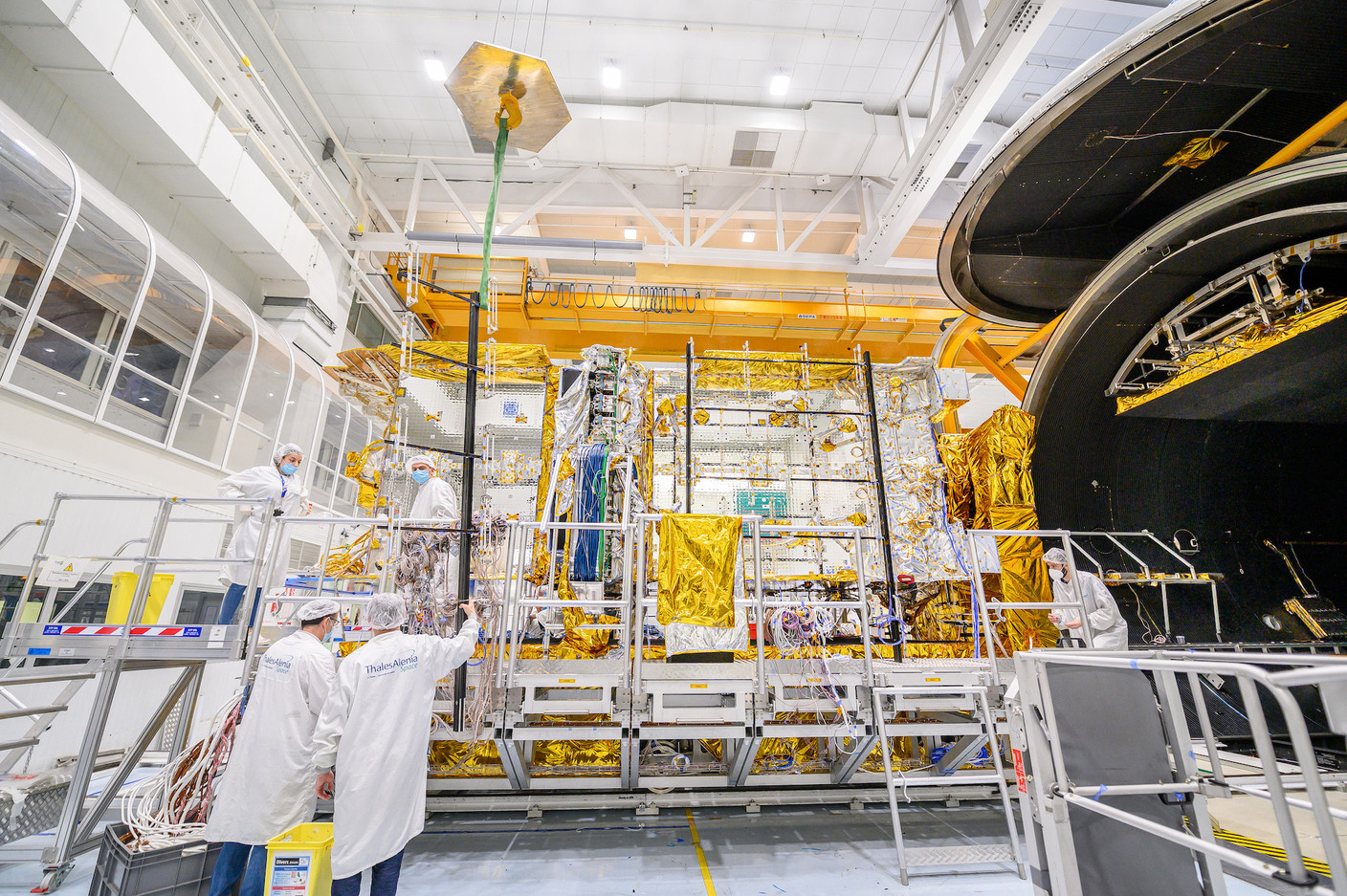 1 / 5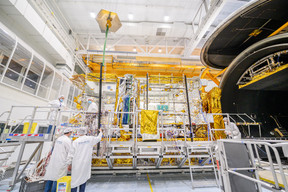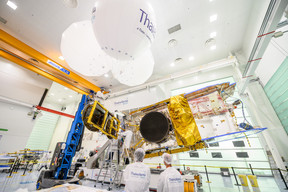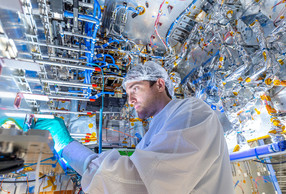 In airline connectivity, for example, SES could tailor it to the needs of the aircraft, depending on what each aircraft requires. This is one of the key markets that the world's leading satellite operator is targeting with this technological jewel with two impressive wings of voltaic panels, each 23 metres long. But it is not the only one: the distance learning market will be worth $1trn by 2027, the number of cruise ships will increase by 30% by 2030 compared to 2020, maritime trade will increase by 3.8% by 2023 and 92% of mining companies have announced plans to invest in the technology in the coming years, says the official pitch broadcast in the conference room where SES-17 is being officially presented a month before its launch. The satellite, positioned on the American continent, should also enable the 182 million people excluded from the internet to finally get connected,
The satellite will be equipped with an innovative thermal regulation system that would make datacenters and other developers of quantum computers pale in comparison: the system pumps heat, processes it and expels it.
To get the signal to Earth, in this case to the whole of America, SES did not need to install gateways everywhere. The satellite can talk to 16 ground facilities. Only six had to be built, the easiest to deploy from a regulatory point of view, three of which are in Canada, none in the United States, and one sensitive one in Brazil is under discussion.
At a time when 'shoebox' satellites are all the rage, SES will take advantage of Thales Alenia Space's Space Inspire programme to launch one of the first 'terabit' satellites. In high orbit for 15 years, it will have an unparalleled view of the predicted collisions of low-orbiting satellites launched at great cost. Between 2010 and 2020, 3,371 satellites were sent to the stars, compared with 958 in the previous decade.
This story was first published in French on Paperjam. It has been translated and edited for Delano.