Following sporadic violence and vandalism last weekend, police were better prepared for this Saturday's anti-covid protest.
It turns out they had every reason to be, as protestors clashed with police and threw bottles and fireworks at officers. The Christmas market on the Place d'Armes also had to close temporarily as some protestors managed to break through a cordon that was placed around a pre-designated route for the protest to end up at the Glacis. By early Saturday evening, about fifteen arrests had been made.
The decision to limit the demonstration to a designated area allowed shoppers and families heading for the city's Christmas markets to show they were not intimidated as they turned up in numbers. "Yes, there are people. That's good. It shows that people are not impressed," said alderman
Serge Wilmes(CSV), who was seen on the street accompanied by

Maurice Bauer (CSV). Fellow alderman

Patrick Goldschmit (DP) was also pleased with "the reassuring police presence. Because we fear that some people come just to fight".
Laurent Mosar (CSV) acknowledged "the Belgian police officers who came to support us."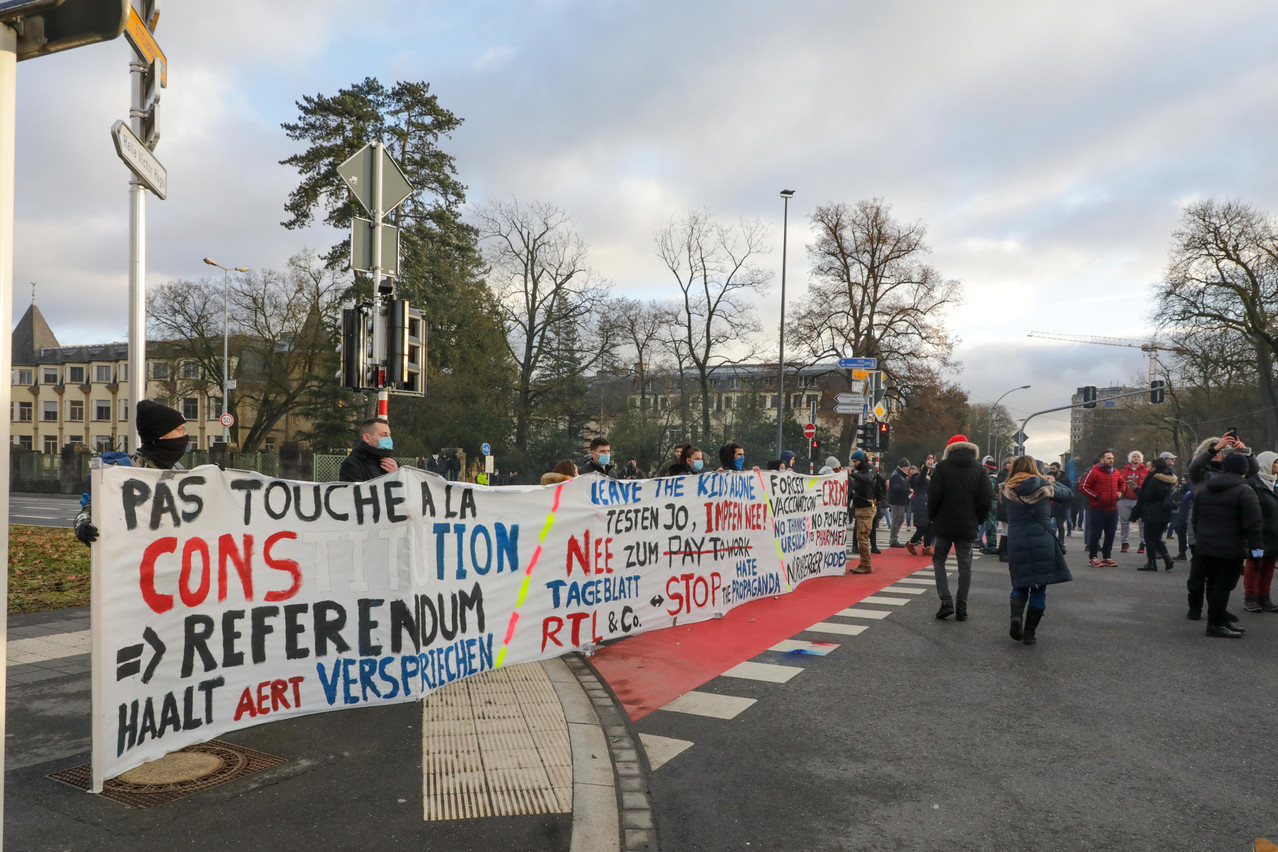 The police were backed by support vehicles, the police helicopter and even a drone as the crowd started to gather on  the Glacis at around 1.30 pm. Protest signs were unveiled, a sound system was installed and the first beer bottles were opened... Luxembourgers, French and Belgian protestors were seen mixing quite happily. No need to be clairvoyant though to see that some people were waiting for the tension to mount, impatient to confront the police who for many embodied the deprivation of freedom they felt.
The first speeches started around 2pm--the speakers standing in front of a banner claiming this was "our war". Shouts of "Bettel in prison" or "Freedom, freedom" were heard as one female speaker was applauded as she told the crowd that "the people are sovereign, above all laws".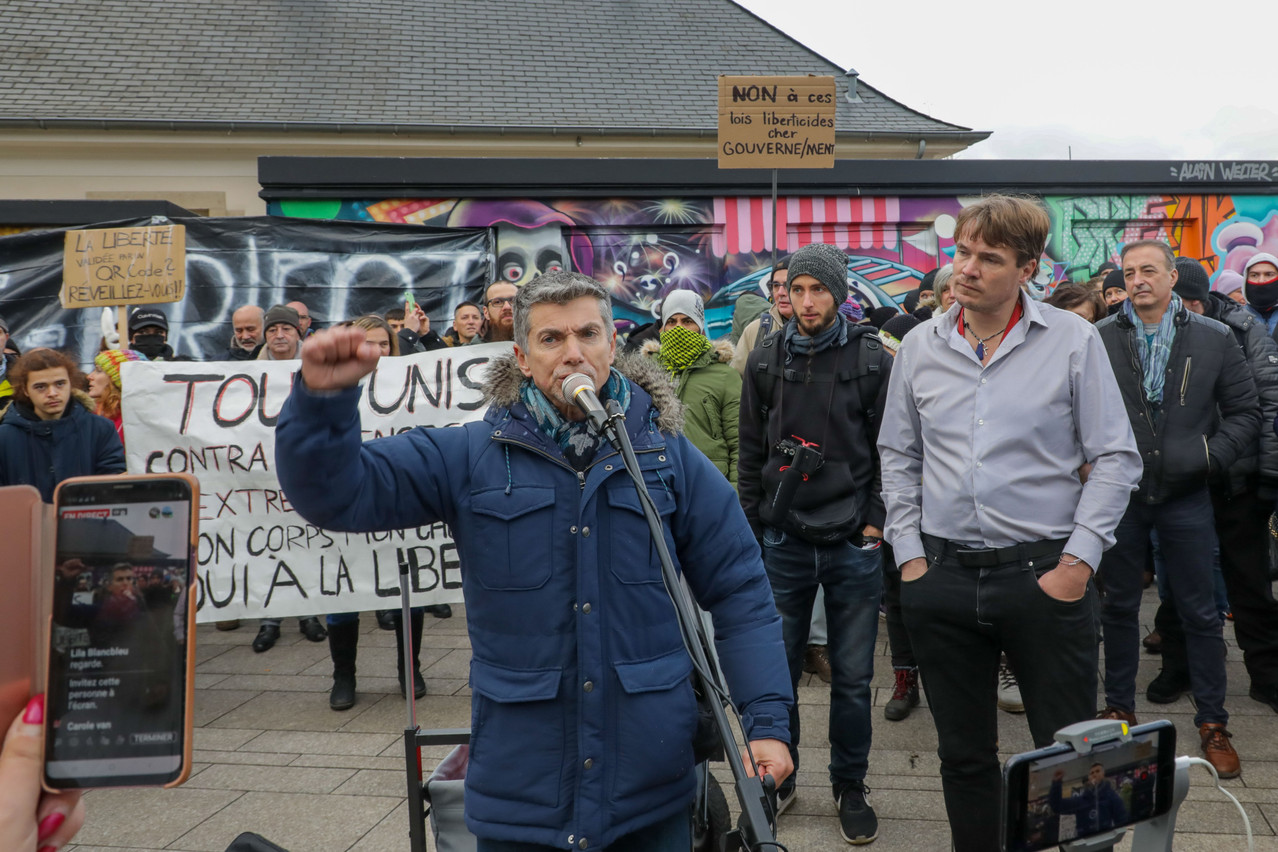 "We are not here to fight and say we are against the vaccine," said another speaker. "But we are here for our freedom. We are all in the same boat. Freedom has a price, we have to go and get it. We'll have to go and knock on someone's door to get it back." The protestors are even seeking to make their voice heard through politics. "Two weeks ago we created a new party Mir d'Vollek, the only real opposition party," one speaker said before acknowledging and thanking "the ADR, which is trying to do what it can and is on our side".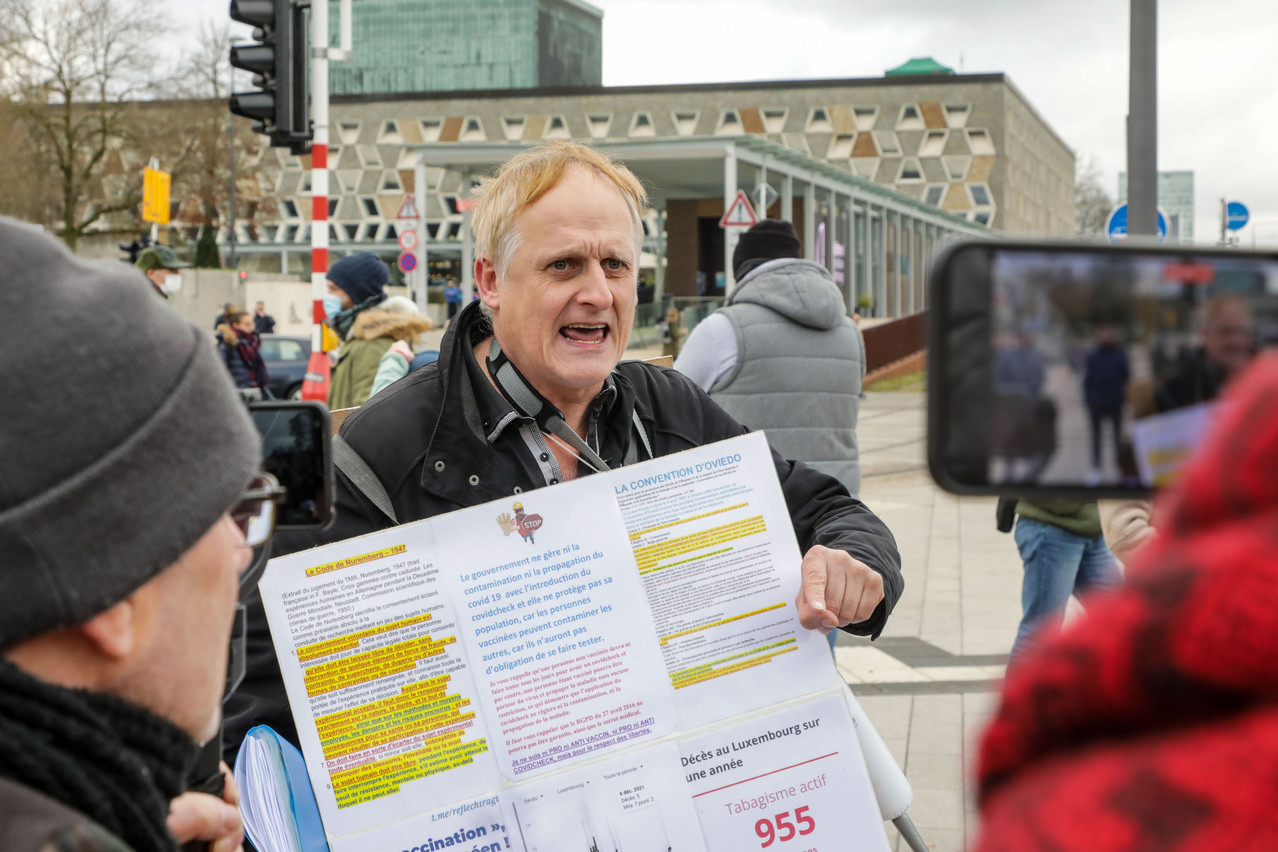 In the crowd, Ysaline and Marc (not their real names) do not agree with everything that is said. But they are both tired of the constant restrictions. "We have accepted the closure of gyms, restaurants... But now we are being deprived of work, it's not good any more," they say. Another protester criticised "these scientists who change their tune. And these politicians who also keep changing their words and their measures. They kept promoting self-tests but now they are worthless. A test was valid for 48 hours, now it's valid for 24 hours. Stop!" A third mentions "this bad communication. So we don't trust them anymore!"
"Either you are with the people or you are against the people." says a final speaker.
At this point, the temperature was definitely rising. The speeches, to some extent mob mentality, and no doubt the effects of alcohol all contribute. Some people wanted to go to the Place de l'Europe. The organisers called for them to stay at the Glacis, in a calm atmosphere. The police put up a roadblock.
But the fuse was lit. Groups then confronted the police, who were very well organised, in avenue de la Porte-Neuve. They finally got through the first police cordon, walked 200 or 300 metres before coming up against a second cordon escorted by a water cannon. The security forces advanced to prevent the demonstrators from going towards the city centre. Smoke bombs, bottles and stones were thrown as the good mood quickly dissipated. Police officers were pushed and replied using their truncheons. The water cannon was also called into action and the demonstrators retreated.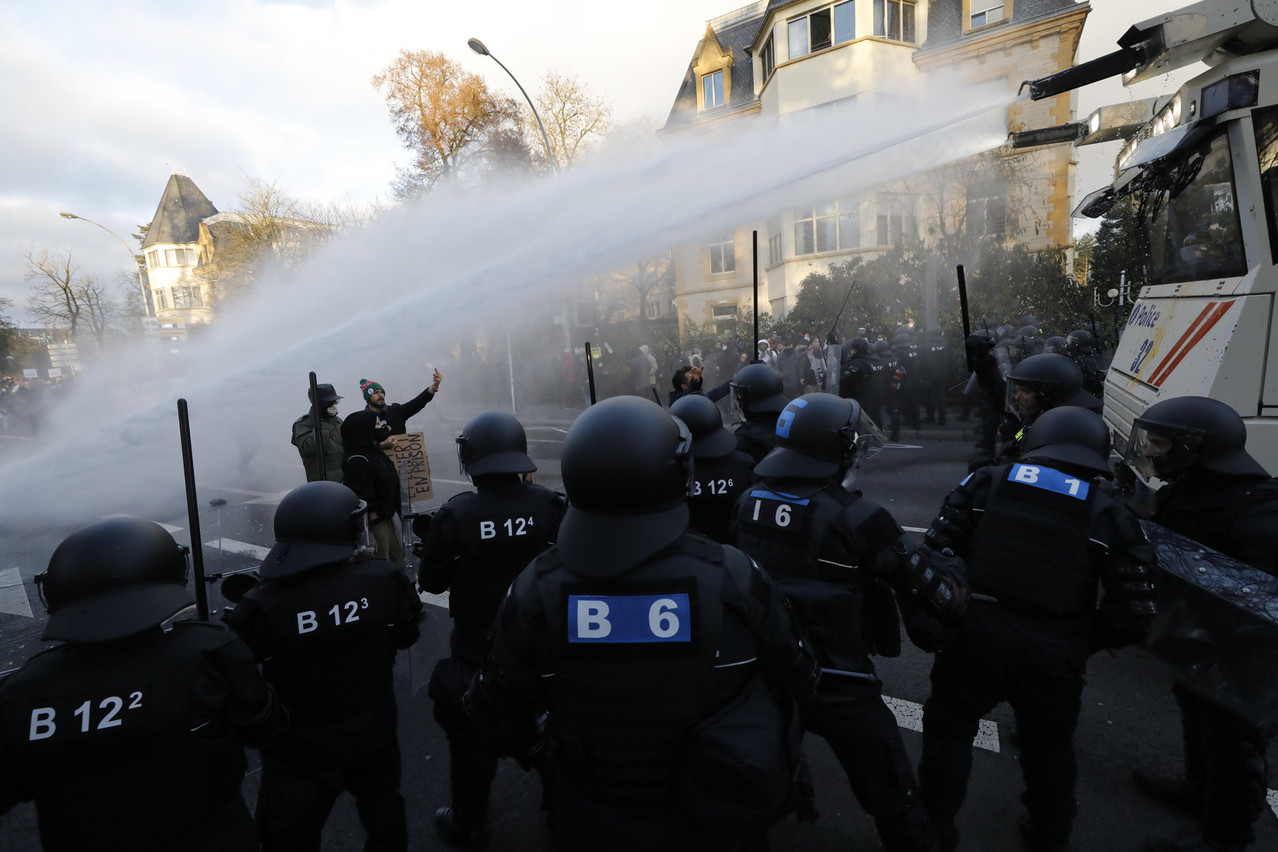 The confrontation continued on the Glacis. In the front row there were some angry protestors who were visibly frustrated at not being able to destabilise the very calm police. By 4 pm several demonstrators were starting to leave the scene.
But others managed to reach the city centre at around 5pm, chased by the police. Two Christmas markets were closed, as was the traffic on boulevard Roosveelt, and the tram service was at a standstill...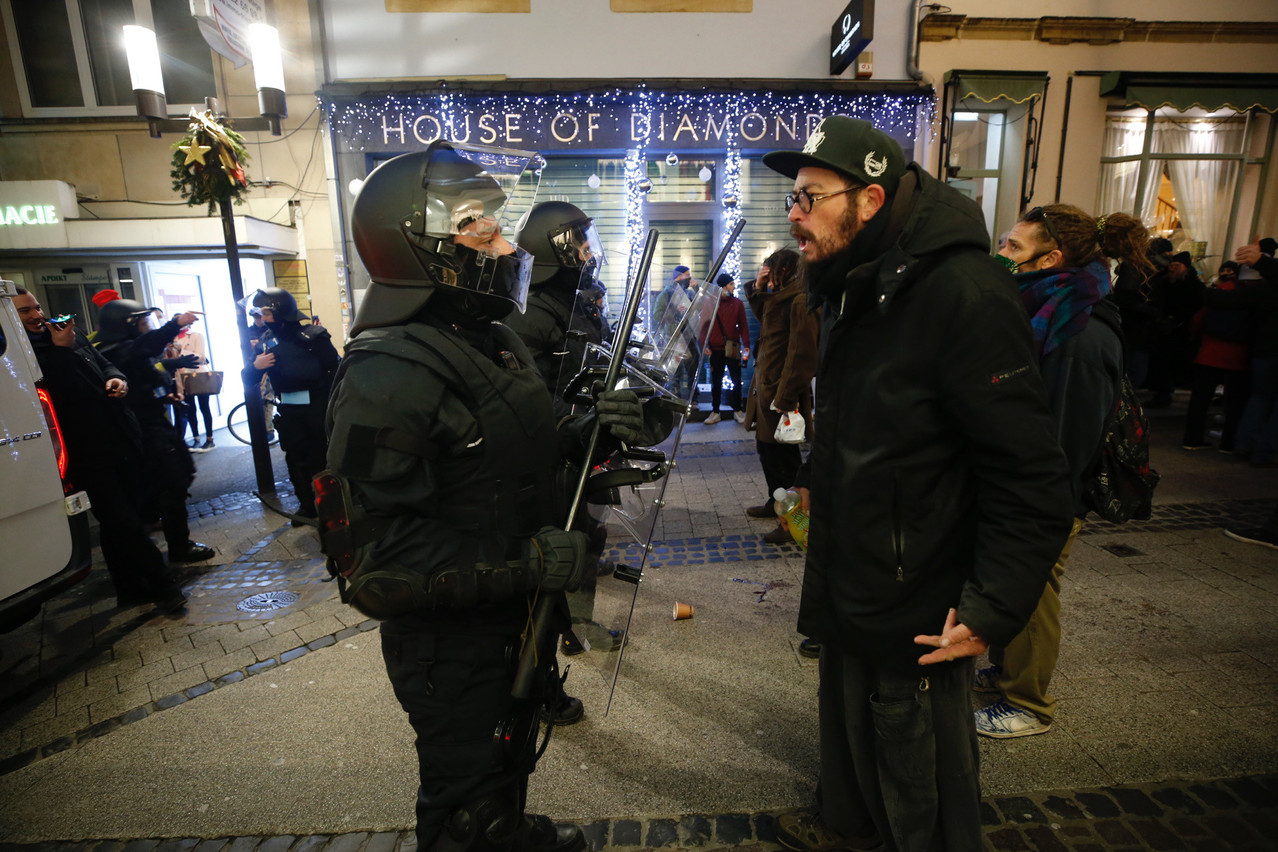 Around 6pm, the last groups were dispersed and the situation returned to normal shortly afterwards.
About fifteen arrests were made but no serious injuries were reported.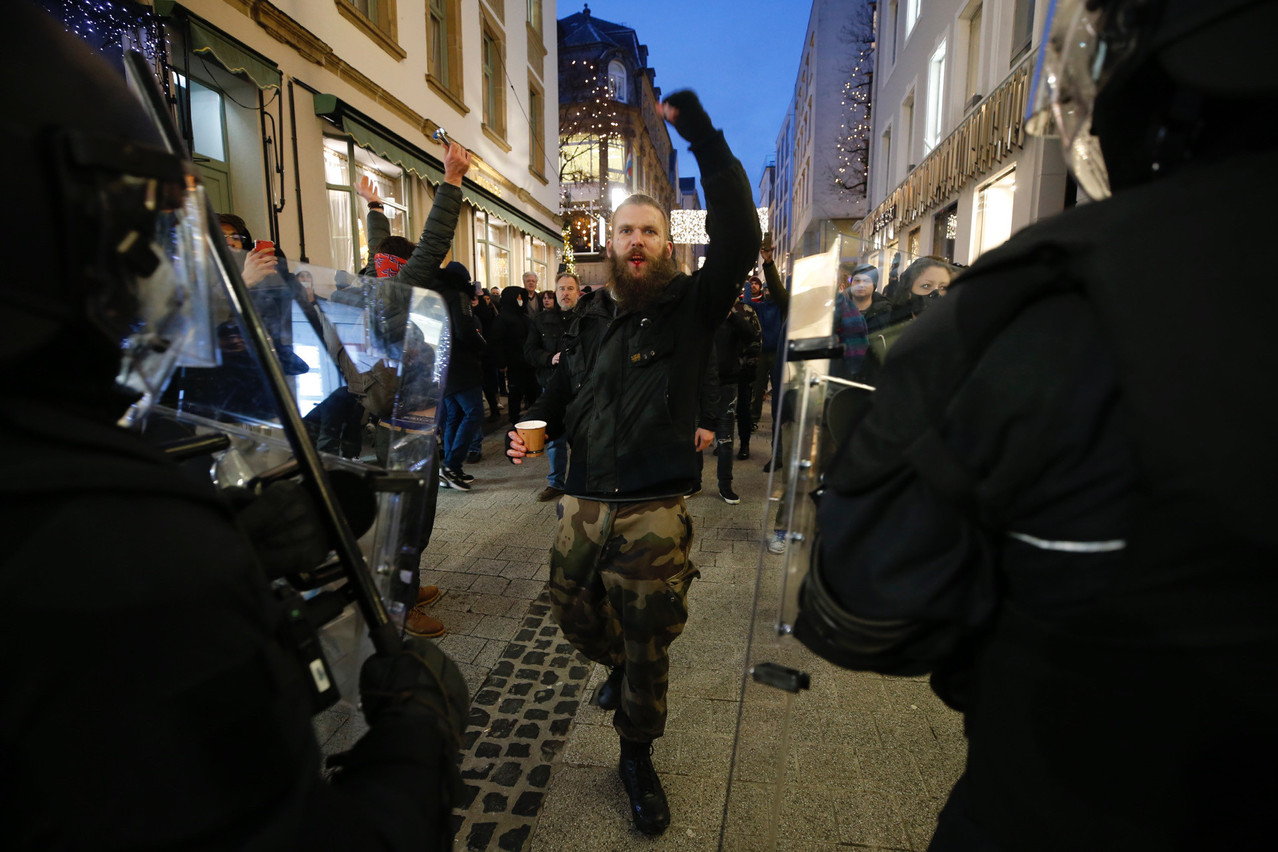 This article was originally publushed by Paperjam and has been translated and edited by Delano.