General John W. Raymond met with foreign minister Jean Asselborn, defence minister François Bausch as well as representatives of Luxembourg's space sector. He spoke exclusively to Delano on Wednesday morning.
"I've been wanting to visit Luxembourg for a while," Raymond said about his trip that also included stops in the Netherlands, Belgium and Spain. "Luxembourg, with SES, is the largest satcom operator in the world," he added, ahead of a visit to the company in Betzdorf.
SES on Monday announced that its US subsidiary--SES GS--has signed a €14.5m contract to provide C-band satellite services to Thule air base in north-western Greenland. This came after the department of defence in May awarded a €35m contract to the satellite operator to support major combatant command.
What we're seeing is that the innovation in commercial industry is really impressive
But it's not only the heavyweights that are attracting US interest. "There's a lot of excitement about all sectors of space," Raymond said. "What we're seeing is that the innovation in commercial industry is really impressive."
Newer players like Kleos or Spire--both with locations in Luxembourg and the US--have already branched out into the military sector with their nano-satellite clusters. "Our interest is to meet those companies, understand what they're doing, seeing the innovations that they have, seeing how they're able to go fast, and then seeing where there might be some partnerships," Raymond said about Luxembourg's space ecosystem.
Space race
Raymond was sworn in as the first chief of space operations by then vice president Mike Pence on 14 January 2020. "There was no one more qualified or more prepared from a lifetime of service than General Jay Raymond to serve as the first leader of the space force," Pence said during the ceremony.
Raymond served 35 years in the air force before becoming the space force's top general. "I remember sitting on our living room floor watching Neil Armstrong and Buzz Aldrin walk on the moon," he said about the 1969 event. "Then began my passion for space."
His swearing in came less than a month after president Donald Trump officially established Space Force on 20 December 2019. The move prompted criticism that space force would fuel a new arms race between western allies, China and Russia.
Nato, also in December 2019, recognised space as an operational domain. France and Germany have since added space commands to their air forces and the European Commission under Ursula von der Leyen has added space to the defence commissioner's portfolio.
As space is becoming more contested, space force is looking to establish global partnerships with like-minded countries, including Nato partners. "It helps us diversify our capabilities, be more resilient, it adds to capacity, it helps reduce costs, it feeds into deterrence," Raymond said. "We're clearly stronger together than we are individually."
Protecting critical infrastructure
"The average person on the planet relies on space each and every day," Raymond said. "From the minute that you wake up, before you have your first cup of coffee or tea in the morning, you have used space multiple times."
Nearly 2,500 communications satellites were orbiting Earth as of 1 May 2021, according to a global database, making up more than half of the 4,084 operational satellites circling the planet.
The global economy, critical infrastructure, everyday lifestyle and national security rely on satellite systems. Ensuring that space assets are safe is "one of the main reasons why the United States established the United States Space Force," Raymond said. "There's a full spectrum of threats," he said, from cybersecurity to jamming of satellites or even missiles.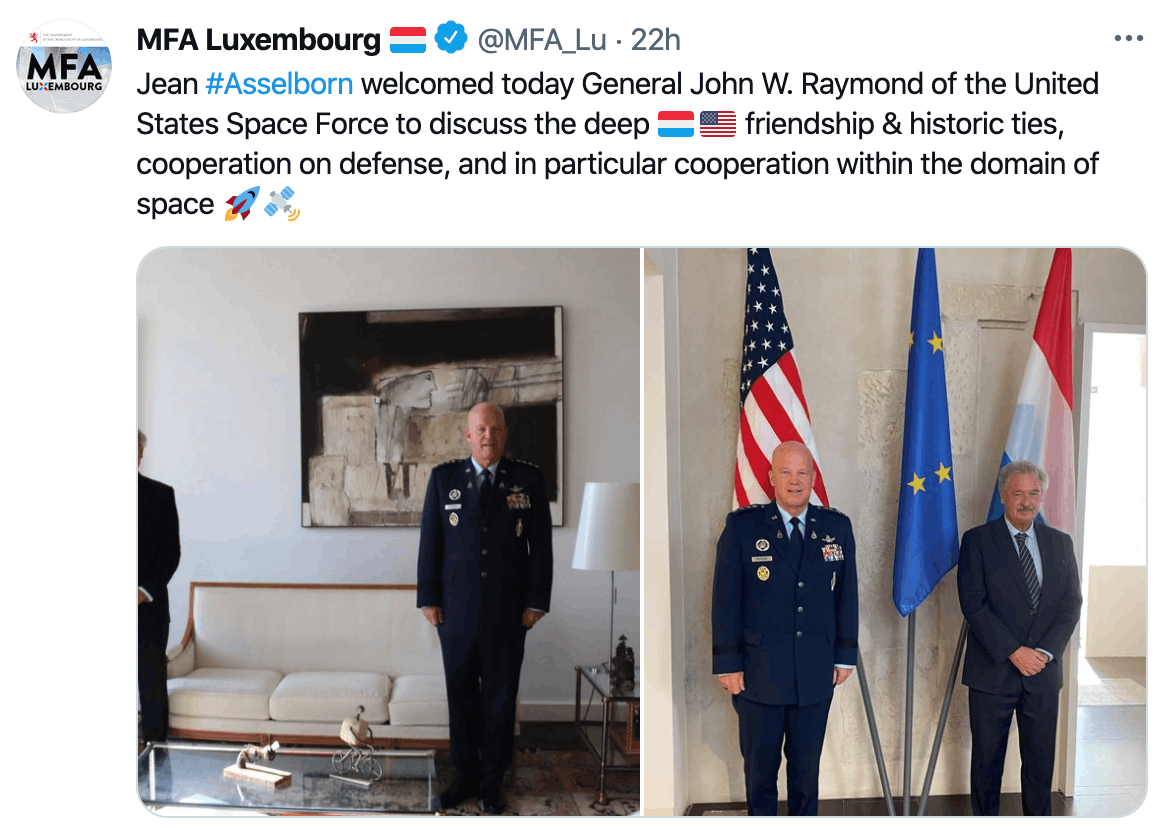 Indeed, back in 2007 China carried out anti-satellite missile tests, intercepting a 750kg domestic weather satellite. "It's very concerning to me, what I see China doing in space," Raymond said. "And that's our focus--to make sure that we can protect and defend the domain so economies can flourish, so diplomacy can flourish, so information can flourish."
While Luxembourg in 2019 signed a memorandum of understanding on space resources with the US, it signed an agreement with China on peaceful uses of space the year before. A joint research laboratory on deep space exploration announced at the same time as the MoU, however, is yet to land in the grand duchy.
Privileged partner
And the US is the "first choice partner for Luxembourg," defence minister François Bausch said in a statement released to mark Raymond's visit. "We plan to develop new partnerships with the US defence's space force," he said.
"The cooperation is important and it's appreciated," Raymond told Delano. The US department of defence in 2017 launched the ninth satellite in its Wideband Global Satcom (WGS) system, supported by Luxembourg as well as Canada, Denmark, the Netherlands and New Zealand.
The cluster of satellites provides communications capabilities to the US military and allied forces.
Bausch earlier this month said Luxembourg was looking to expand its satcom cooperation with the US. One area of interest for space force is to synchronise military and commercial satellite communication to create more resilient networks, Raymond said. But Earth observation and space situational awareness are other potential avenues of cooperation.
Luxembourg is planning on launching a military Earth observation satellite after parliament in November last year allowed the government to spend another €139m on the project, up from a budget of €170m. And Bausch committed €6.7m to help Nato develop capabilities to detect and identify objects in space as the orbit around the planet becomes more congested.
The pricey ventures help the grand duchy edge closer to a 2% of GDP spending goal, pledged by Nato members in 2014. But that target is difficult to achieve for Luxembourg because of its small army and outsized economy. From 0.6% of GDP, spending should rise to 0.72% by 2024.
"I don't think you have to be big to have a global impact, especially in space," the general said. "With a country the size of Luxembourg, with its niche--if you will--of space capabilities, you have the opportunity to have a global impact and invest in technologies that have that global effect."