Wangchen remembers the day he was arrested. "They handcuffed me, put a hood on my head and took me to a secret place." For months, his family knew nothing of his whereabouts. "During these six months, I was beaten, tortured. There were times they used electric shocks on my body," he says, pointing at this neck.
He was tied to a so-called Tiger Chair, a brutal form of punishment used to restrain the body. "For eight days and seven nights, I wasn't allowed to sleep," Wangchen says. He was deprived of food.
The activist is in Luxembourg this week as part of a tour, calling for the International Olympic Committee (IOC) to cancel the Games in China or at least for countries to boycott them. "Supporting the boycott is very important," he says, speaking to Delano via an interpreter. "And we can see why from the reaction of the Chinese government."
China accused the US, which announced its diplomatic boycott earlier this month, of political posturing and vowed countermeasures. The UK, Canada and Australia have since joined the initiative. The EU is yet to reach a joint position.
Prison and hard labour
Wangchen's ordeal began after he filmed a 25-minute documentary, Leaving Fear Behind, showing people from Tibet talk about the 2008 Olympic Games in Beijing and life under an oppressive regime. When finally presented to a court, he was classified as a separatist and sentenced to six years in prison.
In a labour camp, he had to work 15 to 16 hours a day, sewing army uniforms and clothes. Prisoners who failed to meet their quota were punished and beaten, he says. Tibetan political prisoners were forced to denounce the Dalai Lama and take part in weekly self-criticism sessions, a method of indoctrination. Many died.
The time to talk and negotiate with the Chinese government is finished.
"The time to talk and negotiate with the Chinese government is finished," says Wangchen, adding that he is disappointed with Luxembourg's position so far. Jean Asselborn (LSAP) at an EU foreign affairs ministers meeting this week said a boycott would be a symbolic gesture but ineffective.
Stockholm and Krakow withdrew bids to host the Olympics, while voters in Munich rejected a bid in a referendum. "It is indirectly our fault," Asselborn said of the Games being held in China, advocating that officials should use the opportunity to pressure the Middle Kingdom and negotiate.
Dick Pound, the longest-serving member of the IOC in an interview with Deutschlandfunk on Monday said the committee "has no role to play in bringing about political change," adding that awarding the game is not a political endorsement and feigning ignorance of human rights abuses committed, for example against the Uyghur minority.
"This is something the IOC has always said--that we shouldn't mix politics and sports. This is exactly the argument of the Chinese government, but what happened in the last Olympic Games in 2008 is that China used that opportunity to spread its propaganda," says Wangchen.
Human rights are less important than profit.
Beijing is the only city to have been awarded both the summer and winter Olympic Games by the IOC. In return, it made promises on press freedom and freedom of expression, but activists and NGOs say it has failed to deliver on pledges from 2008 and shouldn't have been given the 2022 mandate. "The committee is making the same mistake that they made in 2008," says Wangchen. "The message received is that human rights are less important than profit."
The IOC faced criticism last month over a video call with Chinese tennis player Peng Shuai. The athlete had disappeared after posting an allegation of sexual assault against a retired senior Chinese official. The IOC spoke with her via video link for half an hour at the end of November, saying she is safe and healthy.
Human rights groups have questioned if Peng was able to speak freely and have criticised the IOC for not discussing the allegations or her disappearance, saying the committee should use the Winter Olympics as leverage to get reassurance. Once again, it was Pound who in an interview with Bloomberg dismissed criticism as "silly".
"It's a dangerous game that the IOC is playing," says Wangchen about the case. "They are being used by the Chinese government." Luxembourg's Grand Duke Henri has been a member of the IOC since 1998. He is also the president of the country's Olympic and Sport Committee (COSL).
Shared responsibility
When Wangchen was released from prison he was placed under surveillance. His family had been granted asylum in the US in 2012. He managed to escape and join them in December 2017. But even there, the long arm of authoritarian China reached the filmmaker.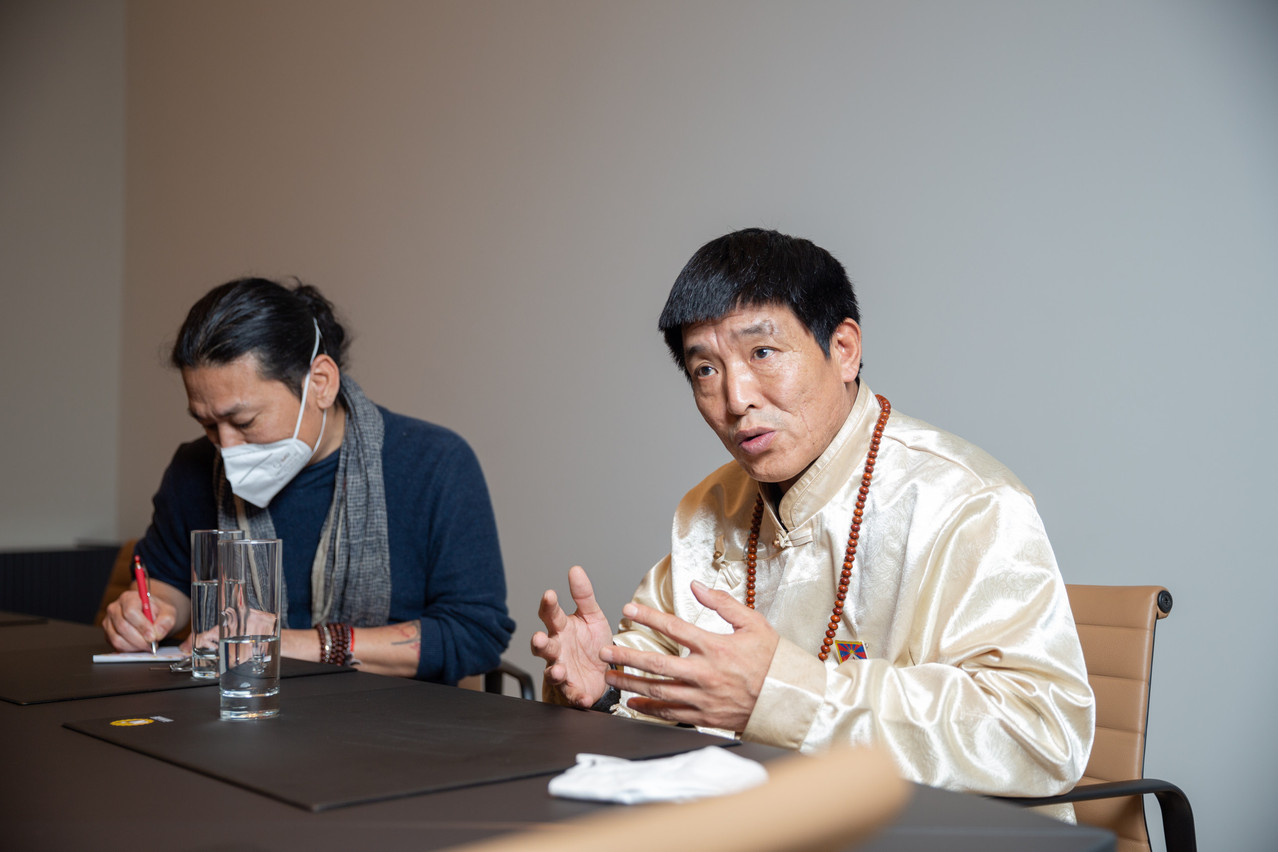 Wangchen's mother with the help of activist groups had been flown out to Australia to receive treatment for heart issues. When he arrived in the US, Wangchen had not seen her in a decade. But while his request for a visa was at first granted by the Australian embassy, it was later withdrawn, he says. "Even after reaching the free world, when I thought I might finally be able to meet my family, my mother, this opportunity was taken away because of Chinese pressure."
His mother died before Wangchen could be reunited with her. Five of his nine siblings remain in Tibet. He has not spoken with them since arriving in exile in 2017.
"Being separated from one's birthplace is something I cannot put into words, the pain that I feel inside me," says Wangchen, struggling with tears. "But it's not just about me. It's about my fellow countrymen that I met in prison, who are still there, my family members, who suffer every day under Chinese occupation."
The plight of Tibetans did not receive a mention in boycott announcements this month, overshadowed by the oppression of the Uyghurs in Xinjiang and China's relations with Hong Kong and Taiwan.
People are slowly starting to forget Tibet.
"People are slowly starting to forget Tibet," says Wangchen. "And this is not an accident. The Chinese government is making sure that information does not reach outside." The fourth generation of Tibetans is growing up under Chinese rule. "The aim is to eradicate Tibetan identity," he says of Chinese policy that threatens the Tibetan language, culture, religion and philosophy. "There is less and less space for freedom."
The three values of Olympism are excellence, friendship and respect, the IOC says on its website. "By participating in the Olympic Games held in China, are they really promoting these ideas. This is a question that each athlete has to ask themselves," says Wangchen, warning athletes to be well-aware of the risk of being instrumentalised as part of China's propaganda machine.
"China today is one of the biggest dangers to rule-based international relationships," says Wangchen. The boycott is about more than the Games, the IOC or Tibet, he says. "It is about the future of humanity, what kind of world we want to be a part of."
Wangchen's visit to Luxembourg was organised by Les Amis du Tibet, an organisation in Luxembourg supporting Tibetans in exile, promoting Tibetan culture and raising awareness of the human rights violations against the Tibetan people. Despite a full schedule of meeting with officials and NGOs, a talk by Wangchen on Tuesday evening drew only a modest audience of around 15 people.