Born in 1969 in Dortmund,

Jens Kreisel studied physics and materials science in Karlsruhe, Lyon and Grenoble, before completing a post-doctorate at Oxford University and taking up a post as research director at the CNRS in France. All this was before he moved to Luxembourg in 2012 to become the founding director of the Materials Research and Technology department at the Luxembourg Institute of Science and Technology (LIST). He then became vice-rector for research at the University of Luxembourg in 2018, before succeeding Stéphane Pallage in the rector's chair at the University of Luxembourg.
With your four years as vice-rector, your background as a scientist, but also your profile as a German citizen who studied a large part of his studies in France, you seem to be the ideal candidate to take over the head of a university such as that of Luxembourg. No?
Jens Kreisel: This background is certainly an advantage. And it was no great surprise that I was a candidate for the post of rector. I know the German, French and Luxembourg cultures. Having spent six years at LIST and four years at the Uni also enables me to get to know the various local players, and therefore to avoid a certain period of adaptation at that level. And it's true that being a scientist myself, for whom science and research are at the centre of everything, allows me to understand my researchers. And to imagine what my colleagues can expect from me.
I intend to carry the theme of sustainability forward during my five-year term of office.
What are your main prospects for the University of Luxembourg?
The Uni is an interdisciplinary research university that focuses on three main areas: medicine and health, digital transformation and, finally, everything related to sustainability. This last theme is particularly close to my heart. I intend to pursue it during my five-year term of office. Societal and environmental sustainability is an area in which I see great ambitions for us.
How will these ambitions be realised?
As vice-rector, I had the chance to be involved by my predecessor, Stéphane Pallage, in the design of a strategic framework for our university over the next 15 or 20 years. It was very interesting work, but above all intellectual. But what I like above all is the concrete, what is part of the real. So, beyond saying that we must position ourselves in a field such as sustainable development, we must prove it through actions. We are therefore going to set up a new interdisciplinary research centre on this theme. This will be the fourth for the Uni, after the Interdisciplinary Centre for Security, Reliability and Trust (SnT), the Luxembourg Centre for Systems Biomedicine (LCSB) and the Luxembourg Centre for Contemporary and Digital History (C2DH).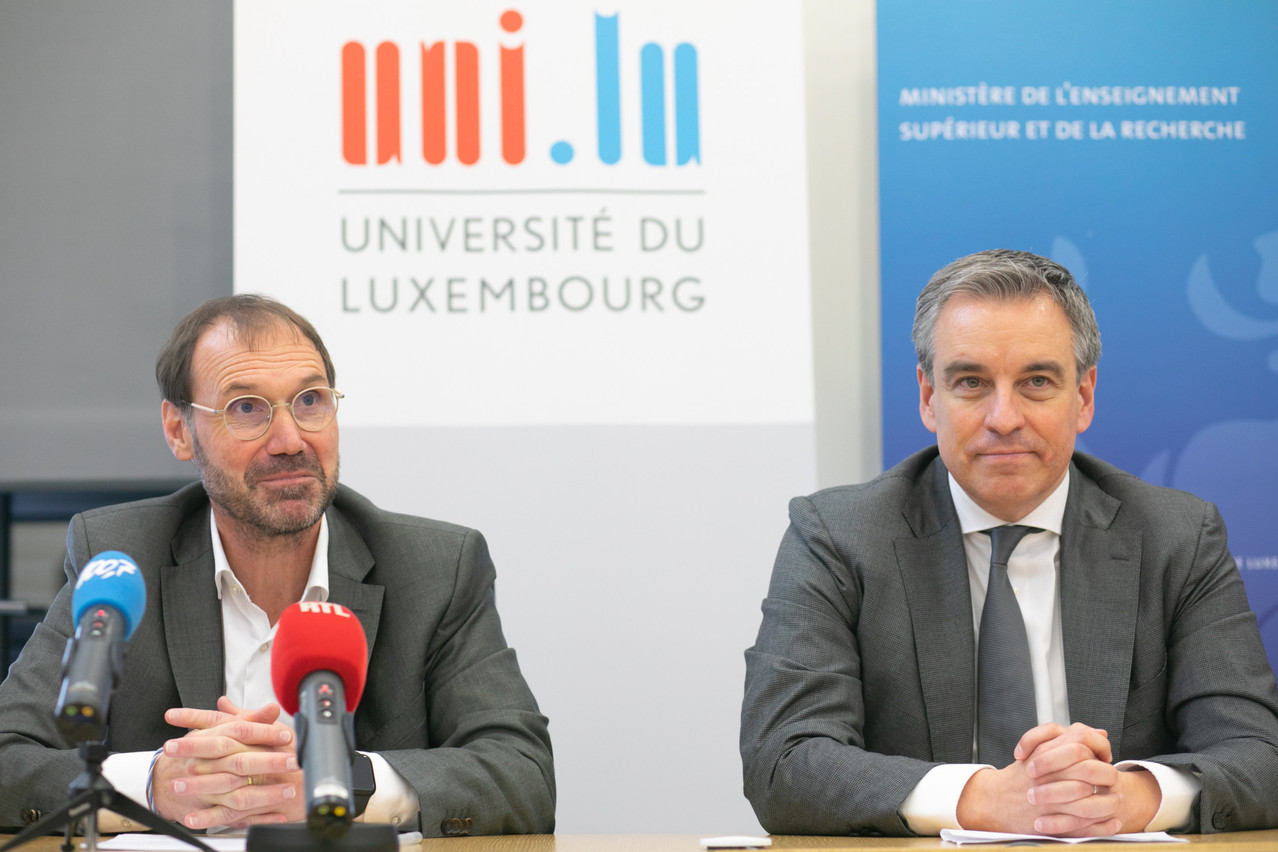 Do we know yet exactly what will be done?
We have set some guidelines. This new interdisciplinary centre will be positioned in an approach related to the environment and sustainability, but the exact areas of expertise are not yet known. We launched a call for ideas open to scientists from all over the world. They had until 8 January to submit the concept they would like to develop in this new interdisciplinary centre. We will analyse all the submissions received between now and next summer. The aim is to find the ideal person, the one with the best concept. Someone whose ambition will also be the ambition of this new centre.
When can we expect to see it?
It should arrive in 2024. At least, that's when I imagine it will start operating. After that, it will take five to ten years to get up to speed. For me, this corresponds to a workforce of 100 to 150 people. This centre will be located here, in Belval, where we also have our activities in physics, engineering and computer science. I therefore expect very important synergies.
Who makes up the management team around you?
At the moment, there are only two of us, [myself and] the vice-rector for academic affairs, Catherine Léglu. But we have recruited the person who will succeed me as vice-rector for research: Professor Simone Niclou, a specialist in biomedicine and particularly oncology. She will start her work with me on 1 March. We have also opened a position that did not exist before, that of vice-rector for partnerships and international relations. I hope to be able to announce a name in the course of March.
What is the aim behind the creation of this post?
Quite simply, to be able to choose the best partnerships in the future. In order to push our university even further towards quality and excellence. I would like us to have a real strategy in this area.
I don't think we can expect to see a new campus [in Kirchberg] within five years.
Do you dream of seeing the university grow further in terms of infrastructure or student numbers?
Today, we have approximately 6,000 to 7,000 students, depending on whether or not you include doctoral students. And this while our largest campus, Belval [smaller ones exist in Kirchberg and Limpertsberg], is designed to accommodate 7,000 students. So, if we want to keep the close relationship that exists between our students and our professors, we must remain a medium-sized university. If I have an ambition for growth, it is not crazy. We won't have more than 10,000 students.
The "Cloud" auditorium on the Kirchberg campus has been revealed. But what about the rest of the new campus (which was foreseen in the government coalition agreement)?
I don't think we can expect to see a new campus within five years, i.e. before the end of my mandate [which runs until 31 December 2027 and is renewable once]. My responsibility will be above all to succeed in putting in place a project and the plans that go with it, in order to prepare for the future. Who knows, maybe this new campus will be for my second mandate…
This story was first published in French on Paperjam. It has been translated and edited for Delano.