When you push open the glass door with its golden detail, you are transported back in time. Solid wood pieces, tapestries, period curtains and large carpets decorate the lobby of the vintage hotel, which has seen many guests pass through.
In the corridors, there is a clean smell, not aseptic, but the smell of our grandparents' soap. A few modern touches stand out here and there, like the illuminated signs indicating the rooms. But there's no question of replacing the good old keys with cards to get in. This is what the Hotel Cravat, a stone's throw from the cathedral, looks like, handed down from generation to generation since 1895.
"I'm the fourth," says the current general manager, Carlo Cravat, 56, proudly. "My great-grandparents started with the restaurant and a six-room building on the Notre Dame side. In 1932, it was razed and they built the wing where dean&david is now. On the first floor, there was the restaurant. We had about 20 rooms at the beginning of the war, in 1939. In 1953, my grandparents bought the part where the bar is today, on the Roosevelt Boulevard side. In 1964, my grandfather bought the missing middle part, where the reception is. They started building in 1965 and finished in 1966; I was one year old."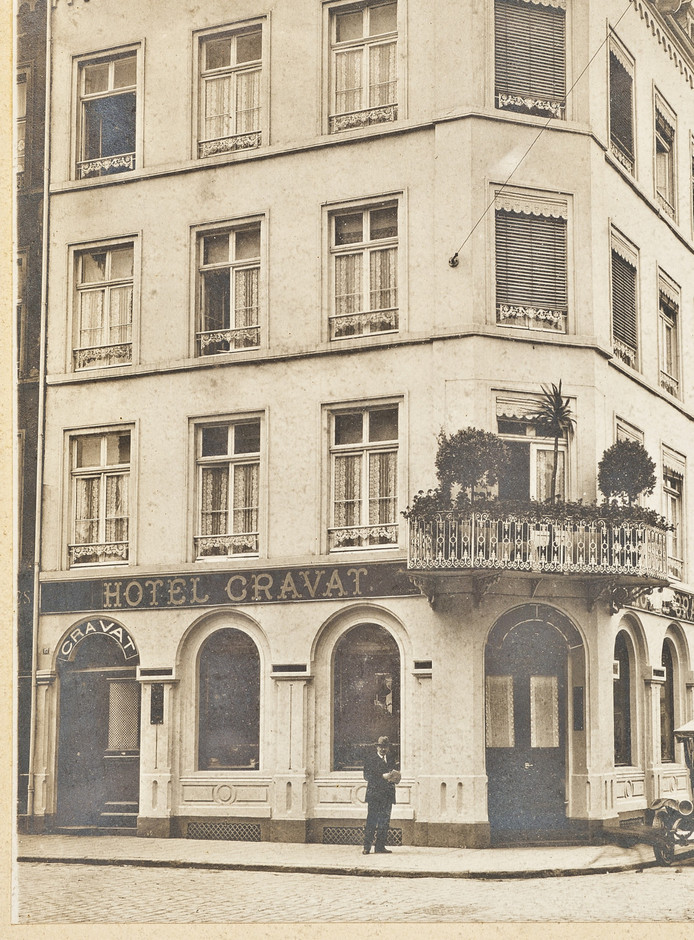 1 / 5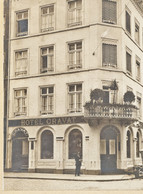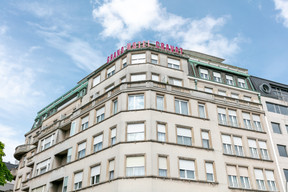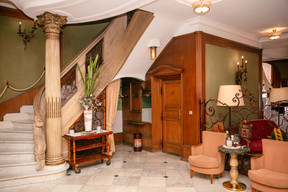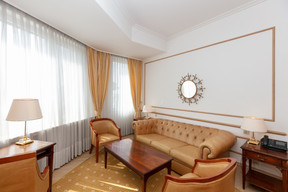 Each generation worked as a couple. "My great-grandmother was behind the stove, my great-grandfather in the dining room. My grandfather and grandmother were in administration. For my parents, it was the same thing."
From catering to management
Carlo Cravat joined the company, initially on his own, in 1989. "I was mainly in charge of catering and my father was in charge of accommodation. I always liked banquets, customers, contact... whereas he was rather reserved and preferred administration", he recalls, sitting in the small lounge on the ground floor.
Cravat took over management about 20 years ago. "When my dad passed away, about 15 years ago, I continued to do what I loved, the restaurant business, and the other part." When his children asked him: "Dad, when are we going to see you?", he decided to close the restaurant in 2014. "It's not the restaurant that carries the hotel," he says. He is now thinking of offering a snack service at the bar for the start of the school year in September.
24 people work in the 59-room establishment. "I'm just the torchbearer. I am the one who takes care of the place during a certain period. During this time I have taken it upon myself to keep the ideas of my ancestors and to perpetuate them." Hence the decoration from the '50s to the '70s.
"I try to keep it really classic while putting in new things, like wifi, flat screen TVs," he says. For example, he chose to bring the old 1945 lift with the brass door up to standard, rather than replace it with a more modern one, which would have cost less. He chooses pieces in stone or solid wood, a freedom that his special status as director of a family business allows him. "When I buy something, I tell myself that in 20 years' time it will still be useful. Anyone who counts pennies because they have to achieve results given by the owner will not be able to do that."
But it also comes with responsibility: "If you lose money, you lose your money."
I'm just the torchbearer. I'm the one who looks after the place for a certain period of time.
Cravat's wife joined him four years ago. She is in charge of the room maintenance staff, after a career as a goldsmith and several years as a housewife. These are very different tasks from his own, which do not create any management difficulties.
The temptation of the army
The man who runs the family hotel looks back on his career with satisfaction. "I'm happy to be in the hotel business and I hope I can do it for another ten years until I retire." The choice was not always obvious, however. After business school, the young man hesitated between military service and hotel school.
"I was leaning towards the army because I liked weapons, cars, sports and camaraderie. And then my father said to me, 'Son, everything you're telling me, once you're in the hotel business, you'll earn money and maybe you'll have time to do it too'."
The son listened and enrolled in the hotel school in Lausanne, Switzerland. After that, "I travelled around a bit", with experiences abroad, like at the Peninsula in Hong Kong. "Not for long, unfortunately, because dad needed me here. I came back to Luxembourg and started to get used to working in a family business, where you have to do everything, from wine seller to receptionist." His only sister, four years older, works with children.
When I buy something, I tell myself that in 20 years it will still be useful.
Carlo Cravat is passionate about his work and has passed on his love of the trade to his youngest son. The latter chose the same school as him, where he is studying in the second year. His two older sisters took other paths: management engineering for one and medicine for the other.
"We always told our children that they could decide what they wanted to do, we would never impose," he says. The father of the family also urges his potential successor to travel before returning to the family hotel, if he so wishes. If not, "to say I wouldn't be disappointed would be a lie," he admits. "But I'd be much more disappointed if he told me in 10 years' time that he did this because I wanted him to come back. The most important thing is that our children are happy in the work they do."
He aims for a smooth transition. "I want to avoid generational conflict. It's difficult when you're old and you know that what the young person wants to do will go wrong. We don't want to waste his time, but he has to try. My wife and I have decided that if our son wants to take over, I will stay with him for a while so that he can acclimatise and not get a big head." A slightly different handover from the one with his predecessor. "In those days, the elders decided and the following generations carried out."
In those days, the elders decided and the following generations carried out.
Family-owned, but not untouchable, the company was hit hard by the pandemic. After surviving two world wars and the 2008 financial crisis, it hopes to overcome the covid-19 crisis.
This article was originally published on Paperjam.lu. It has been translated and edited for Delano.