But how can companies best communicate their ESG efforts?
A significant 84% of super ManCos and 65% of AIFMs based in Luxembourg feel confident they possess the right structures and processes to oversee ESG investments, according to the 2022 Luxembourg Fund Governance Survey, published in January 2023. In 2020, when ESG was really gaining traction in the industry and was no longer just a buzzword, those figures stood at 55% and 50% respectively.
Conducted by the Institut Luxembourgeois des Administrateurs (ILA) and PwC Luxembourg, the survey collected information from 137 organisations. That represents 48% of Luxembourg-based UCITS assets under management and 42% of AIF assets under management.
The survey reveals that a growing number of boards are reviewing their ESG communications and messaging "in order to avoid situations of unintended greenwashing or mislabelling." In addition, as level 2 of the EU's Sustainable Finance Disclosure Regulation (SFDR) became applicable in January 2023, the survey's authors say they "expect ESG to continue to figure prominently on boards' agendas."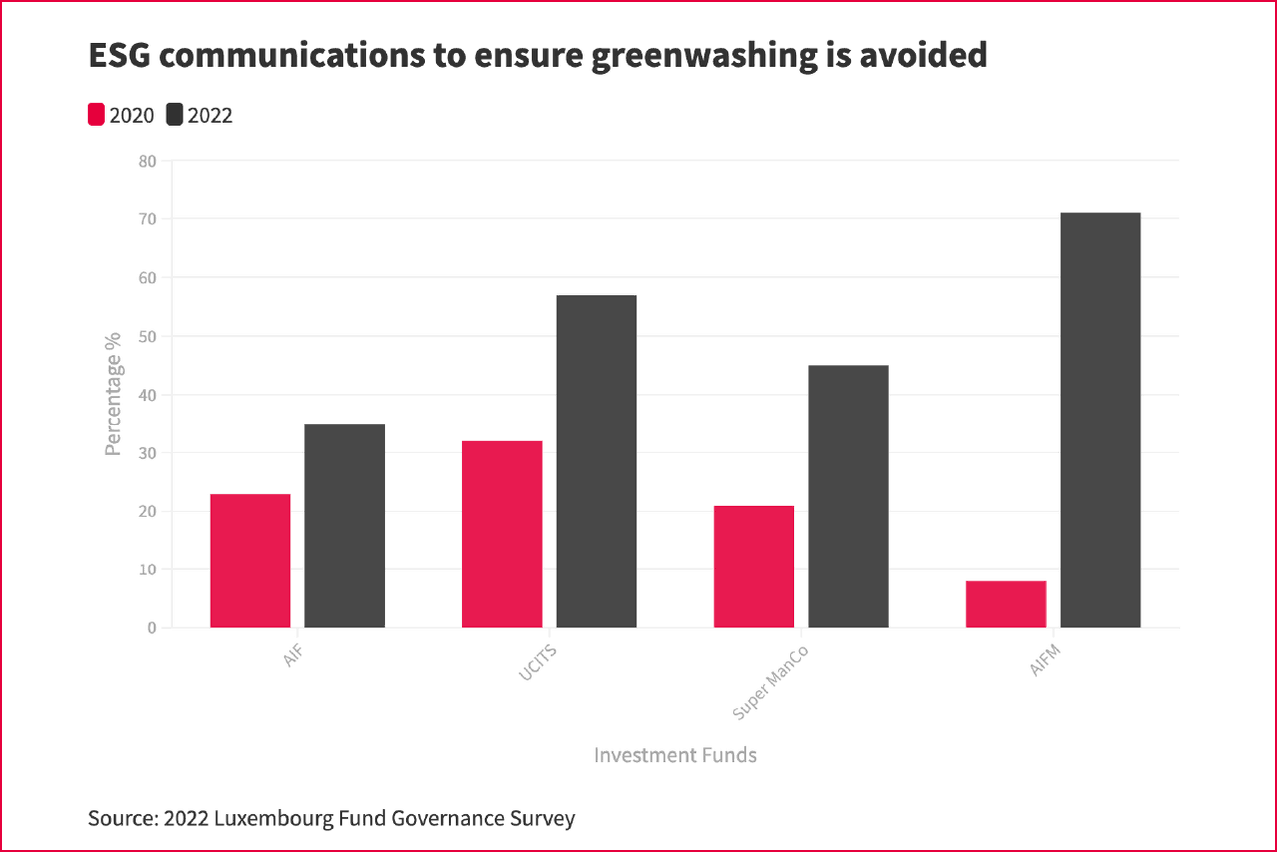 Pragmatic arguments 
But the industry is clearly not only reacting to regulatory pressure. Numerous studies have found that clients want firms to continue advancing environmental, social issues, and governance issues. Employees, too, want to work for companies that treat them fairly and with respect, and those that offer a better work-life balance – in terms of flexible working hours or with the sort of remote working schemes founded on mutual trust – are more likely to win in the so-called talent retention wars.
Furthermore, a 2020 University of Delaware study found that firms engaging in "more embedded and meaningful forms of corporate responsibility" are less likely to experience hacks or data breaches. So, there is a very pragmatic justification, in addition to the more emotional response, to embedding high ESG standards and getting that across in public messaging.
Authenticity is key to ESG communications. This is true especially when, despite increasing regulation and efforts to better measure the sustainability or ethical impact of organisations, there remains plenty of scepticism about the real value of ESG.
Robust, bold and authentic
Communication should be robust and bold, but it is essential that it also indicates how an organisation's values align with its ESG endeavours. It can target, for instance, the stakeholder groups that the company considers critical to its long-term success.
By defining clear key metrics, document data and reporting solutions, the company can also communicate its quantifiable impact on the environment and the community. Messaging can also highlight the company's approach to investing in employees and its diversity and inclusion policies. And, as the 2022 Luxembourg Fund Governance Survey also points out that transparency in governance is becoming increasingly important, providing information on the appointment of non-executive board directors and making public the board's code of conduct can be another major asset in getting the right message across.
ESG reports are blooming…
ESG reports are blooming and our clients believe us! Discover the exclusive "Activity Report 2021" produced by Maison Moderne for Banque Internationale à Luxembourg (BIL). Maison Moderne chose a bold, colorful format, including many illustrations that make the magazine pleasant and fluid to read. The feedback is more than positive! Discover the report! 
It's your turn!
You are an actor in the financial sector, and you intend to communicate on ESG this year?
Seize the opportunity to speak out in our upcoming releases:
Paperjam Supplément "Fonds" – Publication 1st of March
Interview and article on the funds industry in Luxembourg, development, Luxembourg ecosystem, ESG. And a special report on real estate funds (REIF) on the occasion of the MIPIM fair.
Grand Dossier "Fonds" – Publication 9 March
This is your opportunity to have an online strong presence and voice you brand (thought leadership) !
Delano "Alternative Investments" – Publication 24 March
How are private equity, private debt, infrastructure and real estate funds changing the grand duchy's financial sector, and what trends are changing them?
Please contact us to make sure you don't miss any valuable opportunity!