The atmosphere on the place Clairfontaine is reminiscent of that found during funerals. "Sorry that we meet under such circumstances," a young man tells his friend's friend. Around seventy people--many Ukrainian nationals--have gathered in small groups, brandishing flags of their nation, grieving quietly. Some are clad in yellow and blue, others wear flower wreaths, a part of the national attire. Cardboard and paper signs list the demands of the participants, who want the war to stop and Putin to leave their country.
Tension, upset and utter disbelief are tangible. After eight years of threats and conflicts on the eastern border, nobody had quite expected the provocations to turn into reality. Local politicians such as déi Gréng co-president Meris Šehovic watch the protest from further away.
"My mum lives in a city about 200km away from the border to Russia," Anastasiia S. tells me. She has been living in Luxembourg for the past six years. "I stay in contact with her every thirty minutes." She stops talking for a while, and wipes tears from her face. She had visited Ukraine in November last year, when "it was quite peaceful, everyone was living their life." She adds that "no one could believe that it would become a real war. But if you look at Putin's last two speeches, you realise that he is ready to go on until the end."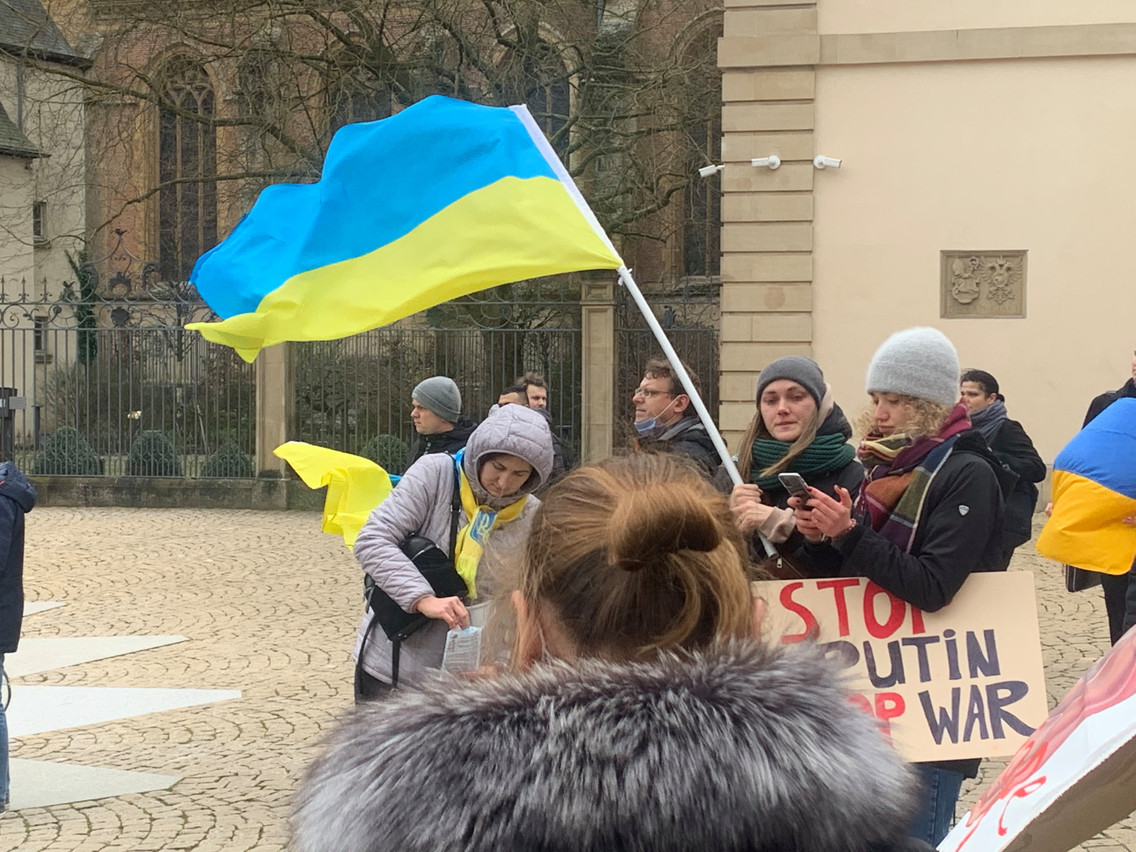 Mykhailo, who has lived in Luxembourg for six years, was also woken up by calls from his family. "We knew something was going to happen, we spoke a lot about it, (…) but until the last moment, we believed a war wouldn't happen," he explains. In his hand, a cardboard sign shows his text message exchange with a member of his family. He tells me about it: "We're from Kyiv, so this morning, my mum texted me that the windows (had exploded) at her office." Mykhailo can barely keep the tears at bay as he reminisces his family's messages: "Everything is shelled."
The protest took place in front of the statue of grand duchess Charlotte--a conscious choice by the organisers of the march, as she represents resistance. Speakers call for solidarity, for awareness. They believe in the independence of their country, they say--one speaker even cites the Luxembourgish national motto: "Mir wëlle bleiwen wat mir sinn."("We want remain who we are.")
"We are here to protest against Russian aggression, against the war in Ukraine, to support friends and relatives who are still in Ukraine," says Maryna M. "We're expecting Western Europe, and the United States to give us their attention and to put very hard sanctions on Russia to undermine their economy and to block Russia on its way." Like the others, she is in disbelief at how drastically the situation has changed.
Iaryna Zakurnaieva, who was back in Ukraine for Christmas, adds to this: "People were positive because we're used to live in that situation. Because war on the eastern part of Ukraine has been going on since 2014." A resident of Luxembourg for 11 years now, she tells Delano that she is "very scared for people who are over there." As many protesters, she still has many personal connections to Ukraine. "I hope that Putin will stop," she says. "It's unbelievable that this is happening in Europe. Okay, we're not part of the EU, but we're on the European continent. How can this happen in the 21st century?"
As the answer to this remains unanswered by politicians, Ukrainians show solidarity and support how they can. Talking together, hugging each other, sharing informations about bombings to add on a common map, or handing out additional signs. As the speeches conclude, a participant initiates a song. The crowd joins them as they sing the Ukrainian hymn with pride.