Following a space-focused Monday morning in the South Korean capital, which resulted in a bilateral space MoU, around 200 guests gathered at the Four Seasons Seoul for the Luxembourg-Korea Economic Forum on Monday evening. It was the first time the two countries formally met post-covid.
Korean minister of SMEs and startups Young Lee gave a convincing argument for the two nations to work closer and more formally together. "Korea and Luxembourg are far away from each other, and trade between the two has not been as strong" as with, for example, the US, she explained. But now the shift of attention is focusing on Luxembourg, for a number of reasons.
Given the acceleration of the digital economy, she argued "what matters now is not size of market but new industries that can be created in countries," Lee added, praising the grand duchy's robust financial industry, including fintech, and the massive investments it has made in its startup ecosystem.  
Moreover, with Luxembourg as a "startup hub in Europe, we need to shift the definition of an economic partner," she added. "Then we need to focus on Luxembourg." A place where there's not only easy access to the EU's 450m customers and where 70% European activities are within a 12 hours' reach, but also a place she praised for its regulatory environment.
Pilot project, funding yet to be confirmed
Around 99% of Korean businesses--representing about 81% of the country's employment--are controlled by South Korea's ministry of SMEs and startups.
Earlier in 2022, the ministry also announced the addition of five new unicorns to its portfolio, bringing the current total to 23, each with valuations of over $1bn. "Many business models will be created by SMEs and ventures," Lee said, adding that "the world now is borderless", and countries focused on deep- and core tech "will be a hegemonic power in future".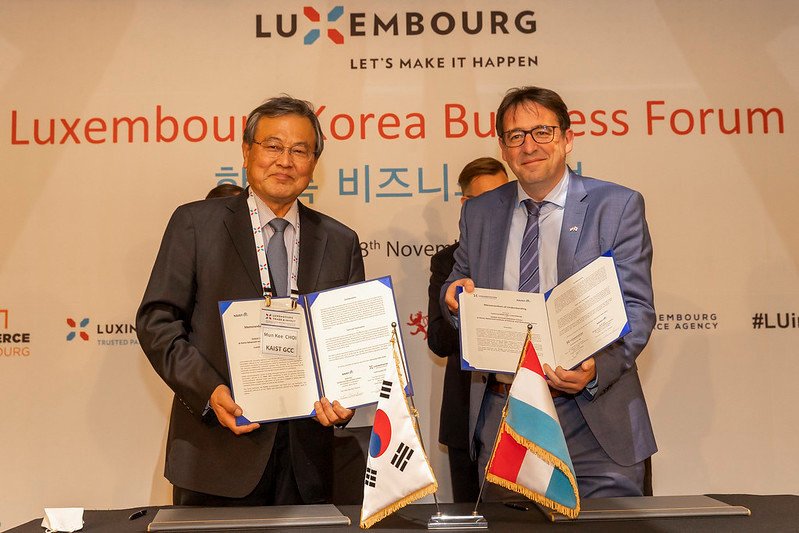 The plan is to create policies using fund of funds, the full amount of which is yet to be announced, while she anticipates foreigners getting incubation support from them--a pilot project is underway, which may see expansion next year following a pilot project in this realm. Next year, the ministry also anticipates inviting Luxembourg startups to its international startup festival.
Luxembourg equally convinced
Plenty of Korean startups were represented in Luxembourg during ICT Spring as well as the Arch Summit in October, where Korean accelerator Born2Global signed an MoU with Vodafone's Tomorrow Street which will see the two collaborate in matchmaking, with in-kind or cash resources for support and joint R&D and business development in relevant projects. At the same time it was announced that Vodafone was creating a pan-European logistics hub in Bettembourg.
Economy minister

Franz Fayot (LSAP) in his speech on Monday reminded the audience not just of the business connections between the two countries--where grand duchy companies like ArcelorMittal, Jan De Nul, Rotarex, Cargolux and more already have a firm presence in South Korea--but called the country a "natural fit" in the sense that the countries share common values, including "respect of sovereignty of other countries, democracy and rule of law, the respect of human rights, the recognition of gender-based cooperation, development policies with respect for diversity".
Crown Prince Guillaume, who last visited South Korea in 2014, provided Monday evening's opening guest of honour speech in which he added, "My country stands for political stability, a highly-qualified workforce and for its contribution to innovation. The pandemic has emphasised the need for resilience and value chains… we naturally see enhanced cooperation between our two countries as a promising investment into the future."
The economic mission continues on Tuesday with the inauguration of the Rotarex factory in Asan, plus a planned visit to the Korean War memorial.