This is the story of a road accident. A Spanish couple takes their baby and dog in their van for a little tour of Europe. A breakdown stops them in Luxembourg just as the country declares the first lockdown in mid-March 2020. "We received a phone call from their insurer," explains Webtaxi director Michel Craveiro, "who asked us how we could get them home, near Malaga in southern Spain." Over 2,000 kilometres. "The problem was that they had a lot of stuff to take in their van. We had to call in two drivers, who drove there and back after a night's sleep... for these rather special customers."
The fare didn't really help Webtaxi to stem the losses of the global economic downturn, but it did help morale. Convinced from the start that the pandemic would end one day, the company--created in 2012 "to respond to an anger of the authorities", explains the head of mobility at Voyages Émile Weber, Cyrille Horper--made the choice to give as many rides as possible to its members, even if it meant putting its own taxi company, Benelux Taxis, temporarily in difficulty.
A shortage of drivers
"In 2020, our business fell by 93%," explains Craveiro. But unlike other taxi companies that have gone out of business, Webtaxi and Benelux Taxis are coping. Today, its 29 members, fleets of 1 to 21 taxis, allowed the brand to hold 70% of the market with only 20% of the 550 vehicles licensed by the Ministry of Transport. "There are always cars standing around, we have 120 cars running and about 50 in the evening, compared to 160 during the day and 80 in the evening before covid. The B2B clientele is not back yet," he said, even though 1,207 companies trust him.
But the real problem is the same as that faced by many economic sectors: "There is a lack of manpower among taxi drivers. There are no more of them, many drivers have switched to other jobs. It's a difficult job where you have to work eight hours over a 12-hour period, where the collective agreement states that you have to work six days a week. You have to apply for a licence from the ministry and sometimes it takes a bit longer than expected. The new process has enabled us to recruit 14 drivers since October, and the ministry is quite responsive. Recently, we had to go all the way to Lyon to hire six drivers. Closer, there are none left!"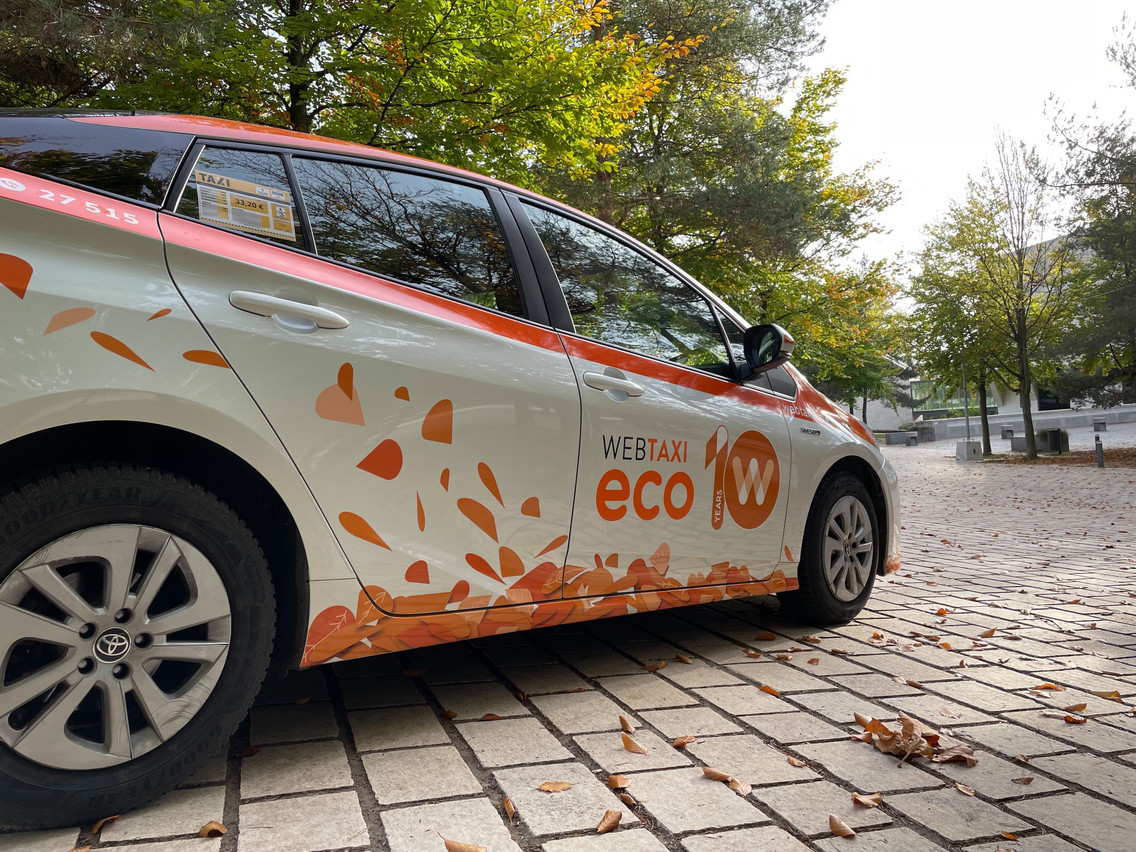 The reason Webtaxi has largely established itself in the market is that its booking platform, operated from Niederanven, is transparent about the price: while walking along waiting taxis offers an entertaining variety of fares around pick-up and ten kilometres--the result of a 2017 transparency rule--here it's €33.20 for everyone.
"Not only do all the drivers who work with us charge the same rate for ten kilometres but everything is transparent when you order your taxi. You know if there's one around, how long it will be and how much it will cost you."
Uber and Luxembourg-style Uber, two atmospheres
The zero-bad surprise approach comes with a few differences with the American giant Uber often cited as a model:
- the driver cannot decline a ride if he is designated by the algorithm to take it, otherwise he would expose himself to a complaint to the ministry;
- they do not know the final destination or the price of the customer's journey until they have picked up the customer;
- it is possible to order a taxi for someone else;
- drivers have a CNS number and this allows them to look after themselves like everyone else and to retire.
"That's what justifies the price of taxis in Luxembourg," the Webtaxi director asserts, at a time when those travelling in Europe or the United States swear by the low prices of Uber. "And cars have seen their prices and fuel prices rise. 89% of our journeys, whether in the Eco, Lime or Van range, are made in hybrids or electric cars. In 2015, we even had the first zero emission taxi!"
Ten years after its birth, Webtaxi is still not satisfied with its position. "We are not so much going south, where established players are doing a very good job, but that is not excluded in the years to come. It all depends on the members who sign up to our booking system." Nor is he even worried about the appetites of competitors like Sales' DoorToGate. "It's a completely different service," says Craveiro. "They're more into mobility sharing, which allows them to offer different rates. But when you look a little closer, if I look for a DoorToGate where I live, I can't find one available and that makes the service more expensive than a taxi. You have to calculate. If you take three or four people from the same place, at the same time and to the same destination, yes, it's great."
As for the "Uber à la luxembourgeoise" project relaunched at the beginning of the summer, it hasn't advanced much. Horper and Craveiro are stalling. "We'll see what it looks like and we'll adapt," says Horper. "We are not transporting a person, we are providing a service to a customer in full transparency and that is what we are committed to!"
This story was first published in French on Paperjam. It has been translated and edited for Delano.