The euro symbol represents the financial sector in the capital. The cardboard boxes in the south and east, logistics. The little purple factories everywhere, industry. And clustered around Luxembourg City and Esch are symbols for research and development, data, health and space.
This map shows what the Luxembourg economy could look like in 2050. It was presented by the head of Luxembourg Stratégie, Pascale Junker, during a conference on economic diversification as part of Eco2050. Another map shows the situation in 2023.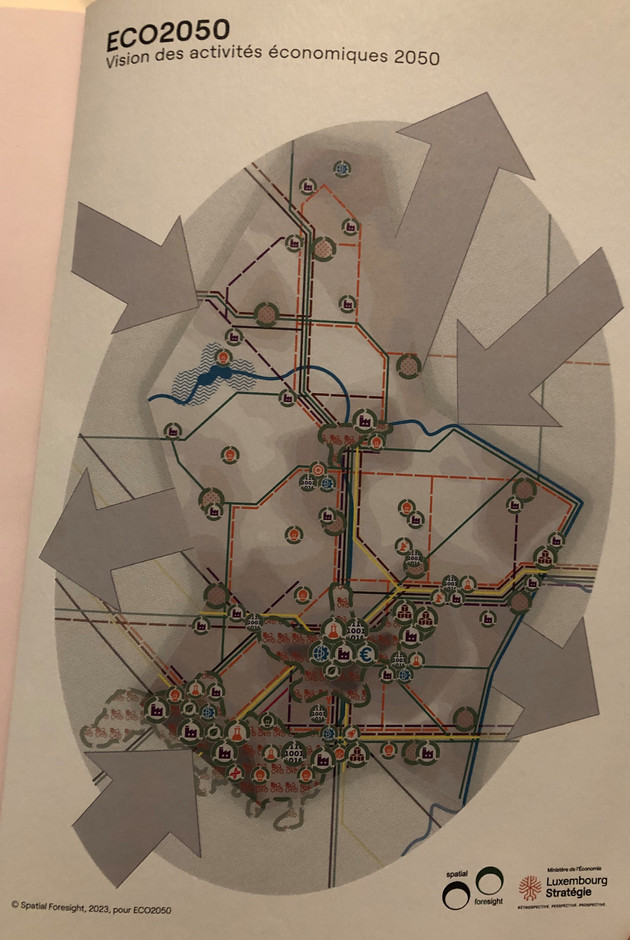 1 / 3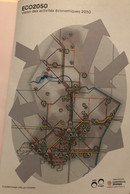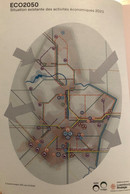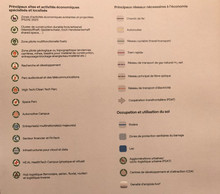 Like the Eco2050 vision, says Junker, this map is "forward-looking." In drafting it, Luxembourg Stratégie drew on existing plans including the spatial development master plan (French only) and the integrated national energy and climate plan, among others.
Says Junker: "We've looked at all this and asked ourselves: what economic activities can we have that stay within these biophysical limits?"
Circular activities and pilot zones
First observation: all the economic activities are surrounded by a green circle, which is because they will have to become circular and zero-carbon by 2050. How can this be achieved? By moving the zones closer to P+R sites and thus avoiding a proliferation of car parks, says Junker. Another trend reflected in the map is the reduction of commutes overall due to teleworking.
The mapmakers have also understood, however, that some things cannot be (easily) relocated, including the healthtech campus in Esch, the space campuses respectively in Kockelscheuer and Belval, and the automotive campus in Bissen. 
Junker explains that the orange dots on the map are "to leave room for the unknown," part of which will be "experimental pilot zones." These zones could thus be for energy and materials storage or the recycling industry, for example. In such areas, she says, "collaboration will be needed--in the greater region and beyond."
The diversification of Luxembourg's sectors, with an aim towards becoming more sustainable, is another big question. Junker cites ideas in several areas such as new services (accounting, consultancy, carbon rating); industry (lightweight materials, transition equipment); crafts (green construction, repair); technologies and R&D (data startups, AI, healthtech, climate adaptation, spacetech); construction (urban mining, bio sources, energy self-consumption); agriculture (climate adaptation, closing the nutrient cycle); and finance (inclusivity, sustainability, fintech).
€1bn a year for the transition
Eco2050 estimates that, looking at 2050 as a horizon, the annual market for "transition investments" is about €1bn in Luxembourg, €1,000bn in the European Union and €10,000bn worldwide.
The aim of Luxembourg Stratégie is not to choose a scenario from the three presented last year, but to forecast certain megatrends so that we can prepare for them. Junker comments that governments and companies must--armed with the knowledge that, for instance, a smaller environmental footprint translates into a stronger competitive position--step up to the plate.
This article was originally published in Paperjam. It has been translated and edited for Delano.